Black Friday vs. Cyber Monday: Which Day Will Have Better Deals in 2023?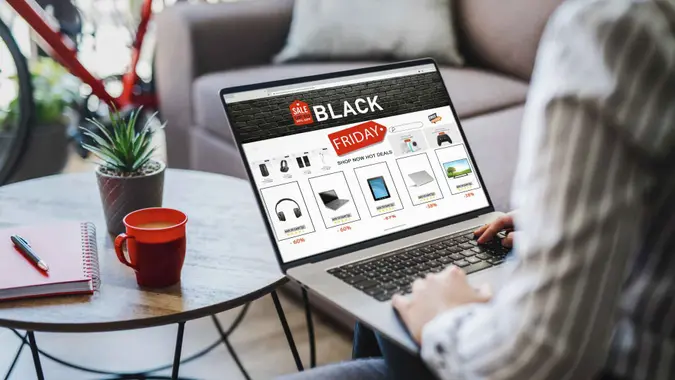 ArtistGNDphotography / Getty Images
In recent years, the distinction between Black Friday and Cyber Monday deals has become less clear, as many retailers offer online savings throughout the entire Thanksgiving weekend. Some promotions have already started, making store sales more like "Black November" or "Cyber Month" events.
As the two days have become more similar in substance, predicting specific details about this year's Black Friday (Nov. 24) and Cyber Monday (Nov. 27) deals is challenging. The discounts offered on these shopping days can vary depending on various factors, including the economic climate, retailer strategies and consumer demand — but big savings can be found on both days.
Black Friday and Cyber Monday
The name Black Friday is associated with companies getting back into the black, or becoming profitable, after a day of revenue-busting sales. However, it was first used in the 1950s to describe the mayhem caused by people pouring into Philadelphia to shop on the day after Thanksgiving, according to NBC Select. As such, Black Friday is traditionally tied to in-store shopping, although it has evolved over the years, with many retailers offering both in-store and online deals.
Cyber Monday, on the other hand, has been historically focused on online sales — and has become a major event for e-commerce. Extending Black Friday deals into Cyber Monday and providing additional opportunities for online shoppers has made the latter of the events larger. Although it has a reputation for offering Black Friday sale leftovers, American shoppers have spent more on Cyber Monday than on Black Friday for the past few years.
Make Your Money Work for You
Cyber Monday is certainly more online-oriented (it's in the name, after all) and can have better deals than Black Friday as the retail world continues to cater to online consumers. However, stores are open on Cyber Monday, too, and are typically less crowded than on Black Friday. Retailers frequently offer free shipping on Cyber Monday, as high postage can be can be a deterrent to sales.
Black Friday will have more doorbuster deals and limited-time offers to attract shoppers at physical stores, and you'll certainly see receive more flyers and see more on-screen ads for Black Friday deals and sales events now than for Cyber Monday and discounts. Black Friday has its own website (blackfriday.com), while Cyber Monday frequently gets mentioned as an after-event, and afterthought, to Black Friday, despite what sales numbers say.
Which Day Has Better Deals This Year?
Unfortunately, there no definitive answer to this question. Electronics, tech gadgets and online subscriptions often see strong discounts on Cyber Monday, but many deals overlap and extend throughout the November long weekend.
Rolling Stone, however, has highlighted some Cyber Monday savings you can snap up now, including a LEGO Friends 2023 Advent Calendar (25% off).
If you're looking for deals on luggage and kitchen, tech and home items, CBS News indicated that Black Friday might be your better bet. Friday-specific sales include $2,000 off the tech-heavy Samsung Bespoke 4-Door Flex Refrigerators ($2,999, originally $4,999), 53% off Rockland Melbourne 20-inch luggage, a $360 discount on an Ashbury extending dining table from Pottery Barn and $50 off a set Apple AirPods Pro 2s.   
Make Your Money Work for You
To get the best deals, it's best to monitor both Black Friday and Cyber Monday sales, compare prices and consider the convenience of online shopping versus the potentially hectic in-store experience. Additionally, signing up for newsletters or alerts from your favorite retailers can help you stay informed about upcoming deals and promotions.
More From GOBankingRates