8 Clothing Items That Are Wastes of Money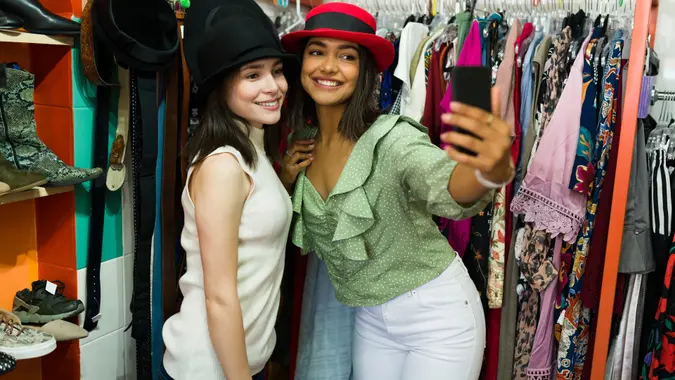 Antonio_Diaz / iStock.com
Buying new clothes every year can really add up. Women and girls spend about $545 every year on clothes on average, while men and boys spend around $326. The unfortunate part is that some of the clothes we consider staples and spend hundreds of dollars on aren't even worth it.
Here are a couple pieces that you can skip buying next time you're out looking for new clothes. 
Trendy Items
Those items you see TikTok influencers suggesting you buy might not stand the test of time. Most of those are popular for a season, but are too distinct to be worn past that time. Buyers should be especially wary of trendy designer items, as they come with a high price tag.
"I strongly recommend against buying designer clothes that are very trendy and likely to go out of style in under a year," said Todd Stearn, founder and CEO of The Money Manual. "If you really want designer items, try to get classic styles that will still look great in a year or two, or even longer."
Cheap Workout Clothes
You might think you're getting a deal if your workout clothes are really affordable, but it's important to make sure they still function like they should.
Look to make sure your workout apparel is moisture-wicking, which means it doesn't trap your sweat in the fabric or stay wet for long periods of time. If the clothes you're buying aren't moisture-wicking, it's going to make for some very wet and bacteria-trapped workouts.
Make Your Money Work for You
Anything That Causes Physical Pain
Are you sucking in every time you put on a particular pair of pants? Is there a pair of shoes in your closet that hurts your toes to even look at? These feelings don't make you want to wear those clothes again, and consequently, you don't.
Buying something uncomfortable is basically throwing money down the drain. Instead, fill your closet with items that make you feel confident — and maybe even a little bit cozy — when you wear them.
'Aspirational' Clothes
If you're trying to lose weight and buy clothes that don't fit, but that you hope to fit into "one day," it can be a little torturous. If you never end up reaching what you thought was your goal weight, those clothes might make you feel bad when you look at them.
Dress for the body you have now, rather than some goal in your head. It will save you heartache and cash.
Clothes for One Occasion
Aside from a wedding dress or tux, clothes that can only be worn for one special occasion should be avoided. This includes formalwear when you don't attend many formal events or an expensive costume that you'll only wear to one Halloween party.
Instead, take advantage of sites that rent out clothes for lower rates than what you'd pay to own the items.
Items You Won't Take Proper Care Of
If you see a "dry clean only" label, and think "Nope. Never doing that," then do not buy the item. These clothing labels are there for a reason, and if you don't follow the care instructions, you'll end up ruining the clothes. Inspect the clothing care instructions before you buy the item, and be honest with yourself about if you'll actually follow the instructions. If you know you won't, you can save yourself the cash.
Make Your Money Work for You
Pieces That Are Too Similar to Your Existing Wardrobe
A white shirt is great. It's versatile, it can be dressed up or dressed down, and it never goes out of style. However, 30 plain white shirts are probably overkill, and you're most likely not wearing every single one.
Before you go shopping, make sure to take inventory of what you already have in your closet, so you don't end up buying something you already have.
Clothes Someone Else Made You Buy
Were you pressured into getting something by a pushy salesperson? Did a friend beg you to get something because they said you looked good, even though you hated it? Remember, you're the person who has to wear the outfit. If you don't like it, you can kindly say that to a person, and you won't hurt their feelings.
You can even say you don't have the money, or you'll come back for it, if it helps soften the blow. No need to retrieve the item in the future if you know you absolutely will not wear it. 
More From GOBankingRates