Costco's Best Deals? Employee Reveals 10 Standout Buys for Your Money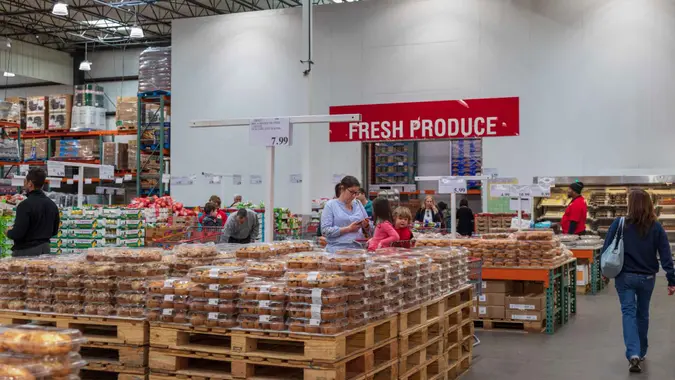 artran / Getty Images
It can be tough to leave Costco — which feels like a universe unto itself — without a shopping cart overflowing with stuff, but experts note there are some items at the mega warehouse club that just aren't worth the money.
What, then, are the Costco buys that are worth your hard-earned dollars? Veronica Thatcher, a longtime Costco employee, mom and wife, recently shared her store favorites with Insider. Here are the items she's happiest with.
Sharper Image's Power Percussion Deep-Tissue Massager
"Sharper Image's Power Percussion deep-tissue massager is awesome," Thatcher said. "I use it almost every day, especially after working out, and love that it comes with different attachments to target different muscle groups."
This item retails for $79.99 at Costco. You can also get a compact version with four massage speeds, versus six, for $49.99.
Vitamix
"My Vitamix is my holy grail when I'm making smoothies and fresh salsas because you can have a fresh dish in less than 45 seconds," Thatcher said. The Vitamix is also great for making soups, nut butters, frozen desserts and baby food. Costco offers several variations of the Vitamix blender, ranging in price from $319 (after $80 off) for the E520 Blender Bundle up to $649 for the Vitamix Ascent 2300 Blender Super Bundle with a dry grains container, 64 oz. low-profile container and two 20 oz. to-go cups. These prices are for members only, online.
Make Your Money Work for You
Fairlife's Protein Beverages
"Fairlife's beverages are one of the hottest-selling proteins at Costco and come in a variety of flavors," Thatcher said. "A beverage contains 30 grams of protein with two grams of sugar."
An 18-pack of Fairlife's protein beverage sells for $28.49 at Costco.
Vital Proteins' Collagen Peptides
"The unflavored collagen, which can be mixed in a hot or cold beverage, is only 70 calories and contains 18 grams of protein and 20 grams of collagen per serving," Thatcher said.
A 24-ounce container of this product sells for $36.99 at Costco.
Kirkland Signature Breakfast Blend Coffee
"Costco carries a variety of flavors under Kirkland Signature's brand but the breakfast blend is my favorite," Thatcher said. "It has the perfect coffee taste without being bitter or too strong."
A pack of 120 K-Cups of Kirkland Signature organic light-roast breakfast blend sells for $31.99 (after $6 off for a limited time) at Costco.
Realgood Chicken Enchiladas
"Realgood meals are one of my favorites for meal prepping," Thatcher said. "Realgoods' chicken enchiladas contain 20 grams of protein, two grams of net carbs and no grain."
Make Your Money Work for You
This item contains three trays, each with two enchiladas, for $12.79.
Hunter Boots
"In the fall, Costco sometimes sells Hunter boots, which I absolutely love for rainy weather," said Thatcher. "The boots are waterproof with traction soles and come in various colors."
Right now, Costco has kids' original First Classic Hunter boots — perfect for back to school. Thatcher says she usually spends around $80 on Hunter boots at Costco, which is a deal since other retailers charge over $100 on some styles.
Saint Laurent Sunglasses
"I've seen Saint Laurent sunglasses retail for over $300 elsewhere," Thatcher said. Right now, Costco has two styles available for $159.99 (SLM91) and $141.99 (SL510).
More From GOBankingRates