10 Dollar Tree Essentials You Can Also Buy on Amazon for Cheap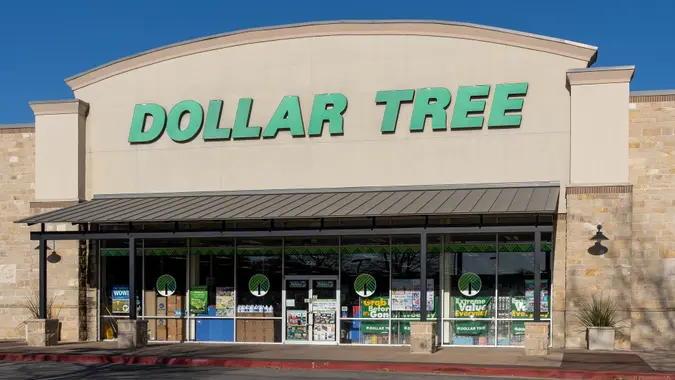 JHVEPhoto / iStock.com
When it comes to affordable shopping, Dollar Tree stands out as a go-to destination for many. The lure of everything for a dollar is undeniable. But what if you prefer Amazon? The online retailer has something for everyone. If you're curious about which Dollar Tree essentials can also be snapped up on Amazon, you're in luck. Here's a list of product categories you can find on both Amazon and Dollar Tree.
1. Stationery and Office Supplies
Whether you're a student, work from home, or know someone who loves jotting down their thoughts, stationery is essential. Pens, notepads, sticky notes, and highlighters are items you'll consistently find at Dollar Tree. Guess what? Amazon also has them. Especially when you browse their add-on items or the Amazon Basics line, you'll discover many affordable stationery options.
2. Party Supplies
Planning a last-minute party? Balloons, disposable cups, plates, napkins, and even quirky party decorations are up for grabs at both Dollar Tree and Amazon. The latter might even offer you bundled deals, giving you more bang for your buck.
3. Cleaning Supplies
While brand loyalty might make you lean toward more expensive options, for everyday cleaning, generic brands work just as well. Cleaning wipes, dish soap, and scrub brushes are among the cleaning items you can purchase from both retailers.
4. Beauty and Personal Care
Dollar Tree's beauty aisle is quite the treasure trove. Hair accessories, combs, shower caps, and even some off-brand cosmetics make the cut. Amazon mirrors this inventory, and with the added benefit of customer reviews, you can make an informed decision before buying.
Make Your Money Work for You
5. Children's Toys
If you have kids, or perhaps you're a kid at heart, the toy section at Dollar Tree can be quite enticing. Simple toys, coloring books, puzzles, and small games can keep you entertained for hours. Amazon offers these, often with a broader variety, ensuring you don't miss out on the fun.
6. Kitchen Supplies
If you love to cook, kitchen tools are likely on your list. From plastic storage containers to spatulas and even dish drainers, you're sure to find these essentials both in the store and online.
7. Craft Supplies
Crafting is a joyous activity for many. It becomes even more enjoyable when supplies don't cost a fortune. Beads, felt sheets, craft sticks, and the like are available at Dollar Tree. On Amazon, with the advantage of choice and bulk deals, your next DIY project just got more exciting.
8. Seasonal Décor
Who doesn't love to spruce up their space for the holidays? Whether it's Christmas, Halloween, or Easter, decorations set the right mood. And while Dollar Tree offers a great selection, Amazon complements it with an extensive range and sometimes even better deals.
9. Home Décor
Making a house feel like home doesn't have to be expensive. Simple additions like picture frames, vases, and decorative stickers can transform a space. Both Dollar Tree and Amazon provide these at pocket-friendly prices.
10. Snacks
 Occasionally, you'll find some delightful snacks and candies at Dollar Tree. While these might be off-brands or lesser-known brands, they're tasty all the same. Amazon, with its vast inventory, stocks these and ensures you can munch away without waiting for your next Dollar Tree trip.
Make Your Money Work for You
Editor's note: This article was produced via automated technology and then fine-tuned and verified for accuracy by a member of GOBankingRates' editorial team.
More From GOBankingRates