5 Dollar Tree Spring Cleaning Items To Buy Now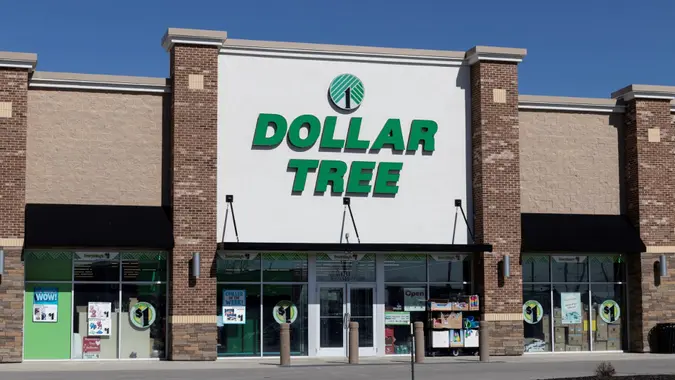 Spring cleaning means it's time to give your home a good scrubdown, and you'll need an arsenal of cleaning supplies on hand. However, with the high prices you'll find on sprays, sponges and scrubbers at big-box stores, having a basket full of cleaning supplies to buy can be a budget breaker. That's where Dollar Tree comes in.
Admittedly, there are some items you don't want to buy at a dollar store, such as medications, vitamins and sunscreen. But when it comes to stocking up on cleaning supplies, there's no reason why you shouldn't shop the aisles of Dollar Tree for those products. You might be surprised to know that you can even find the same name brands you buy at your favorite big-box retailer for much less. 
Here are a handful of Dollar Tree spring cleaning items you can buy now to help you save.
Make Your Money Work for You
Plastic 9-Quart Bucket
Consumer analyst Julie Ramhold with DealNews said that you can use this plastic 9-quart bucket for traditional cleaning purposes or as a super cheap way to carry around your cleaning supplies. 
"At $1.25, it's affordable enough [that] you can get multiples," she said. "But if you shop elsewhere, you can expect to pay twice as much for a basic bucket like this. The same bucket is also available in black for the same price but can also be purchased in smaller quantities, so if you're ordering online, this is a better way to go as you only have to buy four buckets in black compared to 36 in gray."
Take Our Poll: Would You Move for a Job That Paid You a $10,000 Signing Bonus?
Scotch-Brite Scrubbing Pads
"If you're planning to give your oven or uncoated cookware a deep clean this spring, these scrubbing pads are a great deal,' said Ramhold. "A 2-pack is just $1.25 and they come in copper-coated ones as well. Elsewhere you can get a 3-pack of these for around $2.62 or so, but that works out to 87 cents per scrubber whereas Dollar Tree's deal breaks down to 63 cents each, so it's still a better deal."
Make Your Money Work for You
If you're trying to decide between stainless steel or copper scrubbing pads, both can be used on outdoor grills. Otherwise, they have the following intended uses:
Copper scrubbing pads are intended for cleaning copper and aluminum cookware, broiler pans, stove burners and oven racks. 
Stainless steel scrubbing pads can be used on cast iron and tools.
Scrub Buddies Quick Eraser Sponges
Ramhold said that these Scrub Buddies Quick Eraser Sponges are also known as melamine sponges and are comparable to the Mr. Clean Magic Erasers. At Dollar Tree, a 2-pack of them is just $1.25, but if you shop elsewhere, even shopping for store-brands will cost more.
For example, at Walmart, a 2-pack of its Great Value ones is $1.68, or 84 cents each. Dollar Tree's 2-pack works out to just 63 cents each.
Scrub Buddies 10-Inch Squeegee
The Scrub Buddies 10-inch squeegee is super useful for cleaning glass surfaces, according to Ramhold.
"Whether you have a glass shower door or want to use it on mirrors or windows, picking one up for $1.25 is a good move," she said. "Dollar Tree has them for $1.25 each, but elsewhere you could expect to pay $8.99 for a single similar one or $10.48 or so for a 2-pack, which works out to $5.24 each, so once again Dollar Tree has a price that can't be beat."
Make Your Money Work for You
Lime-A-Way Thick Gel Formula Toilet Bowl Cleaner
If you're a fan of Lime-A-Way toilet bowl cleaner, which helps dissolve rust, calcium and lime buildup, you can save big by purchasing it at Dollar Tree. A 16-ounce bottle costs $1.25 or around $0.08 per ounce, while at Walmart a 24-ounce bottle of the cleaner works out to around $0.21 per ounce.
More From GOBankingRates
Make Your Money Work for You