10 Affordable New Items Coming to Dollar Tree This Spring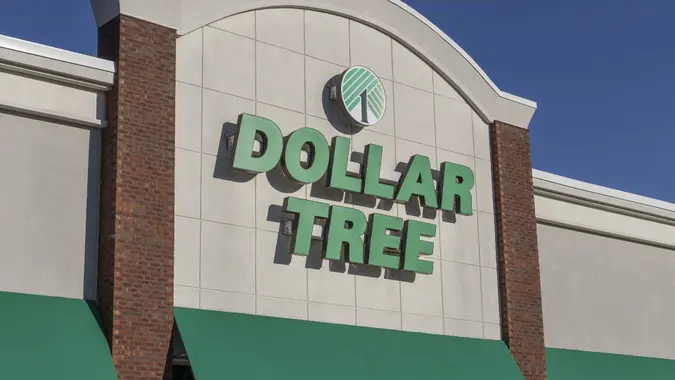 jetcityimage / iStock.com
When spring arrives, it often does so first with a sigh of relief after cold weather, and then a groan of realization that it might be time to refresh, replenish or update things in your home and office.
Fortunately, Dollar Tree has some great spring arrivals to help improve your abode, entertain kids and adults at Easter, and support getting you back outdoors and feeling rejuvenated. The following affordable new items are coming to Dollar Tree this spring.
Floral Glass Vases
As snowy locales being to thaw, and rainy locales start to dry up a bit, there's just something uplifting about bringing the first fresh blooms of the year into your house.
Dollar Tree offers delightful floral glass vases with three different patterns of tulips: red, yellow and purple. Make someone's day with a bunch of flowers in these charming vases, which measure 2.9 x 6.22, or just brighten up your own day for $1.25 each.
Decorative Pebbles
If you enjoy those floral vases, consider filling them with decorative pebbles, which come in aqua blue, black, lime green and white. These pebbles not only make a vase look snazzier, they help flowers last longer by retaining the water.
Additionally, you could use them for terrariums or fish tanks, or kids can find creative uses for school projects. At $1.25 per bag, get all the colors!
Tapered Cylindrical Bud Vases
If a big vase of cut flowers isn't your jam, consider smaller glass bud vases, which can hold only a couple of flowers at a time. These are perfect if you have a garden whose cuttings you like to make daily or weekly.
Make Your Money Work for You
They are tall, narrow and tapered at the sides, measuring 9.125 inches tall and 1.625 inches at the opening.
Tie-Dye Easter Bunnies
Easter is on its way, and Dollar Tree does not skimp on Easter goodies for the kids. These adorable, soft, fluffy and brightly colored tie-dye Easter bunnies are perfect for an Easter basket.
Your children will be quick to cuddle these cuties, and they come in three designs for just $1.25 each.
Bunny-Shaped Fillable Containers
While you're on an Easter basket roll, instead of the boring old plastic eggs, consider filling these bunny-shaped containers that can hold candy, coins or small toys.
They are 10 inches tall and 5.5 inches wide (at the belly). Just like plastic Easter eggs, these snap together to contain delightful Easter treats. They are $1.25 each.
Royal Norfolk Turquoise Swirl Stoneware Bowls
Spring is a wonderful time to upgrade items you use all the time. Get rid of old chipped bowls and replace them with a set of these lovely, turquoise Royal Norfolk stoneware bowls. They're as functional as they are beautiful, and great for having people over for dinner.
Fill them with soup, salad, cereal or stir fry. They are 5.5 inches around, and, Dollar Tree is also selling matching mugs. They're safe to use in your microwave and dishwasher, too!
Clear Glass Mugs
While we're still in the kitchen, consider replacing old mugs with a set of these minimalist clear glass mugs. They pair well with literally any other dinnerware you have, and are as casual as they are elegant.
Make Your Money Work for You
Drink hot liquids in them, like coffee and tea, or ice cold water. At $1.25 each, you could replace your whole cabinet.
Sports Foam Rubber Balls
Warmer weather means getting outdoors! Time to take the kids (or yourself) to the park, beach or playground. Get one of these foam rubber balls — soccer or basketball designs — and have a blast playing under the sun. Of course, these are also just $1.25 each.
Glittery Plastic Beach Pails With Shovels
While you're at it, take your kids to the beach, pool or local creek and bring along these delightful, colorful pails with a glittery finish. These also make great gifts for kids' birthday parties. Each one is just $1.25.
Deodorants
Warmer weather means, well, warmer bodies! Drugstore deodorants can cost a mint, but not at Dollar Tree.
Get Lady Speed Stick, which doesn't leave any white marks on dark clothing and provides a strong, 48-hour antiperspirant. Or, get Speed Stick for men, which comes with a fresh scent that can stand up to the job of keeping you feeling dry and smelling nice.
More From GOBankingRates