Dollar Tree vs. Aldi: Which Is Cheaper?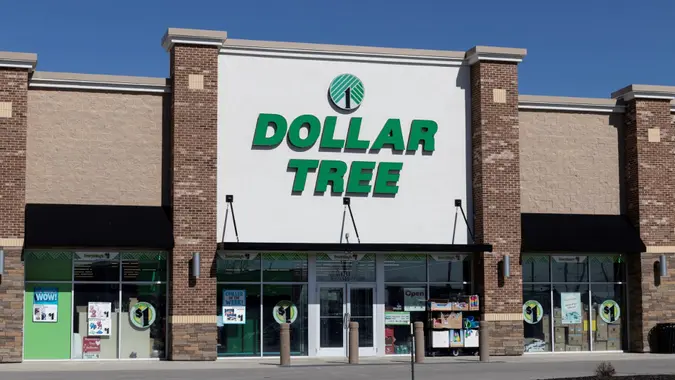 In today's era of inflation, nobody wants to overpay for groceries and household necessities — or have to go to 10 grocery stores to find the best deals. Instead, shoppers are looking for a one-stop shop that offers good deals and a varied selection of grocery items. Aldi and Dollar Tree are two popular budget-friendly options that attract customers with their low prices and unique offerings. 
To help determine which bargain store offers the best bang for your buck, let's compare the prices of dairy products, meat, fruits and vegetables, nonperishable items and cleaning supplies at both stores to determine which one offers better overall value. 
Dairy Products
When it comes to dairy products, Aldi offers a wide variety of options that cater to different preferences. Shoppers can find a half gallon of whole milk for $3.55, which amounts to just 6 cents per ounce. For those looking for dairy-free alternatives, Aldi also offers unsweetened unsweetened almond milk for $2.55, or 4 cents per ounce. Aldi's strength lies in its private-label dairy products and the constant variety of dairy and vegan alternatives it offers. This provides shoppers with many fresh dairy options to choose from on a daily basis. 
At Dollar Tree, shoppers can find shelf-stable whole milk and unsweetened almond milk, both at $1.25. While these prices are slightly lower than Aldi's, it's important to consider the preference for fresh, refrigerated dairy products over shelf-stable ones. Many shoppers appreciate Aldi's fresh and affordable variety, as Dollar Tree's revolving dairy products can make the store unreliable for those who have specific dairy preferences they may not be able to find every time.
Make Your Money Work for You
Meat 
When it comes to meat, Aldi stands out with its fresh and vast selection. While Dollar Tree occasionally carries frozen meat, its fresh stock meat is often unpredictable. On the other hand, Aldi offers a wide range of high-quality meat options that attracts customers. For instance, it provides USDA Choice Black Angus Beef Stew Meat priced at $8.57 for a 1.3-pound package, and a family pack of chicken drumsticks for $5.81, which weighs approximately 4.5 pounds. Aldi's meat selection is known for its reliability and offers value for the extra cost compared to Dollar Tree.
Although Dollar Tree's fresh meat stock may be unpredictable, it does carry some nonperishable meat options including Hunt's premium meat-flavored pasta sauce (24-ounce can) for $1.25 and Armour Potted Meat (5.5-ounce can) both for $1.25. 
Fruits and Vegetables
Aldi is the winner in the fruits and vegetables category as well, providing a wider variety of fresh produce to choose from. It offers some winning deals that keep shoppers coming back, such as large avocados for just 65 cents each or a bag of six mini avocados priced at $3.09. Additionally, Aldi sells broccoli crowns for $2.19 per 1-pound package and cauliflower crowns for $3.19 each. Its commitment to fresh and affordable produce makes Aldi the go-to store for those seeking quality fruits and vegetables.
On the other hand, Dollar Tree's fruit and vegetable options are limited to canned and frozen products. While it offers items like Imperial Nuts' fruits and nut protein blend for $1.25 (2.25-ounce bag) and Welch's blueberry flavored fruit and yogurt snacks ($2.25-ounce bag), finding fresh produce at Dollar Tree can be hit or miss. Therefore, if you're specifically looking for fresh fruits and vegetables, Aldi is the way to go.
Make Your Money Work for You
Nonperishable Items
In the category of nonperishable items, Dollar Tree truly shines with its unbeatable prices. Shoppers can stock up on essentials like Hunt's premium garlic and herb pasta sauce for just 25 cents per 24-ounce jar and 2-pound bags of Omega long-grain white rice for $1.25. Dollar Tree's commitment to offering a uniform price point of $1.25 for most products makes it an attractive choice for those looking to save on nonperishable items. 
Despite Dollar Tree's slightly better pasta sauce steal, Aldi is not far off. It offers Reggano roasted garlic pasta sauce for an impressively low price of $1.65 for a 24-ounce can. However, Aldi's prices for items like rice are higher, with a 3-pound bag of long-grain white rice priced at $2.65. While Dollar Tree may have a slight edge in this category, Aldi still provides competitive options for nonperishable items.
Cleaning Supplies
Both Aldi and Dollar Tree have a decent selection of cleaning supplies, but the choice ultimately depends on what you're looking for. Dollar Tree is a good starting point for basic cleaning needs offering products like LA's Totally Awesome cleaning vinegar for $1.25 for a 64-ounce bottle and a variety of dish soaps and laundry detergents, including name brands like Gain. Its affordable prices make Dollar Tree a convenient option for those seeking essential cleaning products without breaking the bank. 
Aldi, on the other hand, caters to a wider range of cleaning needs with its diverse selection. Its prices may be higher but shoppers are getting a much bigger amount of product. White vinegar at Aldi falls at $3.55 (Tuscan Garden brand) for 1 gallon and Gain laundry detergent costs $12.05 for 92 ounces. It also offers specialty products including cleaning erasers, disinfectant wipes and scrubbing bubbles. If you require more specific or specialized cleaning products, Aldi is the better choice.
Which Is Cheaper? Aldi or Dollar Tree?
If you shopping for dairy products, meat and fresh fruits and vegetables, Aldi should be your go-to. It offers competitive prices and quality, making it a strong contender against mainstream grocery stores. 
On the other hand, Dollar Tree shines with its unbeatable $1.25 price point, particularly for nonperishables and cleaning supplies.
Another factor to consider is the size of the products, as Dollar Tree often sells smaller-sized items, while Aldi offers family-sized options. The choice between the two ultimately depends on your specific needs, preferences and the items you're shopping for.
More From GOBankingRates