Don't Shop at Dollar Tree on This Day of the Week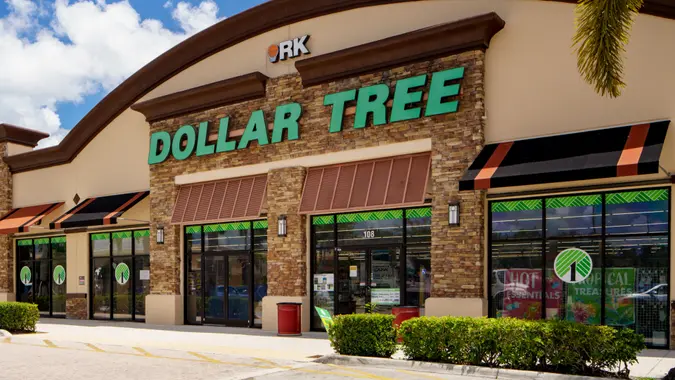 felixmizioznikov / Getty Images
The Dollar Tree is well-known for its low prices — only $1.25 for most items — and large array of goods. There are also many Dollar Trees throughout the country, with over 16,000 total storefront locations, making it a convenient and accessible store for people to shop at.
If you're an avid Dollar Tree fan, you might already know that certain times and days of the week are worse to shop at than others. But if you're not, or if you're looking for the best times to plan your next shopping trip, here's what you should know.
Worst Days To Shop at Dollar Tree: Saturdays and Sundays
Weekends tend to be the busiest times to go shopping, and Dollar Tree is no exception. This is primarily due to the fact that most people are off work or out of school, and so they're running their errands or hitting up the local stores. This leads to more crowds, longer lines and potentially limited stock on the shelves.
"The worst times to shop at the Dollar Tree are during weekends, particularly in the afternoons," said Andrew Latham, Certified Financial Planner, managing editor at SuperMoney. "Saturdays and Sundays tend to be the busiest days when families and shoppers flock to the store. This can lead to crowded aisles, longer checkout lines and a higher likelihood of items being out of stock."
Make Your Money Work for You
Best Days To Shop at Dollar Tree: Weekdays
If you have some flexibility in your schedule, you may want to hit the Dollar Tree during the weekdays. Just avoid going in the late afternoon.
"Late afternoons on weekdays can be hectic due to people shopping after work or school, so it's best to avoid those times if you prefer a more relaxed shopping environment," said Latham.
Instead, go when the kids are still at school or people haven't yet left their workplace. This can help you avoid crowds and shop without feeling hassled or like you need to rush.
"The best times to shop at the Dollar Tree are typically during weekdays, especially in the morning. If you can manage to go early in the week, that's even better," added Latham.
If you're looking for fully stocked shelves, you might want to go early in the week, as well.
"On Monday or Tuesday mornings, you'll likely find the store well-stocked and organized from the weekend rush," said Latham. "This means you'll have a better chance of snagging the best deals and discovering new arrivals before they get picked over. Additionally, mornings are generally less crowded, allowing for a more relaxed shopping experience."
Make Your Money Work for You
Keep in mind that not all Dollar Tree locations receive their weekly shipments at the same time. Melissa Cid, a consumer savings expert at MySavings.com, added, "My Dollar Tree receives deliveries on Thursdays, so Friday morning is the best time to shop for all the new stock as it gets put out on display."
Not sure when your local Dollar Tree receives their shipments? Ask the employees.
"It pays to be friendly with your local [Dollar Tree] employees, because shipments can change, and delivery days depend on each individual store," added Cid.
Ways To Optimize Your Dollar Tree Shopping Trip
Whenever you decide to go shopping, there are several things you can do to prepare for your trip and make sure it goes smoothly. Here are just a few:
Use Coupons and Discount Codes
Even the Dollar Tree sometimes has discounts.
"Before you shop at the Dollar Tree, it's important to check for any applicable coupons or discount codes to ensure you're getting the best deal," said Samantha Landau, consumer expert at TopCashback. "Head to the store in advance to pick up a copy of Dollar Tree's weekly circular, or visit their website… By looking at the items before you shop, you can compare prices and make a shopping list to save money without breaking your budget."
Make Your Money Work for You
Stick to Your List
Having a shopping list can help you stick to your budget, but it won't do as much good if you deviate from it.
"Just like any other store, it's essential to make a shopping list before heading to the Dollar Tree. Stick to your list to avoid impulse purchases," suggested Latham.
Cross-Reference Prices
"Shopping at stores like Dollar Tree can lead to substantial savings across a wide range of everyday essentials," said Latham. While your exact savings will depend on what you buy, here's an estimate of potential savings, according to Latham:
Up to 50% on household essentials
Up to 70% on party supplies, like balloons and decorations
Up to 40% on basic cleaning supplies
Up to 50% on personal care goods, like toothpaste and shampoo
Up to 70% on school and office supplies
Up to 60% on basic kitchen essentials
Up to 40% on pantry staples and snacks
Up to 60% on party favors and craft supplies
Up to 50% on basic clothing accessories, like hair ties and socks
"Even though you can [get] great deals at Dollar Tree, you can also waste money on things you don't need or even want," added Latham. "To maximize savings, consider making a list, check both generic and brand names, compare prices, and look out for party supplies, seasonal bargains and kitchen essentials."
Use a Cash-Back Site
To save money when shopping online, Landau suggested using a cash-back site.
"You can also stack your savings by using the right credit card when you shop," she said. "Look into the terms of your card's program to determine which spending categories give you the most rewards."
Make Your Money Work for You
Bottom Line
Although every Dollar Tree is different, the weekends are generally the worst time to go shopping, because it's when most people go. Depending on where you live and when your local store receives its shipments, weekends might also be when the shelves are a little less full.
If you want to avoid the lines and get the most out of your shopping experience, try planning your trip on a weekday afternoon or early in the morning.
More From GOBankingRates