Do's and Don'ts of Shopping at Lowe's: 6 Money-Saving Tips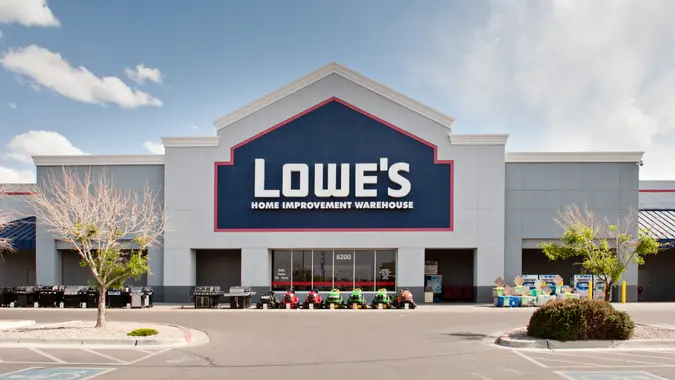 ivanastar / Getty Images
Lowe's is known for its low prices, and with over 1,700 home improvement stores across the U.S., it's an easy place for most people to shop. But if saving money is a priority, "easy" is only worth it if it gets you the best price.
To save the most money at Lowe's, here's what to do and what to avoid next time you're in the market for home-improvement products.
Do Take Advantage of Lowe's Military Discount
Lowe's and Home Depot offer similar discounts to eligible past and present members of the military and their spouses — 10% off full-priced merchandise, excluding appliances, lumber and other commodities and certain other items. However, Home Depot caps savings at $400 per year. Lowe's has no limit, so you can do all your home-improvement shopping here without worrying about using up your discount.
Do Shop Deals of the Day Online
Lowe's discounts a rotating selction of items 24 hours at a time, for online purchase only. Items discounted on a recent day included up to 70% off select IceCove insulated cart coolers, $270 off a Dewalt power-tool kit with seven 20-volt tools and up to $150 off select Greenworks electric pressure washers. Deals are listed on the Lowe's website, but you can sign up to have them delivered to your email each day.
Do Compare Prices
Lowe's guarantees lowest prices in its stores and online, but there are some rules. The competitor's price must be for shoppers in your ZIP code, for example, and products offered by auction/bidding sites, membership-based wholesalers and third-party Amazon sellers are ineligible. But if you find the same product for less at Home Depot, Walmart or Best Buy — or for sale by Amazon or just about any other retailer — Lowe's will match the price.
Make Your Money Work for You
Don't Buy Batteries
Lowe's is not the place to go for batteries. You'll find a great selection, and the prices are decent. But Walmart's regular prices are at least $1 cheaper on most varieties, including various sizes of Duracell batteries.
Don't Use Lowe's Home Services
It's convenient to have Lowe's install kitchen and bath fixtures, lighting, flooring, windows and other remodeling items you purchase there. You might even get special financing options for doing so. However, you'll have no say over the independent contractor Lowe's sends to your home, and your recourse options might be limited if you're dissatisfied with their work, which could cost you money in the long run.
Don't Lease To Own
Customers who don't have the cash or credit to purchase big-ticket items can lease them through Lowe's and own the items after 12 payments. Don't do it. GOBankingRates used Lowe's payment calculator to find out how much it would cost to lease-to-own a $900 item — about what you'd pay for a low-end refrigerator. The lease-to-own fee was $1,081, for a total cost of $1,981. That's the equivalent of a 120% annual percentage rate.
More From GOBankingRates
Make Your Money Work for You