Dos and Don'ts of Shopping at T.J.Maxx: 13 Money-Saving Tips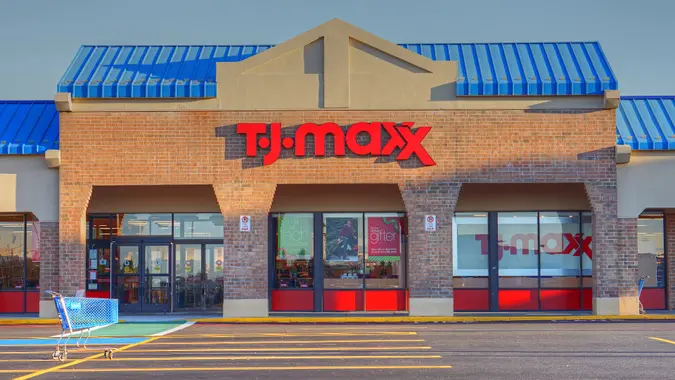 QualityHD / Shutterstock.com
Operating since 1976, the department store chain T.J.Maxx is popular for its discounted prices on everything from clothes and toys to home items and cosmetics. To get the most out of your shopping trips, you'll want to know how to spot the best deals, find further discount opportunities and avoid wasting your money. Here are 13 do's and don'ts to consider as a T.J.Maxx shopper.
1. Do Shop at the Right Times
Try shopping on Monday mornings or during the clearance events in January and July to score the most clearance items. For new items, visit the store on weekdays since that's when the employees usually stock the shelves. Joanie Demer, known for the Krazy Coupon Lady website, advises against Black Friday shopping trips since you likely won't save more money than usual.
2. Do Use Your T.J.Maxx Credit Card Perks
If you have a T.J.Maxx Rewards credit card, you get a 10% discount on your first card purchase and access to special shopping events. Each card purchase will also come with 5% back in the form of rewards certificates you can redeem in stores or online. Plus, your card will work for purchases at the chain's family brands.
3. Do Consider Discounted T.J.Maxx Gift Cards
Before your next shopping trip, check CardCash, Raise and other sites that sell discounted T.J.Maxx gift cards. While the discounts fluctuate and are often 5% or less, the savings can help. Just make sure you use a trusted gift card reseller.
Make Your Money Work for You
4. Do Check for Deals Online
The T.J.Maxx website and mobile app give you access to many more items than you'll find at local stores. One major highlight is the online clearance section with several thousands of items, including many under $10. To further save, use the retailer's SHIP89 code to get free shipping when you spend at least $89.
5. Do Know the Categories Worth Buying
Since quality and savings will vary, some product categories are more worth buying than others. CNET highlights pet accessories as a must-buy at the retailer. Other notable categories include most clothes and jewelry, home decorations and supplies, specialty food and phone cases. Be more cautious buying off-brand electronics, knock-off toys and potentially used hair products.
6. Do Check Price Tags Closely
Price tag colors can help you decide whether you could save more on an item later. If you see a stickerless white tag, your item still has its original non-sale price, so you might decide to wait. On the other hand, a tag with a red sticker means it's a clearance price, while a yellow sticker represents a final clearance price.
7. Do Join the Email List
Joining the email list on T.J.Maxx's website gets you regular updates about the chain's new products and access to special offers. You also receive a one-time promo code to ship your next order for free. 
8. Don't Wait to Buy Best Selling Items
If you're holding out on a hot item, you might miss out. The retailer's inventory turns over quickly, so don't count on waiting for bestsellers to last long enough to go on clearance. The same applies to anything you want on clearance since another shopper will probably take the deal.
Make Your Money Work for You
9. Don't Fall for Misleading Price Comparisons
Due to licensing agreements, T.J.Maxx sells several items made only for the chain and features the names of designer brands. Be aware these items have price tags with comparable prices that may need to be more accurate given the quality and the fact a comparable item may not exist. According to Truth in Advertising, the retailer was part of a related lawsuit in 2018. 
10. Don't Rush Into Getting a T.J.Maxx Credit Card
Think carefully if your cashier or the T.J.Maxx website asks you about getting the retailer's credit card. While you may enjoy the perks, the card can work against saving money. You might feel more pressure to spend to earn rewards, but the high interest rate can hurt your finances if you keep a balance. 
11. Don't Waste Time Hunting for Coupons
Besides the 10% deal you get for signing up for the credit card, T.J.Maxx doesn't typically offer or take coupons. If you see a coupon online, there's a good chance it's a fake. Avoid wasting your time looking for them and instead focus on other ways to save. 
12. Don't Count on Price Matches or Adjustments
Unlike competing retailers such as Target and JCPenney, T.J.Maxx won't match other retailers' prices. This means you should buy elsewhere if you can save. Plus, the retailer won't give you any adjustment if an item's price drops soon after you buy it. You'd instead have to address any price discrepancy issues beforehand at the checkout.
Make Your Money Work for You
13. Don't Immediately Write Off Imperfect Merchandise
Unless you seek perfection, it's worth considering an item you like, even if there's a little damage. First, you'll want to make sure there's no "as-is" tag on it. If not, find an employee and try to negotiate a discount. Still consider irregular clothing items since they are a great deal and do not have major issues.
More From GOBankingRates