7 Expensive-Looking Items You Can Buy at Walmart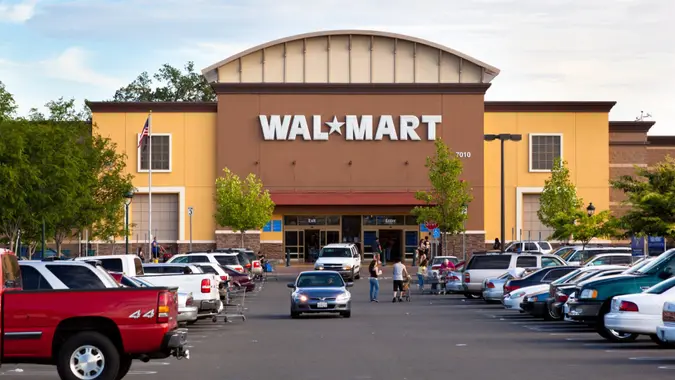 slobo / Getty Images
If you've ever shopped at Walmart, you probably already know that the retailer has some great deals and sales on offer. Although the saying that you get the quality you pay for often holds true, you'd be surprised at the luxe-looking goods you can find on the retailer's shelves.
The next time you head to Walmart, you might want to keep an eye out for some of these expensive-looking items that won't break your budget. Whether you're on the lookout for electronics, furniture, or apparel, here are the seven top items that look much more expensive than they actually are.
Electronics
Walmart carries an assortment of cell phones, computers, tablets, smartphones, and headphones, some of which look expensive. In some cases, you can even find the latest or next-to-latest generation of certain electronics on Walmart's shelves.
Mario E., the founder of Beinghuman, said that Walmart's selection of electronics "look expensive, but are actually very affordable." Many of these items, like televisions and laptops, go for under $500.
Whenever you're buying electronics, be sure to read up on customer reviews to make sure you're getting the best deal for the price. Check out the specs as well to ensure it meets your needs.
Make Your Money Work for You
Home Furniture and Decor
The cost of furniture and decor for your home can really add up in terms of price. But if you go to Walmart, you can find several quality options that look more luxurious than you'd expect for the affordable price tag.
Many Walmarts have a display area where they showcase their cool new pieces of furniture. Not only can you get a better idea of how these items might look in your home, but you can also test some of them out.
Eric Sornoso, CEO of MealFan, said that the variety of furniture and decor items at Walmart can work in almost "every room in your home. You can find sleek, modern pieces with a high-end appearance without the premium price."
Plus, as Mario E noted, many of Walmart's brands offer "stylish and affordable furniture" and decor. The Mainstays brand, for example, a popular brand found at Walmart, typically has a decent selection of furniture items to choose from, ranging from tables to chairs. Many of these elegant and simple pieces look expensive.
As for decor, your options for affordable luxury are also varied.
Eric Lam, founder of Exploding Ideas, provided several decor suggestions to keep an eye out for at Walmart, including, "artificial plants, flowers, and home decor items that can give your living space an elegant and upscale look." Along with this, you can also find other decorative decor items, like wall art and vases, which add a sense of grandeur to your home without compromising your budget.
Make Your Money Work for You
Apparel and Accessories
Being fashionable is often associated with higher price tags and the quality to match. But it doesn't always have to be this way.
At Walmart, you can find luxe-looking apparel that will make you look and feel great while still being reasonably priced. Among other things, Sornoso said that the retailer often carries "designer-inspired pieces."
Plus, Walmart swaps out its selection of apparel, shoes, and accessories — including handbags, sunglasses, wallets, scarves, and more — regularly. That means you can shop there during any season and find something you like that still looks great.
Kitchenware
Walmart also sells some high-quality dishes and kitchen appliances that look expensive but are not. These items can not only give your home a more luxe aesthetic, but many of them are also highly practical and durable.
According to Lam, you can often find "non-stick cookware sets, kitchen gadgets, and small appliances" at Walmart. The shelves are also often lined with coffeemakers, full sets of dishes, utensils, and blenders.
Ruiz Asri, CKO and Editor of Honest Food Talks, also had several suggestions for expensive-looking kitchen items at Walmart. This includes the KitchenAid 3-Speed Hand Mixer, which has "three speeds and has stainless steel beaters that give a luxurious feel." It also includes the Keurig coffee maker, which looks like a high-end appliance and is very sleek. And if you're in the market for dishes, Asri recommended the Better Homes & Gardens 16-Piece Square Porcelain Dinnerware Set for its stylish look and affordable price tag.
Pet Supplies
Your four-legged friends deserve the best, but that doesn't mean you have to break the bank to provide them with the highest-quality toys, dishes, food, and more. In fact, Walmart has some great pet supplies that are affordable and still look expensive.
Dr. Mollie Newton, a Doctor of Veterinary Medicine and the founder of PetMeTwice, suggested getting plush pet beds as they're "cozy havens that look and feel luxurious." You can also get quality pet carriers at Walmart for transporting your furry companion to the vet or to other places.
Food
Walmart Supercenters typically have a full grocery section where you can purchase your food for the week or month. Some of these items, particularly the fresh produce and baked goods, can look more expensive than they are — meaning they're sure to impress the next time you're hosting a gathering at your place.
Kimberly Wall, the co-founder of BibleKeeper, said, "The fresh produce section always surprises me. The fruits and vegetables look top-notch and one might think they'd be pricey, but they're very reasonably priced."
Wall also complimented Walmart's bakery section. "Whether it's bread, cakes, or pastries, the quality is fantastic, and the prices are even better."
Jewelry and Accessories
The next time you're at Walmart, don't be too quick to dismiss the jewelry section. Sometimes, you can find elegant pieces that look fabulous but are very inexpensive.
As Mario E pointed out, many pieces of Walmart's jewelry are quite affordable. You can even find "diamond earrings for under $100, and gold necklaces for under $50."
Depending on what you're looking for, you might even find watches, necklaces, and more that look like they come from more expensive or national brands.
More From GOBankingRates