I'm a Former Dollar Tree Employee: Here Are 5 Inside Secrets You Should Know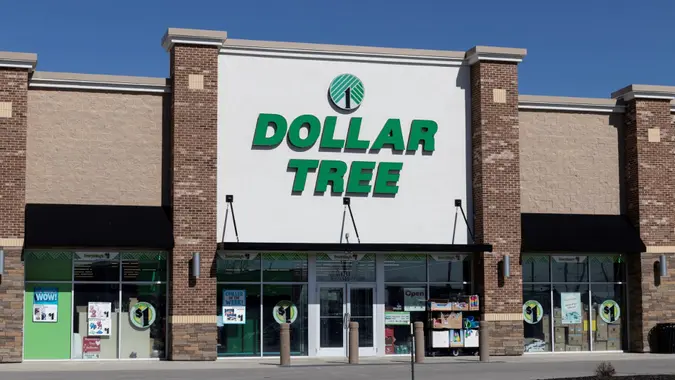 Going to Dollar Tree can be one of the most rewarding shopping experiences as a customer. You get quality items at discount prices on things you buy every day. But have you ever thought about all the secrets inside your favorite discount store from the perspective of the staff?
"Having spent considerable time within the Dollar Tree environment, I can shed light on various aspects that make the shopping experience unique and offer expert advice on maximizing value and savings," said former Dollar Tree employee Thomas Villalpando, who is now a co-founder at IPetGuides.com.
"From an employee's perspective, Dollar Tree operates on a business model that provides affordable products across various categories, ensuring a treasure trove of bargains for customers," noted Villalpando. "As an insider, I witnessed the dedication of Dollar Tree employees in maintaining a well-organized store layout and constantly restocking inventory to offer a wide variety of items at unbeatable prices."
Dollar Tree fan Tracy Cauley, CFA at VEM Medical, weighed in: "Dollar Tree provides an extensive network that enables them to offer a wide array of products at unmatched prices. Whether you require essential household items, party supplies or a convenient snack, Dollar Tree is your go-to destination."
For customers seeking the best shopping experience, Villalpando and a few other Dollar Tree enthusiasts are here to share expert tips that customers should keep in mind the next time they visit a Dollar Tree.
1. Explore the Product Range
"Dollar Tree stocks an extensive array of products, ranging from household essentials to party supplies, snacks and seasonal items," Villalpando pointed out. "Take the time to thoroughly browse the aisles to discover hidden gems and everyday necessities at remarkable prices."
Make Your Money Work for You
While you are at Dollar Tree, don't skip the overstock section — the bargain chain has a reputation for having one of the best in the biz.
"It'll vary by area and will absolutely require you shopping in person," consumer analyst Julie Ramhold with DealNews.com added. "But occasionally, stores will get overstock items from retailers like big-box stores that are truly some of the most amazing deals you can find."
"For example, you may come across full-size packages of name-brand foods or beauty products, and because they're at Dollar Tree, they could be as little as $1.25 each," Ramhold shared. "These are definitely worth shopping, but you have to be quick — these aren't hanging around, so don't assume you can come back later. If someone else comes across them, there's a good chance the supply will sell out quickly, so it's best to pick up what you want when you see it."
2. Check the Quality
"While Dollar Tree is known for its affordable pricing, assessing the quality of the items you're interested in is essential," said Villalpando. "Some products may be equivalent to or surpass the quality of higher-priced alternatives, while others may require closer scrutiny."
Villalpando explained that "examining the packaging, reading labels and considering your needs before purchasing is crucial." Expert shoppers should keep eagle eyes out for frequent sales and discounted items, but double-check that products are not marked down due to low quality or damage.
3. DIY and Crafting Supplies
"Dollar Tree is a haven for DIY enthusiasts and crafters," explained Villalpando. "It offers an extensive selection of art supplies, décor items and crafting materials at a fraction of the cost of specialty stores. Tap into your creativity and take advantage of these budget-friendly resources."
Make Your Money Work for You
If you are looking for inspiration and coming up short, Dollar Tree's own blog is jam-packed with fun and creative ideas.
"The posts will walk you through how to create different items and are great for seasonal decorative ideas," Ramhold said. "Plus, other shoppers will share their own creations on social media with the [tag] #DollarTreeBlog, which can provide even more inspiration. If you like to decorate but don't have a huge budget — and you like being crafty — this is a great resource."
4. Seasonal and Holiday Shopping
The holidays are some of the best times to hit up Dollar Tree, especially right after a seasonal occasion ends where the discounts are plentiful.
"Dollar Tree excels in providing seasonal and holiday-themed merchandise," shared Villalpando. "Whether it's decorations, party supplies or festive accessories, shopping at Dollar Tree can help you create a spirited atmosphere without breaking the bank. Watch for limited-time items that align with upcoming holidays or special occasions."
5. Rewards Programs
"Stay informed about Dollar Tree's rewards programs or loyalty initiatives, if available, as they can offer additional discounts or exclusive deals," said Villalpando. "Sign up for newsletters or follow Dollar Tree on social media to stay updated on promotions and upcoming offers."
Ramhold also advised that you should check out cash-back apps. "Specifically, apps like Ibotta and Checkout51 could yield extra savings when you shop in-store at Dollar Tree," explained Ramhold.
"This is especially useful since you can't stack the savings found with coupons, but these apps can provide a little extra cash back and therefore a little extra savings on an already affordable shopping trip," Ramhold said.
More From GOBankingRates