9 Frugal Habits That Can Save You Money When Holiday Shopping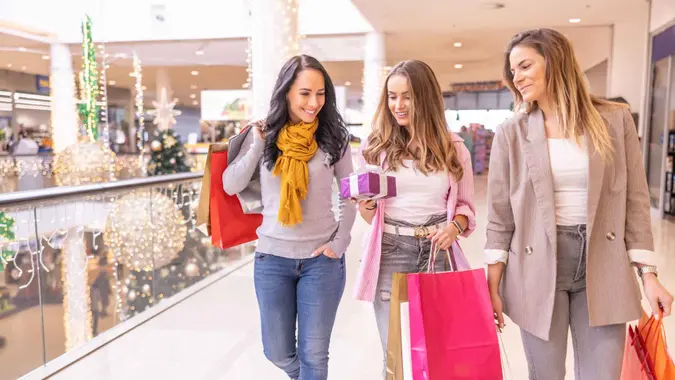 MarianVejcik / Getty Images
It can be easy to overspend when holiday shopping. Black Friday and Cyber Monday are two big days that might lead to you having a higher credit card statement than you expected.
But by observing some important frugal habits, you can save money when holiday shopping. GOBankingRates recently spoke with Paige Pritchard, the founder of Overcoming Overspending, about keeping your budget in check as you shop this holiday season.
1. Be Realistic About What You Can Afford 
Pritchard's first tip? "Having realistic expectations for this holiday season" about what "you can actually afford" when it comes to gifts for people.
If you have to purchase gifts for many people, she said, think about what you can do to make it affordable, such as giving baked goods and other homemade gifts. She added that completely opting out of gifts this year and focusing on spending time with loved ones is another option you might choose.
2. Think Quality Over Quantity When It Comes To Gifts 
Prioritize quality over quantity when buying gifts, Pritchard said — the thought behind a gift is the most important. For instance, if you're a parent, "there is absolutely no correlation between how many gifts you get your kids and how much you love them or even how good of a holiday season they're going to have," she explained.
Make Your Money Work for You
3. Recognize That It's Fine To Not Shop During Black Friday and Cyber Monday 
It can feel "almost like a requirement that you have to participate" in Black Friday and Cyber Monday, Pritchard said. But that's not the case. She explained that if there's an item you actually need and it makes sense to save on it, then go get the deal. If not? "It's perfectly acceptable to opt out of" the two holiday sales events, she said, adding that "just because it's on sale or just because it's discounted doesn't mean you need it, and it doesn't necessarily make it a deal either."
4. Have a Plan For Black Friday and Cyber Monday
If you do decide to participate in Black Friday and Cyber Monday, "go in with a plan and go in knowing the things that you want to buy," Pritchard advised. Plus, when you know which items you want to buy, she said, you can start searching the deals ahead of time.
5. Get In and Get Out 
Pritchard explained that she thinks "people actually end up wasting the most money on Black Friday and Cyber Monday" — not because they necessarily miss the best deals but because they buy things they didn't intend to purchase. Her philosophy, she said, is "get in and get out" instead of perusing around to see what else is there.
6. Reuse and Refurbish Decorations  
If you're thinking about getting a new Christmas tree or stockings, reconsider. Pritchard advised using what you have from past years and either sprucing it up or refurbishing it.
7. Skip Out on Holiday Activities That You Don't Enjoy
Holiday activities, such as family photo shoots for Christmas cards, can take a big chunk of your paycheck. Pritchard advised thinking about some of the holiday activities that you "moreso feel obligated to do" than you genuinely "want" to do. Specifically, she noted, think about the activities that not only take up your financial resources, but also your time and mental and emotional energy. She said if you find that there's a big discrepancy or big imbalance between what you're getting out of an activity versus what you're putting into it, then it's okay to opt out.
Make Your Money Work for You
8. Rethink Spending on Personal Care 
With various events during the holiday season, personal care can be top of mind. You might want to get your nails done and buy new clothes, Pritchard pointed out. But Pritchard said that, instead, you should look into what you can do on your own (such as skipping the trip to the nail salon and painting your nails at home) and what items in your closet you can wear.
9. Implement a Waiting Period Between Seeing and Buying 
When you're shopping this holiday season, you might want to buy items you come across immediately. But Pritchard stressed the importance of stepping back and implementing a waiting period, and recommended one of at least 72 hours. By doing so, you can evaluate if you truly want an item, she said, adding that if you're still thinking about that item a few days later, then you can go back and get it.
Something Pritchard tells herself? "It's not like it's a 'no' forever. It's just a 'not right now.'"
More From GOBankingRates