5 Grocery Items Buyers Almost Always Regret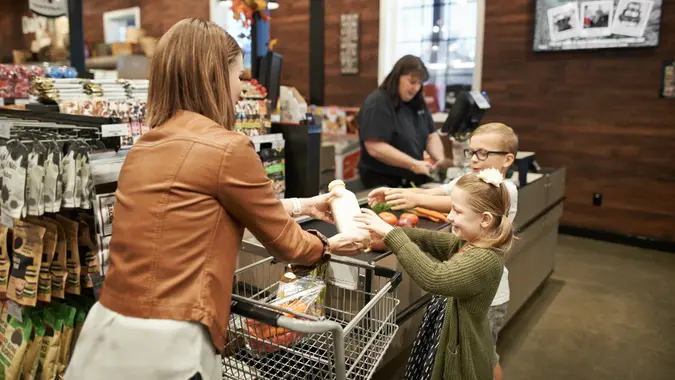 AJ_Watt / iStock.com
Grocery purchases shoppers regret making extend beyond impulse buys like cookies or potato chips. Even items we purchase with the intention of eating may not be consumed as quickly as we planned and ultimately lead to food waste.
The next time you're out grocery shopping, take a moment to reconsider the items that catch your eye versus those on your shopping list you know your household needs. Here are the grocery items buyers almost always regret.
Bagged Seasonal Fruit
Grocery shoppers should probably avoid buying seasonal produce by the bag, said Kelsey Sackmann, registered dietitian and owner of Kelsey P. RD. The savvy shopper should instead purchase produce by the pound.
"Fruits like avocados, apples and oranges are usually cheaper by the pound," Sackmann said. "If they go on sale, a bag of the same fruit will still cost more."
Additionally, Sackmann said the bag's packaging is often difficult to see through. With the inability to see through the bag, shoppers may end up with bruised, cut or inedible produce.
Premade Sauces
Who among us hasn't spotted a premade sauce in a fancy jar and thought it might be worth trying out? 
Leave these sauces on the grocery shelves, said Jessica Randhawa, head chef and recipe creator at The Forked Spoon. "I usually forget about planning to make them, and the sauce ends up expiring in my pantry and expires a year or so later."
Make Your Money Work for You
Big Bags of Potatoes
Claire Onidi, food blogger and founder of Jugo Feed, often cooks with potatoes. While it might seem like a no-brainer to buy a 10-pound bag of potatoes if you cook a lot of potato recipes, Onidi said not to assume you'll use every potato before it goes bad.
"While potatoes can last a long time if stored right, they are still perishable. Potatoes tend to deteriorate after about a month," Onidi said.
Unless you have a large family or cook with potatoes every night, Onidi recommends sticking with the smaller potato bags. Need a tip on how to properly store potatoes to ensure they last? Onidi recommends storing potatoes in a cool, dry cupboard.
Packaged Snacks
If you can manage it, Onidi said to avoid loading up on packaged snacks like chips and cookies while grocery shopping. 
"It's easier, and more tempting, to reach for these prepared snacks than choose something healthy," said Onidi, adding limiting the amount of packaged snack foods one buys can help reduce overall waste creation.
Gum
Gum is an impulse buy we often grab at checkout, but some shoppers, especially those with children, don't always enjoy making a gum purchase.
"Whenever I'm at the grocery store my kids love to beg me for gum!" said Carolyn Truett, founder of Caramel and Cashews. "Sometimes I agree, but I hate that you can't pronounce any of the ingredients."
Make Your Money Work for You
The other aspect of buying gum that makes it unappealing? The price tag.
"Certain brands cost up to $4 for a pack. Mega ouch," Truett said.
More From GOBankingRates