2 Hidden Costs If You Shop at Costco Without A Membership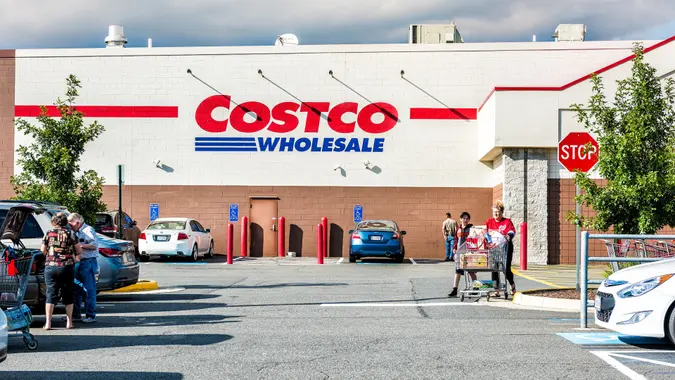 855684128 / iStock.com
If you have a sudden need for a 10-pound jar of peanut butter, a new TV or 30 paper towel rolls, Costco is probably your best bet to get more bang for your buck. The wholesale retailer is known for its low prices and the variety of products and services it offers — that is, if you have a membership.
But if you don't have one and you're not ready to take the Costco leap, you might still be in luck. There are a few ways to go around it and still be able to shop at the bulk retailer. However, these might also come with hidden fees.
Shopping Without a Membership
"There are a ton of downsides to shopping at Costco without a membership, but… the biggest hidden fee… is definitely the fact that many items have a surcharge for non-members, usually 5%," said Justin Albertynas, CEO and founder of RatePunk. "This surcharge will surely quickly add up if you're making a large purchase."
A Costco Gold Star Membership costs $60 annually, includes a free household card and is valid at all Costco locations worldwide.  Meanwhile, Costco's Executive Membership costs $120, also includes a free household card and has several benefits, including an annual 2% reward on qualified Costco purchases and extra benefits on select Costco Travel products.
Costco has 69 million paid members and 124.7 million cardholders, according to a June 2023 Securities and Exchange Commission filing. But if you're not one of these millions of members, here are the ways you can shop at Costco without a membership, as well as their associated costs.
Make Your Money Work for You
Online
If you are not a Costco member, you can still shop for thousands of items online. However, you will be charged a 5% surcharge over posted prices for members, except for prescription drugs.
"This is because our ability to offer low prices on brand-name items is due in large part to our membership program, which is designed to reward members for their loyalty," according to Costco's website.
The company adds on its website that you can also change your mind about getting a membership while shopping, as you "have the opportunity to add a membership to your cart prior to checkout, at which point the 5% surcharge will be removed."
Instacart
While Costco same-day delivery is only offered to members, the company said on its website that if you're not a member, you can shop directly from Instacart.com, "but you'll pay a higher price than members shopping on Costco Same-Day Delivery."
Instacart delivery starts at $3.99 for same-day orders of more than $35 and fees vary for one-hour deliveries, club store deliveries and deliveries under $35. You'll see the delivery fee when you choose your delivery window at checkout, according to the company.
And if you were thinking of buying a heavy item — anything above 50 pounds — there is an additional fee.
"Costco's Instacart prices are up to 17% higher than shopping in-store," said Melissa Cid, consumer savings expert for MySavings.com. "After factoring in service fees and the tip, we are now talking a 25% premium over shopping in-store. You're also missing out on Costco in-club prices and clearance mark-downs." She added, however, the convenience factor is worth it for many people who may not have the time to shop in-store.
Make Your Money Work for You
According to an Insider report, a sample shopping cart of popular items totaled $131.10 for a non-member shopping via Instacart, but just $96.60 for a member shopping in-store: a savings of $34.50.
"In that scenario, the $60 membership fee basically pays for itself after just two trips," according to Insider.
Gift Card
You can also use a Costco gift card, known as a "Shop Card," if you're not a member. While you will need to be a member to purchase one, non-members may use Shop Cards to shop at any Costco location in the U.S., Canada or Puerto Rico, as well as online at Costco.com and Costco.ca. If you've been gifted one, you can also use it to buy a membership.
More From GOBankingRates