Home Depot vs. Lowe's: Which Has the Better Deals?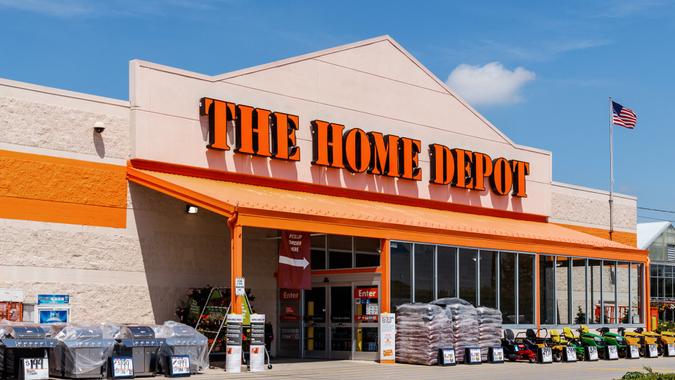 Jonathan Weiss / Shutterstock.com
On the surface, Home Depot and Lowe's seem remarkably alike: massive big-box stores where you can buy everything from screws to paint dropcloths to major appliances to everything you need to build a backyard gazebo.
In some areas, deciding between the two home improvement giants for your home improvement needs is a coin flip. In others, one has a decided advantage over the other. Read on to find out when you should shop at Home Depot and when you should shop at Lowe's — and where they remain a tie.
Find: How Much Is Lowe's Worth?
Also See: How Much Is Home Depot Worth?
Truck Rentals
If you need a way to transport your new front door or project supplies too weighty for your car, the good news is that both stores offer heavy-duty pickup trucks for rent. All things considered equal when it comes to what you're buying, purchase them at Lowe's.
Make Your Money Work for You
At Home Depot, a rental truck costs $19 for 75 minutes, or $129 per day. At Lowe's, it's $19 for 90 minutes, plus $15 for each additional 15 minutes, or $89 all day.
Craftsman Products
Once the gold standards of hand and power tools, Craftsman products were the house brand at Sears. But with the downfall of the retailer, Stanley Black & Decker now owns the Craftsman line, which also includes lawn mowers. Lowe's carries an extensive line of Craftsman products now.
Some Craftsman items are priced similarly to their Home Depot competitors. For example, the Craftsman 239-piece tool set is $119 at Lowe's. A 270-piece set from Husky, Home Depot's house brand, is $129.
Learn: 20 Home Renovations That Will Hurt Your Home's Value
Carpet Installation
Retailers frequently offer specials on carpet installation, and that's one aspect you'll want to consider when shopping for carpet at Home Depot and Lowe's.
Currently, carpet installation at Home Depot is free with a minimum purchase of $699. At Lowe's, a $499 minimum applies. Both include removal and disposal of your old carpet, installation on stairs and basic furniture moving. You should ask whether you're responsible for any extras.
Make Your Money Work for You
Carpeting is expensive, and it's easy to meet the minimum if you're carpeting a whole house. But, if your carpet replacement consists of just a few rooms, you could be socked with an additional charge at Home Depot.
Price Matching
Both stores will match prices of competitors. That's a convenient feature if you find that one store has in stock all of the products you need, but one of them is way more expensive than at the competitor. The items must match exactly.
At the customer service desk at either store, show the employee the lower price by presenting an advertisement on paper or on your phone. There are some exceptions in the fine print of the store-matching policy; but, in most cases, the stores will make the adjustment happily.
Tips: Home Renovations That Will Pay You Back
Make Your Money Work for You
Tool Rentals
You might have all the skills of a home-improvement pro but lack the needed tools. Both Home Depot and Lowe's can help with the rental of hand tools, power tools and the heavy-duty stuff to get your jobs done.
At quick glance, Lowe's has the slight edge in rental prices — $344 to rent an aerator for a week (Home Depot is $360) or $244 for a random orbital floor sander (Home Depot is $260).
But price isn't everything when it comes to doing your project the right way. Home Depot's selection is far wider, with multiple options in many categories, compared to just one for Lowe's.
Paint
Walking through the paint department at Home Depot and Lowe's can boggle the mind. So many choices — satin, flat, semigloss, eggshell — and so many color swatches can overwhelm DIYers. But when you strip paint to the basics, the two stores come in about the same.
A 5-gallon bucket of the stores' basic paints — Home Depot's Glidden Essentials and Lowe's Valspar 4000 — costs $80.
So, when it comes to shopping at Home Depot vs. Lowe's, it appears the difference is in the details. The stores, on the surface, are remarkably the same. You'll find the differences when you delve a bit more, beyond the price tags on the store shelves.
More From GOBankingRates
Make Your Money Work for You