Does Home Depot Price Match? How To Get the Best Deals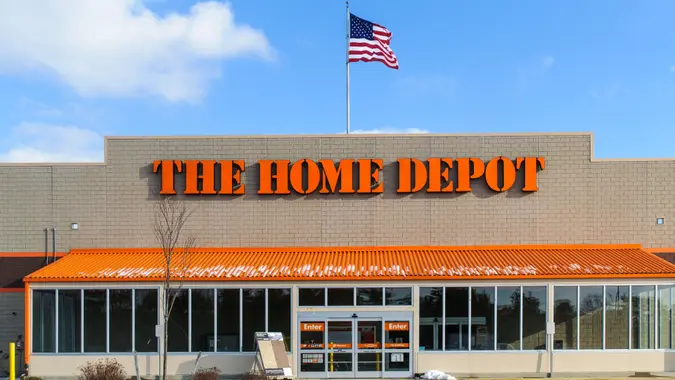 KenWiedemann / Getty Images
Price matching is one of the best ways for consumers to save while still enjoying the convenience and the quality of customer service of their preferred store. Many retailers provide price matching, lowering their prices to match that of their competitors.
Read: How To Get Free Gift Cards From Your Everyday Purchases
As a favorite hardware store of many Americans, plenty of consumers want to know — does Home Depot price match?
Does Home Depot Offer Price Matching?
Yes, Home Depot does provide a price matching policy. The policy, which the store calls their "Low Price Guarantee," allows consumers to acquire items at the same price a competitor charges.
When a customer finds an identical item available through another retailer with a lower price than that at Home Depot, the store will match that price. All the customer has to do is bring in the specific ad, a printout of the price or a photo to provide proof.
To make a purchase in-store, locate the item in question within the store and bring it to the cash register. Show the proof of price to the cashier and ask for the price match. The cashier might have to call the competitor that the ad is from to verify that it is accurate and up-to-date.
Make Your Money Work for You
It's important to note that the item has to be an exact match, not just a similar product. The price match guarantee applies to regular prices and excludes one-time-only promotions. This means that Home Depot may refuse to match seasonal promotions such as Black Friday sales.
Does Home Depot Still Do 10% Price Matching?
Unfortunately, Home Depot no longer offers its 10% price match policy in the U.S. Home Depot's price matching policy was well-known for many years due to the additional 10% discount offered. While no longer available in the U.S., the 10% price match is available in some other countries.
When you invoke the price match guarantee at Home Depot, they will adjust the item's price to match the price listed in the ad for the other retailer. However, customers don't receive any additional benefits beyond being able to shop at the retailer of their choice.
Can You Price Match After Making a Purchase at Home Depot?
Customers who order an item online to pick it up in-store can have the price adjusted if a better deal comes up between their order and pickup.
Make Your Money Work for You
Home Depot offers both online and in-store price matching. Online price matching even includes the shipping costs but also requires the competitor in question to offer shipping to the customer's location. Any price match claims must come from the purchaser themselves.
Home Depot provides great online and in-store purchase support. Customers can reach them at 1-800-466-3337 with any specific questions about individual examples of price matching transactions.
Are There Any Restrictions on Price Matching?
Yes, there are a variety of restrictions that limit the terms of the price match guarantee. One-time-only prices due to another retailer going out of business, clearance pricing or seasonal products aren't eligible.
Customers also can't receive the price match for any bulk or wholesale discount pricing. The same is true for custom or special order products. Any refurbished or open-box merchandise is also ineligible for the guarantee.
The price match only applies to products, not professional services. Home Depot offers a wide range of professional services from carpet installation to plumbing repair — but customers can't claim a price match on these.
Make Your Money Work for You
Home Depot also reserves the right not to provide the price match guarantee if the advertised pricing is due to an error or misprint. Any prices tied to financing or credit offers are also ineligible.
How Do I Get Home Depot To Lower My Price?
Price matching is just one of the ways that Home Depot helps its customers achieve lower prices. The store offers various promotions and discounts, including bulk pricing on certain products. Customers can also sign up for the store's email list to receive regular coupons.
Home Depot's price matching lets customers enjoy the best prices available while still having access to the store's exceptional customer service and other perks. Taking advantage of these offers can unlock protection plans, credit services and more. With all that, Home Depot is the perfect stop for any shopping trip.
Editorial Note: This content is not provided by any entity covered in this article. Any opinions, analyses, reviews, ratings or recommendations expressed in this article are those of the author alone and have not been reviewed, approved or otherwise endorsed by any entity named in this article.
Make Your Money Work for You