How To Make a Home Depot Credit Card Payment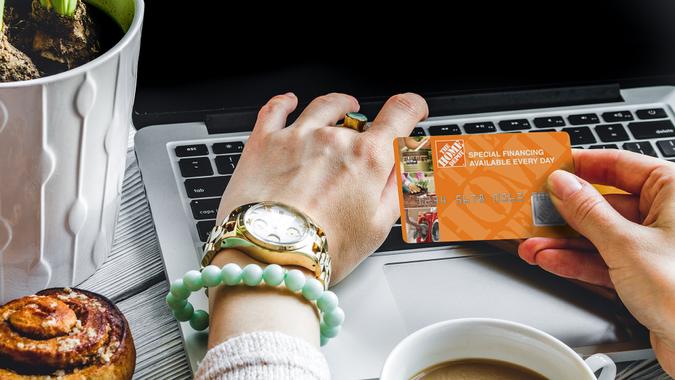 279photo Studio / Shutterstock.com
Home Depot is a top choice among shoppers when it comes to purchasing home improvement supplies and services — as evidenced by its explosive growth in 2020. Whether you have a small renovation project to tackle or a large build to take on, the Home Depot credit card by Citibank enables you to keep the related expenses separate from your other purchases.
It also provides you with benefits like one-year, hassle-free returns and special, everyday financing on purchases of $299 or more, plus exclusive cardholder credit offers. Additionally, some Home Depot credit card offers come with up to 24 months of special financing.
After you use your card to make purchases, follow these steps to make your payments.
How To Make a Home Depot Credit Card Payment Online
Making a payment online is easy. Here's how.
Gather your bank account number and the ABA routing number before you start.
Navigate to the Home Depot consumer credit card login page.
Log in to your Home Depot account using your username and password.
Follow the prompts to make a payment.
You can also manage your Home Depot card online — not only can you pay bills, but you can also track your account activity, get exclusive offers and activate account alerts.
How To Make a Home Depot Credit Card Payment by Phone
The Home Depot customer service team can help you make a payment by phone between 6 a.m. and 1 a.m. EST, Monday-Saturday, or on Sunday between 7 a.m. and midnight EST. You can also call the Home Depot credit card phone number, 24/7, at 800-677-0232. Follow the prompts to make an automated payment.
How To Make a Home Depot Credit Card Payment by Mail
You can send your payment through the mail using the return envelope and payment coupon that comes with your monthly statement. If you lose the return envelope, here are two ways you can mail in your payment:
Log in to your Home Depot Account online and select the "Statements" tab from the "Account Activity" menu. You can access your statement in PDF format to find out how much you owe and the due date.
Put your payment check in an envelope, and don't forget to write your account number in the memo section, so the company knows which account to credit. Address the envelope to:
The Home Depot Consumer Credit Card Payments
Home Depot Credit Services
P.O. Box 9001010, Louisville, KY 40290-1010
How To Make a Home Depot Credit Card Payment Via the Mobile App
In addition to being able to pay online, Home Depot also has a mobile app where credit card holders can also pay their bills. Available in both the Apple and Google App store,  you can pay your bill with a few simple steps:
Install and open the Home Depot app on your mobile device.
Tap "More" at the bottom of the opening screen on the bottom right side of the screen.
Tap "Credit Services."
Select your credit card; the consumer credit card is listed at the top.
Select "Pay and Manage" next to the card.
Follow the prompts to complete your payment.
This article has been updated with additional reporting since its original publication.
Information is accurate as of May 13, 2022.