Look Who's Shopping: How Your Favorite Retailers Performed in July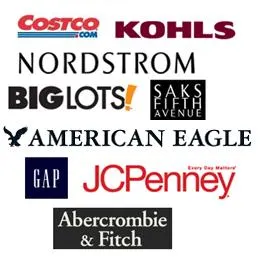 In this turbulent economy, many US consumers are cutting back big on spending. Analysts don't expect it to get better for back-to-school season, which could be an early indicator of another lackluster holiday season where retailers tend to make their biggest sales for the year. Here are some revenue reports from leading US retailers for the month of July.
Gap same-store sales down 8% in July. Gap reported that same store sales fell for the last month, to $924 million.
Nordstrom same-store sales down 6.9%. Total sales are down to $806 million.
J.C. Penny same-store sales down 12.3%. Profits are expected to make the stock lose a penny per share.
Kohl's total sales rose 5.2%. Revenue was up to $1.1 billion.
Saks same-store sales down 16.3%. Total sales were down to $160 million.
Costco comparable stores sales fall 7%. Total sales were down to $5.41 billion.
Big Lots sales at stores open at least two years fall 2.3%. Total sales are down to $1.07 billion.
Limited Brands same-store sales are down 7%. Total sales fell to $556.2 million.
American Eagle same-store sales fall by 11%. Total sales decreased to $215 million.
Abercrombie & Fitch sales at stores open at least one year fell 28%. Total net sales ended at $236 million.
Urban Outfitters second-quarter comparable stores sales down 6%, while total sales rise 1% to $459 million.
Make Your Money Work for You
The retail industry continues to feel the heat in the midst of one of the most severe recessions to hit the United States. While consumer pull-back has hurt the economy in the short term, it should be a positive sign that people are saving for the future. Pensions and social security are no longer reliable, and the new wisdom these days is that Americans need to start saving for their own retirements and can no longer rely on other systems for support.
***Are you saving enough money each month? You can start by looking for a high-interest savings account provided by Go Banking Rates. You'll be on the path to saving in no time.***