How To Find the Best Clothing Deals Using ChatGPT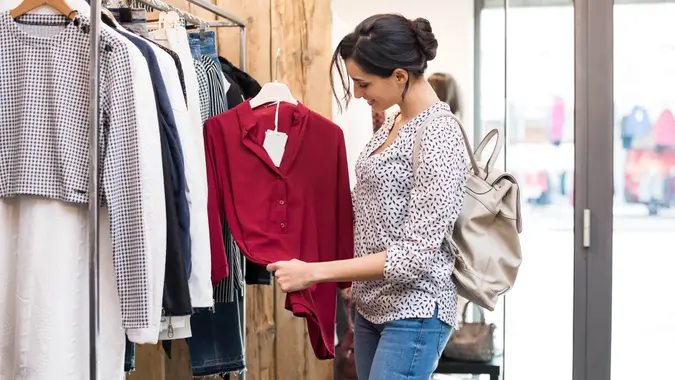 Ridofranz / Getty Images/iStockphoto
ChatGPT is an amazing resource and tool for so many things — and its capabilities are practically endless. It can brainstorm ideas, generate posts for social media, pass the bar exam and so much more. And it can help you find deals for just about anything, including clothing.
Here's how to use ChatGPT to find the best clothing deals.
Understand How ChatGPT Works 
You've probably heard of ChatGPT, but what exactly is it? 
"AI chatbots like ChatGPT [are] basically virtual assistants that use natural language processing to have interactive conversations," said Akil Patel, director of sales and marketing at My Country Mobile General Trading LLC and a self-described shopaholic.  "You can ask questions or give commands, and the chatbot will respond with helpful info. Easy peasy!"
Define Your Preferences and Budget
Before even embarking on a clothing deals journey with ChatGPT, establish your preferences and budget.
"Clearly outline the type of clothing, desired brands, sizes and specific price range you are looking for," said Youssef EL ACHAB, an IT consultant at itcertificate.org. "This will help ChatGPT provide tailored suggestions that align with your needs."
Ask for Sales and Discounts on Clothing Items of Interest
One way to use ChatGPT is by asking it to look for current sales or discounts on the clothing, shoes and other items you're interested in.
"For example, you could say, 'Find me the best deals on Nike Air Max sneakers,'" Patel said. "ChatGPT can then scour the internet to find relevant information. Just remember, the bot can't actually perform transactions; it's there to provide information."
Make Your Money Work for You
Use Keywords
If you don't have a specific brand in mind, you should still use specific keywords to search.
"When you're asking ChatGPT for deals, use keywords that are relevant to the type of clothing you're looking for," said Madison Testa, business development officer at Digital Caterpillar. "For example, if you're looking for a new dress, you could use keywords like 'dress' or 'women's clothing.'"
Conduct Price Comparisons
You can ask ChatGPT to help compare prices across different retailers.
"For instance, you might ask, 'What's the price of a Levi's Trucker Jacket on Amazon, Macy's and Nordstrom?'," Patel said. "ChatGPT can provide an overview of the prices, helping you make an informed decision."
Set Alerts
 ChatGPT doesn't have alert functionality — but it can guide you on how to set up price alerts on different websites or suggest services that do.
"This way, you get notified when the price of your coveted item drops," Patel said.
Find Similar Clothing Items
Obsessed with a Chanel dress but can't go anywhere near its price tag? Ask ChatGPT for help.
"You can ask ChatGPT to find similar styles at a lower price point," Patel said. "For instance, [enter], 'Find me dresses similar to the Gucci floral print midi dress under $100.'"
Ask When Is the Best Time To Get Deals on Specific Clothing, Shoes or Accessories
Looking for a new Kate Spade purse or an Eddie Bauer shirt, but not sure when to make the move to buy? You can ask ChatGPT about when sales tend to happen on specific products.
Make Your Money Work for You
For instance, you could type in "If I want to buy a Coach bag, when is the best time to find deals?"
Ali Van Straten, a digital marketer and AI expert at AliVanStraten.com, tried this. Here's what Chat GPT replied with:
"Coach, the luxury handbag and accessories brand, often holds sales several times a year, typically during major holiday seasons. Here are a few times when you might find the best deals:

Black Friday/Cyber Monday: The day after Thanksgiving is known for big sales and deals, and Coach is no exception. You can often find significant discounts on a variety of items. The sales usually continue through Cyber Monday.

After-Christmas and New Year's Sales: Many retailers, including Coach, offer after-Christmas and New Year's sales. This can be an excellent time to buy a Coach bag.

Summer Sales: Coach often holds a summer sale in June or July, which can be a great time to buy.

Coach Outlet: The Coach Outlet, both online and physical stores, can offer significant discounts throughout the year, not just on special occasions or holidays.

Random Sales Events: Coach occasionally has surprise sales events, often notifying customers who are on their email list."
Use These Prompts
If you just want to cut to the chase, consider asking ChatGPT these questions, courtesy of Stephen Fraga, who runs Prompt Yes!, a training company that offers classes in AI tools like ChatGPT.
What are some unorthodox ways to save money on clothing purchases?
What are the top coupon codes used by multiple websites, for example, SALE20 or BIRTHDAY10?
What brands does [XYZ celebrity] wear and what are less expensive alternatives that look the same?
What fashion websites offer advice on saving money on clothing purchases, list current deals and social media promotions?
What less expensive brands could serve as a replacement for [designer XYZ] brand?
What are some other discounted fashion sites like Yoox and Shopbox?
What are some sites for gently used clothing, similar to Depop and eBay?
Which clothing brands from foreign countries are less expensive to buy due to recent changes in the value of their currency?
Which clothing brands have generous friends and family discount policies?
What are the social media handles of some clothing brands that regularly offer giveaways, contests and promotions?
What are the best chat forums and subreddits for discussions about saving on clothing purchases?
Who are the most popular fashion-related social media accounts to follow to get tips about deals and offers?
How can you save money by balancing expensive clothes and inexpensive accessories?
Make Your Money Work for You
Use ChatGPT With Other Shopping Tools
In itself, ChatGPT is a great tool for finding clothing deals, but it's not the only tool you should use when searching for deals.
"You should also use other shopping tools, such as price comparison websites and coupon codes to ensure you're getting the best possible deal," Testa said.
More From GOBankingRates