How To Save on Everyday Expenses Despite Inflation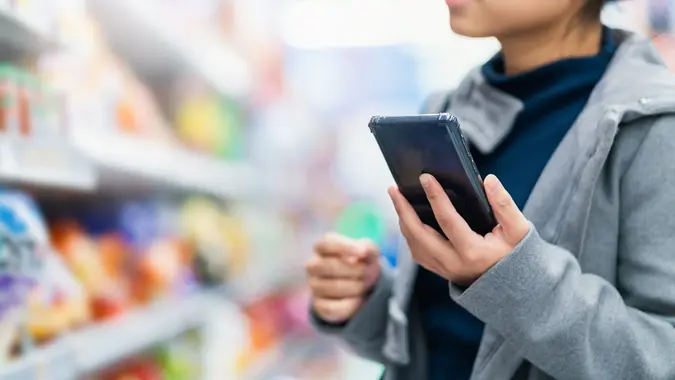 whyframestudio / iStock.com
Inflation is a financial phenomenon that results in the rise of the cost of goods and services over time. This can make it a major challenge to keep up with the cost of living.
In 2022 and 2023, American consumers have faced the highest inflation in decades. While year-over-year price growth has been subsiding (it was at a 40-year high of 9.1% in June 2022), it still was at 5% last month.
While inflation can put a strain on your finances, there are various strategies you can employ to reduce your expenses and make your money go further — from practical tips to savvy tricks, here are some ways to save on everyday expenses despite inflation.
Shop Around
To mitigate the impact of inflation on everyday expenses, you have to shop around, said Julie Ramhold, a consumer analyst at DealNews.com.
Whether it is for services like cell phone or internet plans, or any other bills, comparing prices is a great way to save money. Even if you have no intention of switching providers, a polite conversation with your current service provider about the better rates offered by their competitors may prompt your provider to offer you a lower rate or match a competitor's offer.
Make Your Money Work for You
Use Cash-Back Apps and Browser Extensions
"Whether you're shopping in person or online, companies like Rakuten, Ibotta, Checkout51 and Upside all offer cash back on certain purchases, from shopping for apparel to groceries to dining out and even gas," Ramhold said. "While inflation can definitely hurt, by using these apps and browser extensions you'll be earning at least a little something back on your purchases — and that can add up significantly over time."
Streamline Your Subscriptions
Brian Meiggs, founder of My Millennial Guide, said one way to tackle inflation is to review your subscriptions. Streaming platforms, meal kit deliveries and gym memberships may seem small individually, but they can pile up and become a significant overhead.
Take some time to evaluate your subscriptions and determine which ones you can cut back or cancel altogether. You can always re-subscribe in the future.
Wait for Sales
When you're buying groceries, Ramhold said, try to plan your meals around sales to save some money on your weekly bills. Don't just stick to sales on groceries — wait for sales on everything else, too.
Make Your Money Work for You
Of course, if you urgently need something, it might be hard to wait for a sale. In that case, at least make sure you shop around and get the best deal possible.
Set Price Alerts 
"If you are waiting for something to go on sale, consider setting price alerts or deal alerts with sites like DealNews," Ramhold said. "That way, you can take a hands-off approach and wait for the notification that something has dropped to your preferred price."
Another tip: When you're shopping on Amazon, keep an eye out for price drops using websites such as CamelCamelCamel and Keepa. These websites can help you grab a good deal before it's gone. If you're shopping on other websites, there are similar tools available that will alert you to potential discounts.
Use Coupons
Paper coupons might seem like a thing of the past, but trust us: Coupons haven't gone anywhere.
"A lot of stores offer their own apps now that allow you to create an account and then save digital offers," Ramhold said. "Then you can easily redeem these during checkout when you're shopping at stores like Target or grocery stores.
"However, even if you aren't using a particular app, it's worth doing a quick Google search before checking out online to see if there are any coupon codes floating around that you can use. Some price tracking extensions will also provide coupons, so it's worth finding a good one that can pull double duty for all your online shopping needs."
Make Your Money Work for You
Jon Morgan of Venture Smarter suggested using PirateShip for cheap shipping; the platform offers discounted rates for USPS shipping labels. You can save up to 90% on shipping costs compared to traditional carriers.
Negotiate
According to Morgan, one way to combat the impact of inflation is through negotiation. Yes, negotiation is a legitimate strategy. Don't shy away from haggling over prices with sellers, especially when it comes to big-ticket items such as cars or appliances. Just asking for a discount might actually land you a better deal, so don't be shy.
Buy Secondhand … Sometimes
Buying secondhand stuff is usually a great way to save money and help the environment. However, Ramhold warned that it's not always a slam dunk.
While you can save a lot by purchasing secondhand furniture or electronics, it might be tough to find them depending on where you're shopping. Keep an eye out for open-box items as they might offer some savings. Also, if you're not worried about using refurbished items, you could save even more. But remember to find reputable sellers to avoid getting scammed.
Make Your Money Work for You
More From GOBankingRates