How Walmart Is Winning Over Millennial Grocery Shoppers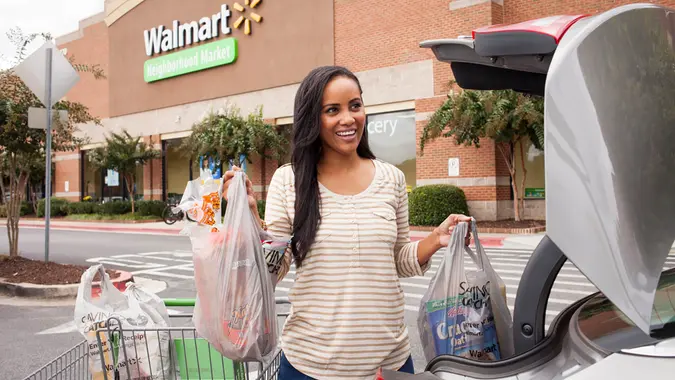 ©2014 Barbara Ries / Walmart
Savvy shoppers know Walmart is their go-to shopping destination if they want to save money. Millennials, in particular, are turning to Walmart for the best deals on groceries.
In August 2023, GOBankingRates surveyed more than 1,000 American respondents to learn more about their grocery shopping preferences. Forty percent of overall respondents said they received the best deals on groceries while shopping at Walmart. When further breaking down age insights, 41% of those ages 25 to 34 and 44% of those ages 35 to 44 said they shop at Walmart for groceries. The millennial generation is currently between ages 27 and 42 years old.
What is Walmart doing to engage its millennial customer base and encourage them to keep choosing Walmart as their shopping destination?
Here are some of the ways Walmart is winning over millennial grocery shoppers. 
Competitive Pricing and Affordability 
Annette Harris, AFC and owner of Harris Financial Coaching, is a millennial who grew up frequenting Walmart more than 20 years ago. Harris can remember when Walmart emerged as a new shopping experience with its one-stop-shop capacity. Since then, she said it has been her grocery store of choice and the COVID-19 pandemic made her frequent it even more.
Make Your Money Work for You
"Walmart is more affordable than other popular grocery stores, like Publix or Krogers, with more available brand options," Harris said.
A Walmart spokesperson told GOBankingRates that millennials keep returning to Walmart for their groceries because the retailer is listening to their evolving needs and preferences. Affordability is one of these needs. As inflation continues tightening grocery budgets, millennials rely on Walmart to provide everyday low prices for grocery essentials.
Consumer insights provider HundredX has been looking closely at Walmart in its recent analysis reports. In the report "Target Continuing to Weaken in Q3, Walmart Continues to Gain," purchase intent is up 1% for Walmart Grocery in the last three months through July 2023. (Purchase intent, in this report, represents a customer's likelihood to spend with a brand over the next 12 months.)
HundredX founder and CEO Rob Pace describes Walmart as being "on a roll" when it comes to groceries compared to the competition. 
"Since the start of 2023, millennials planning to spend more on groceries at Walmart increased 4% versus competitors. Looking at those millennials under 30, the relative growth outlook improved even further to 6%," Pace said.
Carrying High-Quality Brands Millennials Love
While shoppers can shop for high-quality products at low prices via Walmart's portfolio of private brands — including Great Value, Marketside and Freshness Guaranteed — Walmart is going a step further to engage millennial customers. According to a Walmart spokesperson, the retailer ensures it carries an assortment of items at affordable prices that fit millennial taste preferences.
Make Your Money Work for You
Walmart collaborates with supplier partners to offer exclusive items from national brands, the spokesperson said. One example is carrying seasonally rotating Van Leeuwen and Little Debbie ice creams in trending flavors. The retailer also leans into media properties and partnerships that resonate with millennial grocery shoppers. This includes nostalgic favorites like Great Value "Teenage Mutant Ninja Turtles" Mac & Cheese and newer offerings like Surfer Boy Pizza from Netflix's "Stranger Things."
These are the kind of new, exclusive items millennial customers love and crave — and are wowed by seeing available to purchase in the grocery aisle.
Convenient Shopping Experience
In addition to providing unbeatable prices and selection in a superstore setting, Walmart has also created a seamless shopping experience for its millennial customer base. This shopping experience is designed to fit into their needs and lifestyles.
Since 2013, Walmart has offered customers convenient options for pickup. Some of the ways the retailer continues to innovate include more delivery options available through online pickup and delivery. Customers who shop in-store can use the Walmart app store map to quickly navigate the store's aisles and find what they're looking for and scan any QR code they see next to a product for more information. 
Make Your Money Work for You
Michael Della Penna, chief strategy officer of InMarket, said convenience plays a significant role in its advantages among millennials. 
"Given their active lifestyles, whether it be navigating busy careers, family life or both, they're looking for a streamlined shopping experience where they can get all of their necessities in one place," Penna said. "Walmart has invested heavily in online and mobile, and these investments alongside expanded grocery selections, low pricing and value seem to be a winning combination."
Speaking of necessities, there's one more inflation-friendly item Walmart recently expanded on offering on behalf of its millennial customers. 
According to a Walmart spokesperson, Walmart's hot rotisserie chicken is now available for same-day delivery. Even the busiest millennial can order this affordable mealtime must-have and get it delivered directly to their door — just in time for dinner.
More From GOBankingRates
Make Your Money Work for You