If You Want the iPhone 15, You Might Be Surprised at How Much You Will Have To Pay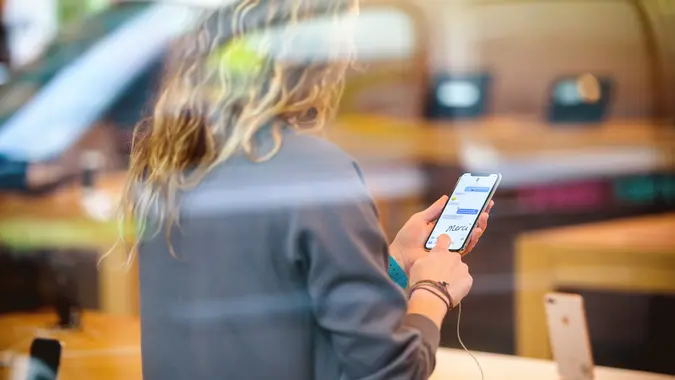 AdrianHancu / iStock.com
On Sept. 15, 2023, Apple released a new iPhone model, the iPhone 15, along with updated models of the Apple Watch and AirPods. The new iPhone comes with lots of shiny new bells and whistles, and, not surprisingly, a bigger-than-ever price tag.
Read: How To Get Cash Back on Your Everyday Purchases
Here's what you need to know about the new iPhone 15 and how much one could set you back.
iPhone 15 Models
There are four models of the new iPhone to choose from. There's the iPhone 15 and iPhone 15 Plus, as well as the iPhone 15 Pro and Pro Max.
The iPhone 15 and 15 Pro have a 6.1-inch display, and the iPhone 15 Plus and 15 Pro Max have a 6.7-inch display.
What's New in the iPhone 15?
The iPhone 15 models have more durable glass and an aluminum enclosure. They feature a 2x telephoto lens and up to 4x resolution for clearer pictures. These phones use the A16 chip for clearer sound on phone calls, longer battery life and more.
The iPhone 15 Pro models feature a titanium design, which is stronger and lighter than previous models. The camera produces higher resolution photos, and the phones include the A17 chip, which provides, according to Apple, "groundbreaking performance." The Pro camera offers a 3x telephoto lens, and it get up to 23 hours of video playback. The slightly larger iPhone 15 Pro Max has a 6.7-inch display, a 5x telephoto lens and gets up to 29 hours of video playback.
Make Your Money Work for You
In what may actually be the most useful enhancement of all, on all iPhone 15 models, is the USB-C connector, which means if you have a Mac or iPad, you probably already have a charging cable that will fit this new phone. And you can charge your Apple Watch and AirPods with your iPhone 15.
How Much Does the New iPhone 15 Cost?
So how much will all these bells and whistles cost you? It depends on which model you buy, and where you buy it.
Buy Directly from Apple
On the Apple website, the iPhone 15 starts at $799, with 128 GB of storage. If you want 256 GB, you'll pay $899, and 512 GB will set you back $1099.
The iPhone 15 Plus starts at $899, with 128 GB of storage. For 256 GB, you'll pay $999 and for 512 GB you'll pay $1199.
The iPhone 15 Pro starts at $999, with 128 GB of storage. If you want 256 GB, you'll pay $1099, 512 GB will set you back $1299 and 1TB will cost you $1499.
The iPhone 15 Pro Max starts at $1199, with 256 GB of storage. You can choose 512 GB for $1399 or 1 TB for $1599. Check your current phone to see how much storage you're using — that will help you determine how much to pay for on your new phone. Unless you're storing a lot of music, photos or videos, you probably don't need to pay for a ton of storage.
Trade in Your Current Phone
If you're looking at the iPhone 15, you probably have an existing phone that still works. You can trade that in and get some money off on your new iPhone 15. How much you can get depends on several factors, including the age and condition of your current phone, and where you trade it in.
Make Your Money Work for You
Trade In at Your Cellular Carrier
Check with your current mobile carrier to see what will offer you for your trade-in. Pay close attention to the terms of your trade-in, though. Sometimes your trade in allowance will be in the form of 'bill credits.' This is fine but keep a couple of things in mind.
First, getting a credit on your bill over 24 months — which is quite typical — is not the same as getting the total amount off the purchase price of your phone. You're shelling out the money now, and the credits are trickling in over two years. Plus, two years from now, the $20 credit you're getting each month may only have the purchasing power of $19 today. Not a big deal in practical terms, but still something to understand.
Secondly, if you commit to the 24 months of bill credits and then switch plans before the two years are up, you'll lose those credits. So make sure you intend to stick with your current carrier for at least two years.
Third, make sure you understand the fine print in any agreement you make. The bill credit agreement may end if you miss a payment or make a late payment, so set up auto pay to make sure your bill always gets paid on time.
Lastly, remember that your bill will go up after the bill credits have all been applied. If you keep a close eye on your budget, it could be jarring to see an extra $20 or $30 per month on your cell phone bill after you 24 monthly credits.
AT&T, T-Mobile and Verizon have trade in offers you can get on their site or on the Apple site.
Trade in on the Apple Website
If your cell phone carrier doesn't offer a trade-in program, or you want to compare offers, there's a widget where you can check your eligibility to trade in your phone and get an idea of how much you would get for it.
There is a wide range of values for used phones, ranging from up to $650 for an iPhone 14 Pro Max to up to $140 for an iPhone XR to up to $30 for a Galaxy S9. Keep in mind that these are maximum amounts, and you could get less for your phone if it's has a cracked screen or other damage.
If you need to have the latest and greatest iPhone, compare your options for the iPhone 15. If you don't need to be the first on your block to have it, you can often get a good deal on the previous model now, since the new one has been introduced.