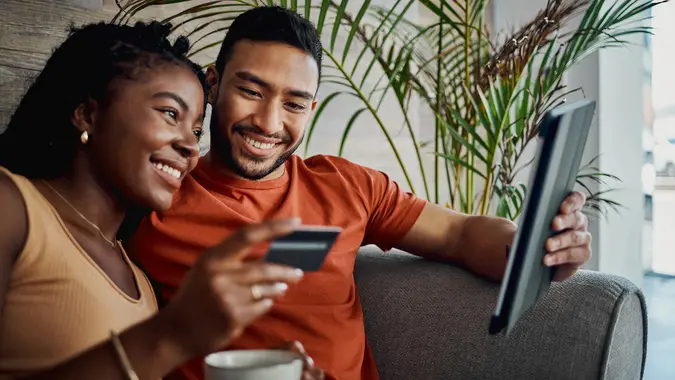 Delmaine Donson / iStock.com
With rapid inflation on the rise and Americans' spending power reaching its limits, Buy Now, Pay Later companies are becoming more popular. Klarna partners with retailers across the globe to offer these purchase financing services, and it has grown massively with a 71% increase in the total value of all items purchased through its services in 2022. Despite Klarna's apparent success, many Americans may still be wary of potential data leaks and unintended consequences for their credit. So, is Klarna safe? What should Americans know before using it? 
Read: How To Get Cash Back on Your Everyday Purchases
Is Klarna Safe?
Klarna is a legitimate, global BNPL service. The company encrypts all transactions and states that it securely stores user data. However, whether Klarna is safe for you will depend on your individual financial habits.
Does Klarna Give Retailers Your Information?
Data handling is an important factor to consider when signing up for an online or financial service. Online shoppers may wonder whether Klarna, like some other data-centric services, shares or sells their information to retailers or other third parties.
Like most online platforms, Klarna collects your personal information, such as your name, address and payment history. Klarna states that it does not share this information with affiliates or third parties for marketing purposes. It also does not share information about your creditworthiness with third parties. 
Klarna encrypts your payment details during a transaction and does not share any of your payment information with retailers. If you pay for an item through a Klarna secure payment form, neither merchants nor Klarna employees will be able to see your payment information.
Make Your Money Work for You
What Are the Pros and Cons of Klarna?
Before entrusting any financial service with your money, it's prudent to weigh the pros and cons. Klarna, like any other service, comes with advantages and disadvantages.
Pros:
Interest-free installments: Klarna's "Pay in 4" feature splits your payment into four equal, interest-free installments every two weeks, and there are no fees if they are paid on time.
Option to extend: The Klarna app includes an "extend due date" feature that allows users to defer a payment to another date once per purchase, providing flexibility during tight financial periods.
Cons:
Potential for overspending: With the allure of easy, interest-free payments, using a BNPL service might encourage impulse purchases, leading to overspending. It's important for to monitor your spending habits to prevent accumulating unmanageable debt.
Not universally accepted: Not all retailers accept Klarna, so be sure to double-check. While its acceptance rate is growing, it still operates differently than choosing traditional credit and debit cards.
Is Klarna Safe for Your Credit?
Klarna allows you to sign up for an account without any credit checks . The company performs a "soft" credit check — also known as a soft inquiry — when you apply for:
This check does not impact your credit score.
While Klarna may not affect your credit when you sign up and opt for Pay in 4 or Pay in 30 days, if you are not able to make payments by your scheduled payment date, another attempt will be made to collect. If it doesn't go through for whatever reason, that will be added to your next scheduled payment.
Final Take
Like all financial services, Klarna isn't without potential pitfalls. It's important to use the service responsibly and avoid overspending and accumulating unmanageable debt. As always, staying informed about the service's terms and keeping a careful eye on your financial commitments is key to using Klarna safely.
Make Your Money Work for You
FAQ
Here are the answers to some of the most frequently asked questions about Klarna and keeping yourself protected.
Is my debit card safe with Klarna?

Yes. Klarna uses encrypted data transmission to safeguard your debit card information. Additionally, the company assures that card details are not shared with retailers.

Should I connect my bank account with Klarna?

Linking your bank account to Klarna facilitates smoother transactions. Klarna uses encrypted data transfer and adheres to data protection regulations, so you can connect your bank account with confidence

Does Klarna affect credit?

Klarna's standard "Pay in 4" service only involves soft credit checks, which do not affect your credit score. Klarna's payment options include Pay in 4, Pay in 30 days and monthly financing, which partners with WebBank, Member FDIC.
Editorial Note: This content is not provided by any entity covered in this article. Any opinions, analyses, reviews, ratings or recommendations expressed in this article are those of the author alone and have not been reviewed, approved or otherwise endorsed by any entity named in this article.