10 Lidl Brand Products Worth Buying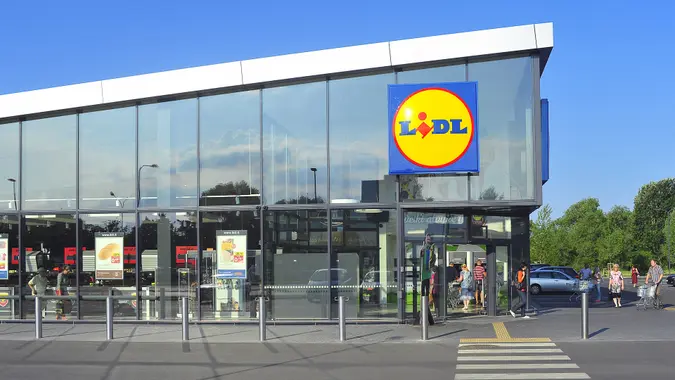 d_odin / Shutterstock.com
German grocery store chain Lidl is known for its low prices on produce, meats, packaged foods and more. One way the chain keeps its costs low is by mostly selling its own private-label products. In fact, according to the official Lidl site, about 80% of the products it sells are of its own brand.
Among the Lidl-brand products are a number of high-quality steals that are worth adding to your cart on your next trip. Here's a look at 10 standout Lidl items.
Cold Smoked Norwegian Salmon
Price: $1.33 per ounce
Lidl's deal on smoked salmon is hard to beat elsewhere. It's also non-GMO and raised without antibiotics.
All-Purpose Cleaner
Price: $2.77
While the brand-name Lysol version sells for $4.99 at Target, Lidl's brand of all-purpose cleaner sells for nearly half that price.
Preferred Selection Greek Extra Virgin Olive Oil
Price: $5.99
Lidl's extra virgin olive oil boasts "superior taste and very low level of acidity," according to the grocery chain's official site. It's under 36 cents per fluid ounce, while comparable products sell for much more at other retailers.
Sondey Jaffa Cakes
Price: $1.99
These chocolate-covered cakes are filled with a soft orange or cherry jelly filling, and are hard to find elsewhere. They're also made with no artificial flavoring, synthetic colors or artificial preservatives.
Make Your Money Work for You
Original Bratwurst
Price: $4.29
Lidl's bratwurst sausages are made with premium cuts of pork and are free from preservatives. They also lack artificial flavors, have no added MSG and are never frozen.
Cola
Price: $3.25
While Lidl does carry brand-name sodas, a 12-pack of Coca-Cola costs about 60 cents per can while its store-brand cola sells for just 28 cents per can.
Greek Yogurt
Price: $0.64
Lidl sells a variety of store-brand Greek yogurt at great prices. A 5.3-ounce container of Lidl-brand Greek yogurt sells for roughly half the cost of Chobani's version.
Restore Q10 Moisturizing Cream
Price: $3.79
Don't skip over Lidl's skincare offerings. This nighttime intensive formula made with Q10 promises to reduce the appearance of fine lines.
Cookie Butter Speculoos Spread
Price: $3.98
This creamy spread made from speculoos cookies is made without artificial preservatives, artificial flavors or high fructose corn syrup. It goes for about 28 cents per ounce.
Ristretto Espresso Coffee Pods
Price: $3.99
These Nespresso-compatible pods are a steal at Lidl. A package of 10 pods sells for about 40 cents per pod, while you'll pay around $10 for the same amount of pods on the Nespresso site.
More From GOBankingRates
Make Your Money Work for You
Prices are accurate as of July 7, 2023.