Lidl vs. ALDI — Which Discount Grocer Is Cheaper?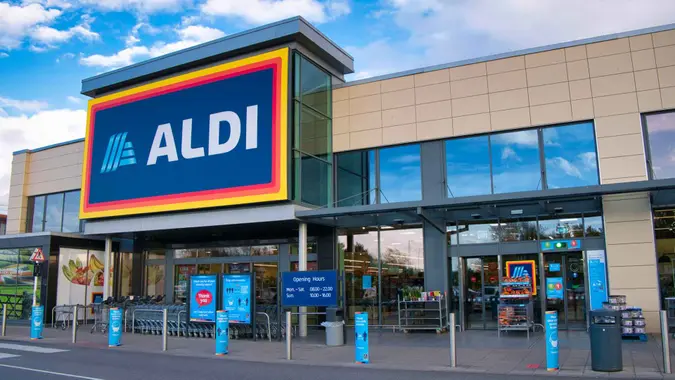 Alan Morris / Getty Images
When it comes to stretching your grocery budget, discount supermarket chains like Lidl and ALDI have become popular choices for savvy shoppers. Manchester Evening News reported that the popularity of both supermarket chains has exploded during the cost of living crisis these days, thanks to their lower prices and quality products.
According to OJ Digital Solutions, both Lidl and ALDI have high-quality items, meaning their products provide exceptional value for money. Some items are slightly cheaper or slightly more expensive at either store. But many products are the exact same price at any given time.
Both stores strategically streamline other parts of their shop operations to make grocery products available at competitive prices to improve their profit margins. The prices below are based on current Lidl and ALDI circulars. Prices are subject to change by week and store location.
Produce Prices
When it comes to fresh produce, both Lidl and ALDI have their strengths:
At Lidl, you can find a 3-pack of sweet bell peppers for $2.49, only $0.45 per pound for cabbage, and a 3-pound bag of Bartlett pears for $3.49.
At ALDI, you can snag fresh raspberries for $1.99, a bag of ripe mini avocados for just $1.69, and a 2-pound bag of organic pears for $3.49. 
Both grocers will help you save money on fruits and vegetables at varying prices, but you can find packages of Bartlett pears for the same price at either store. The only difference is that Lidl offers a 3-pound bag while ALDI offers a 2-pound organic bag.
Meat & Deli Prices
For meat and deli selections, here's what you'll discover:
Make Your Money Work for You
Lidl carries a family pack of 100% grass-fed Angus beef ribeye steaks for $7.99, assorted packages of sliced cheese for 3 for $5, and an Australian lamb leg boneless roast for $5.99 per pound.
Meanwhile, ALDI has boneless skinless chicken thighs for $1.99 per pound, pork spare ribs for $1.99 per pound, and Butterflied Lamb leg for $6.49 per pound.
Both stores will score you sweet deals in this category, especially for lamb. But a similar lamb product at ALDI is $0.50 more per pound than at Lidl.
Shelf Items Prices
When it comes to pantry staples, Lidl and ALDI both offer attractive prices:
Lidl has several varieties of salsa for $1.99, spicy brown mustard for $0.99, and assorted Asian cooking sauces for $1.99.
ALDI carries jars of roasted garlic or marinara pasta sauce for $1.99, ready-to-serve rice packages for $1.19, and assorted Asian cooking sauces for $2.39 each.
Both grocers shelve so many affordable pantry items, but you'll save $0.39 each if you buy your Asian cooking sauces at Lidl rather than ALDI.
Frozen Food Prices
Frozen food options can also provide great value:
At Lidl, you'll score frozen Asian and Indian chicken and rice meals for 2 for $8, a family pack of frozen mini pizza bagels for $5.99, and 41-60 frozen large cooked shrimp for $7.99.
At ALDI, you can fill your cart with frozen fish sticks for $4.89, seasoned french fries for $3.79, and 41-60 frozen medium raw shrimp for $5.29.
There's no doubt that you can fill your freezer with yummy eats at either store, but you'll save $2.70 on the same quantity of shrimp at ALDI versus Lidl.
Make Your Money Work for You
Specialty Items Prices
For those looking for specialty and home items, here's how Lidl and ALDI stack up:
Lidl has a 6-outlet power strip for $5.99, knit-look storage baskets for $3.99, and a decorative ottoman stool with storage for $24.99.
At the same time, ALDI has plastic kitchen cabinet organizers for $4.99, a collapsible bamboo basket for $9.99, and a decorative ottoman stool for $14.99.
While you can get great deals on food items at both stores, you can also get steals on specialty items and home goods. But, you'll save a whole $10 if you purchase the decorative ottoman stool at ALDI rather than Lidl.
Final Word: Which Discount Grocer Has Lower Prices?
Determining which discount grocery is cheaper can vary depending on factors like location and individual preferences. However, here are some tips to help you make an informed choice.
First, it's important to compare prices. Before your shopping trip, be sure to compare the prices of items you regularly purchase at both Lidl and ALDI, side-by-side. Reviewing the weekly circulars from both stores will reveal the most cost-effective options for your needs. While price is essential, also consider the quality and taste of the products you buy. Finding a balance between affordability and product satisfaction is crucial.
Ultimately, the best way to find out which grocer has the lowest prices is to shop at both stores. This way, you can better determine which store aligns with your preferences and offers the best prices on your staple items.
More From GOBankingRates
Make Your Money Work for You