We Asked Millennials and Here Are the 5 Best Items They've Bought for More Than $1,000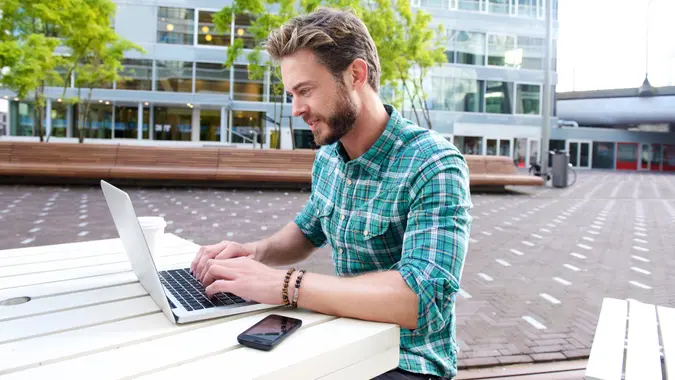 mimagephotography / Shutterstock.com
The best purchases we make in our lives aren't necessarily priced at $100 or less. Some cost more than $1,000 and these purchases usually tend to be investments. After buying them, our quality of life will improve. Some purchases may even lead to career advancements and other professional opportunities.
See Our List: 100 Most Influential Money Experts
Find Out: This Credit Score Mistake Could Be Costing Millions of Americans
GOBankingRates asked a wide range of millennials to share the best items they purchased for $1,000 or more. Here are the five purchases they say were worth every dollar.
My House
Katie Moore, licensed psychologist at Affirming Psychological Services, purchased her own home in 2018.
Moore, who lives in California, said she bought her townhouse for $450,000. At the time, Moore was a single mom just out of graduate school. 
"I had to live with my parents for two years in order to save for a 5% down payment, but it was totally worth it," Moore said. 
Make Your Money Work for You
Today, Moore's townhouse is worth about $700,000. Moore has enough equity in it to make a down payment on a better house. This time, she'll be able to get a traditional loan and avoid private mortgage insurance (PMI). 
"I would never have been able to save enough for a 20% down payment on a house in California while paying rent or a mortgage, so the equity I built in my house made every penny of PMI and every minute living with my parents before purchasing totally worth it," Moore said.
Live Richer Podcast: Parenting Hacks: Ways To Score Cheap School Supplies This School Year
Laptop
A number of millennials GOBankingRates spoke with cited their laptop as one of their best purchases for over $1,000. Your esteemed author will count herself in unison among those who responded. 
As a full-time and freelance writer, having a working laptop is a critical investment. It's necessary to not only get your work done, but I also use it every day for professional and personal purposes like streaming TV shows and engaging on social media apps. Plus, I can take it with me anywhere I go, enabling me to work from just about anywhere as long as there's a Wi-Fi connection.
Make Your Money Work for You
High-Quality Mattress
Several millennials GOBankingRates spoke to said splurging on a good mattress has been one of their best investments ever. 
Not entirely sold on the idea of spending more than $1,000 on a high-quality mattress? Consider the advice of Prateek Gupta, CEO of Boston Mattress, in Gupta's LinkedIn post. Purchasing a high-quality mattress not only provides you with a good night's sleep. Mattresses have a direct connection with the state of your spinal cord, and a comfortable mattress can help relax and heal the muscles and ligaments in your back. 
The lifecycle of a mattress is also anywhere from eight to 10 years after purchase. If you have slept on the same mattress for more than 10 years with a minimum of eight hours of sleep each night, it's time to invest in a new mattress to ensure better sleep quality.
Coursework
Many millennials cite their bachelor's degree or degree from a four-year university as one of the best investments they've made in their lives. However, some postgraduates find it is beneficial to invest in additional coursework. 
Make Your Money Work for You
Certified mindset coach and copywriter Dayana Aleksandrova bought a copywriting course in 2020. It cost $1,997 for an eight-week program. Prior to taking the course, Aleksandrova had no formal copywriting experience beyond what was taught in the course.
Two months after graduation, Aleksandrova received an offer for an $80,000 a year copywriting job. The job changed Aleksandrova's life and unleashed Aleksandrova's current six-figure career. 
Vintage Handbag
The best purchases we make don't always have to strictly enhance our professional lives or fulfill a lifestyle need. Sometimes we just want to splurge on what makes us genuinely happy.
Beauty blogger and digital marketer Jamie Stone said she bought herself a vintage Chanel purse for her 35th birthday. Stone, who always wanted a Chanel bag, initially had a difficult time justifying the price tags on brand new Chanel handbags. When a friend suggested she look on resale apps, Stone found a gorgeous vintage Chanel purse from the late 1980s. 
She immediately fell in love and bought it for $1,400 (in U.S. dollars — the seller was located in France.) 
"It was worth every penny!" Stone said.
More From GOBankingRates
Make Your Money Work for You