5 Mobile Ordering Habits That Are Here To Stay Post-Pandemic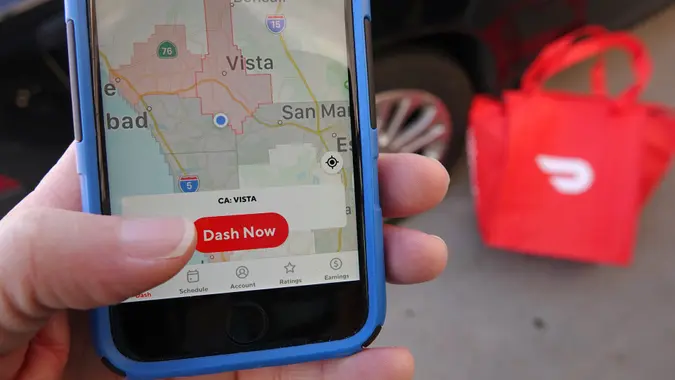 Simone Hogan / Shutterstock.com
The COVID-19 pandemic changed everything back in 2020. From the ways we work, learn and communicate, the Coronavirus outbreak and subsequent lockdown forced the world at large to reconfigure itself. That is especially true when it comes to consumers and how shopping habits have changed.
Tom Zauli, senior vice president and general manager of SOFTRAX, describes how COVID-19 "forced more people to turn to online and mobile channels than ever, and while some things returned to pre-COVID routines, online shopping was not one of them. Consumers not only shopped via mobile phones, they also opted for subscription-based purchases, ranging from monthly vitamins to streaming services."
Even so, brick-and-mortar stores remain a popular choice for shoppers.
"A majority of customers still prefer in-store shopping and to build loyalty, retailers must understand what shoppers want and need to best engage them," said Megan O'Malley Martin, senior manager at Golin. "Top technology […] in retail stores include nontraditional checkout experiences like smart shopping carts and a focus on convenience, including easy curbside pickup and buy online, pick up in-store options."
GOBankingRates talked to a few other retail experts to find out what mobile ordering habits are here to stay post-pandemic.
1. The Use of Mobile Apps
"With dining rooms closed, food delivery apps like Uber Eats and DoorDash became essential," said Stefaniya Veresovaya, a retail expert with 10 years of experience and the founder of HEYMIMISISTERS. 
Make Your Money Work for You
Thomas Butta, the chief strategy and marketing officer at Airship, explained that consumers "are downloading more apps than ever, yet the top benefits that keep them coming back are 'ease of use' (35%), 'simplifies my life' (31%) and 'saves me time' (27%). It's really all about convenience, which is likely why we've seen pandemic-era trends stick around."
"Customers could still order meals from restaurants electronically," added Veresovaya. "[But] the convenience and isolation of delivery apps will keep consumers using them post-pandemic."
2. Curbside Pickup
"Shutdowns made shopping in-store risky, so retailers enabled contactless curbside," said Veresovaya. "Customers buy online and then grab items from the parking lot. This low-contact option will remain popular for its speed and convenience."
3. Buy Online, Pick Up In-Store
Butta's research shows that consumers are increasingly turning to retailers' mobile apps, with 78% regularly using them. Some customers, instead of getting their items shipped, prefer to go pick them up in the physical stores.
Veresovaya describes how this hybrid model emerged to allow consumers to shop online while still receiving instantaneous store gratification. "It bridges the gap between e-commerce and physical retail. Blending the digital and in-store experience will continue to be popular."
An interesting development is that not all customers shop from home. In fact, many utilize the online purchasing option while at the physical retailer's location. "Seventy-four percent of consumers globally said they are likely to use a brand's app when shopping at its physical storefront," noted Butta.
Make Your Money Work for You
4. Contactless Payment
Mobile ordering with a contactless payment option allows buyers the choice to pay with one tap. This makes shopping faster than using typical forms of payment, such as cash or a credit card. 
"Due to the pandemic, many consumers prefer to avoid germs and 'unnecessary' human interaction, like receiving pocket change, shopping in crowded stores or speaking closely to an employee to place an order," said John Donnelly III, chief revenue officer at DTiQ.
Veresovaya agrees: "COVID accelerated the adoption of tap-and-go services like Apple Pay. Scanning or tapping a device is faster and more sanitary than cash. This habit will stick because of its efficiency and cleanliness."
5. Digital Coupons
"With consumers online more, brands pushed discounts through apps and emails," Veresovaya said. "Digital promos are highly convenient compared to clipping paper coupons. Mobile savings will persist given customers now expect this ease."
This applies to subscriptions, as well, with many companies offering discounts for loyalty programs or first-time subscribers. From there, apps and mobile shopping can track buying characteristics and offer coupons or specialty pricing to the users.
"People are downloading apps for more than just online shopping," said Linda Johansen-James, founder and CEO of the International Retail Group.
"They're wanting the rewards," she continued. "Many companies will offer a discount or rewards program to people who sign up for an account through their app. Even when consumers plan to shop in person, they frequently will check their apps and emails for a surprise discount. In fact, I recommend this! If I go to a store or restaurant for the first time, I download their app first and sign up for an account so I can take advantage of any new signup perks."
Make Your Money Work for You
More From GOBankingRates