Move Over Dollar Tree: Here Are 5 Up-and-Coming Discount Stores You Need To Check Out Now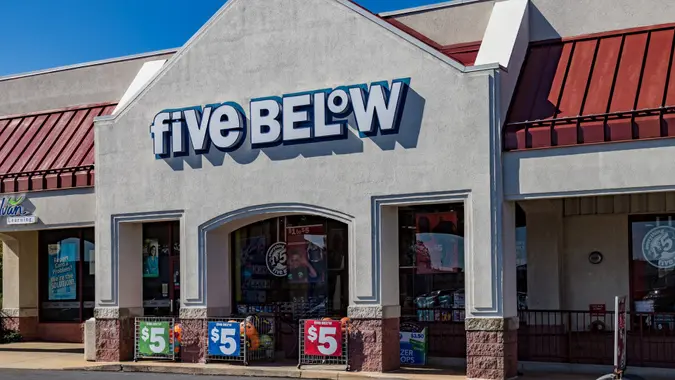 gsheldon / iStock.com
For what feels like eons, dollar stores have ruled the world of discount destinations — and they've been making tons of dough. Dollar Tree, for example, raked in $28.753 billion in revenue for the twelve months ending April 30, 2023 — a 7.51% increase year-over-year. But could the golden era of the dollar store be coming to an end? With new discount players emerging, they could face a run for their money.
Business Insider recently published a piece on 5 up-and-coming discount stores. Let's have a look at these stores and what they bring to the table.
The 99 Store
Now, you may be thinking, "Wait, I know 99 Cents Only Stores; those are everywhere." But note that The 99 Store has become more distinguished in its branding. In 2021, the chain removed the words "cents" and "only" from its name. It still has super cheap prices, but a lot of items there sell for more than a dollar now (think fresh produce).
Miniso
"Life is for fun" is the tagline of Miniso, a discount retailer founded in China. Miniso has around 5,500 stores across the globe, including 54 in the U.S, with a flagship location in Times Square, NYC. About 95% of the products Miniso sells are priced at or under $10, industry publication Chain Store Age reported in 2022. This store should definitely be on your list if you're into adorable Disney or SanRio-themed wares for your kids, or just want cute stuff for the home in general.
Dirt Cheap
Sometimes, like this time, it's all in the name. On its rather frantic website, Dirt Cheap advertises goods at 40% to 90% off retail price. You can find tons of clothing, furniture and other essentials at ultra marked down prices. Its business model is to sell customer returns and excess inventory items, helping to keep consumers on a budget happy, while also lessening the load that goes to landfills.
Daiso
Japan-based Daiso has close to 100 stores open in the U.S, expanding on its presences since 2005, when it made its U.S. debut in Seattle. According to Business Insider, Daiso is planning to open about 15 new stores each year in the U.S. Right now, Daiso looks like an excellent place to find deals on beauty items, cute kitchen accessories and back-to-school essentials. Goods sell here from about $2 to $15.
Five Below
Need toys, snacks or home goods for $5 or less? Need tech items for about $10? Head on over to Five Below. This discount retailer now has some 1,400 stores in the U.S. and is growing rapidly.
More From GOBankingRates