New Costco Member? 5 Expert Tips To Get the Most From Your Bulk-Buying Budget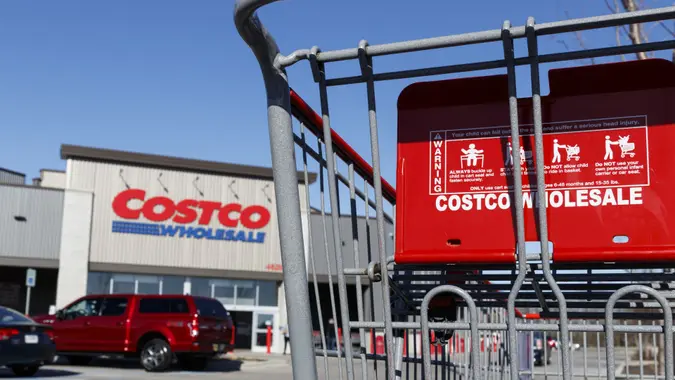 jetcityimage / Getty Images
A Costco membership can save you a fortune — but you do have to pay an annual fee. Gold Star and Business memberships cost $60 a year, and the Executive and Business Executive memberships are $120 a year. Though Costco touts fantastic deals — chiefly for consumers buying in bulk — there is a bit of strategy and savviness required to get the biggest bank for your buck. 
GOBankingRates researched these expert tips on how to get the most out of your bulk-buying budget. 
Set a Budget 
Setting a budget is crucial ahead of any shopping mission. It may be especially essential for your Costco experience because the store can be quite overwhelming, potentially leading you down many rabbit-hole aisles just to find what you're looking for — which can lead to impulse buys. Write down either on a piece of paper or in a budgeting app exactly what you need, and if possible, set a target spending goal to stay under.
Meal Plan 
Every budgeting expert knows that when it comes to breakfast, lunch and dinner, meal planning is paramount. Make a schedule for the week ahead of your Costco mission so you know exactly what you need to buy and how much you need for every meal. 
Know About Upcoming Sales 
Finding out in advance what sales are happening at Costco can be tricky, as the megastore likes to roll them out in a way that feels sudden and on the spot. This helps keep the mystery alive and the spending flush. But there are some ways to get a sneak peek of what's being discounted in the near future. To stay in the loop and get the scoop, check out sites such as Costco Insider and Slickdeals.    
Make Your Money Work for You
Stock Up Only When You Need To (and on What You Actually Use) 
With so many bulk items at your fingertips, it can be tempting to stock up on everything possible whenever you visit Costco. Before you go to the warehouse store, take an inventory of what you already have in bulk in your pantry and freezer so that you save room in your budget to buy perishable items like fresh produce. Also, stock up only on items you know you're in short supply of and that you can be certain you'll use before they go bad or expire. 
Buy the Right Items in Bulk 
Not everything at Costco is the best deal out there, so it's important to know what items to buy there in bulk. Focus on the meats, bakery and deli for the most impressive savings. The frozen section is also brimming with delectable deals. 
More From GOBankingRates