7 Overpriced Clothing Items To Stay Away From Buying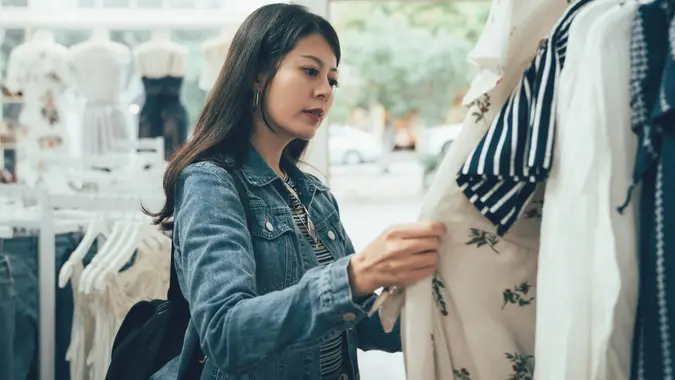 PRImageFactory / Getty Images/iStockphoto
If you're budget-conscious, identifying overpriced clothing can help you avoid them to enable you to shop smart and save. Designer and trendy clothing are usually overpriced, but some regular brands can also have prices that just don't make sense. "When shopping on a budget, it's best to focus on quality and value over brand names," said entrepreneur Brian Meiggs. "There are plenty of stylish, high-quality options available at a more reasonable price point."
Smart shopping entails taking advantage of discounts, clearance sales and off-seasons to price down the cost of clothing items. It's also important to shop with a list and budget to avoid impulsive buying or exceeding your budget.
"One of my favorite tips for avoiding overpriced clothing items is doing a reverse Google image search," said Carter Seuthe, CEO of Credit Summit. "Simply screenshot the item you're considering buying, then upload that into a Google search and it will generate all the different websites that item is being sold on and give you the prices to compare."
To help you budget shop, here are some specific types of overpriced clothing items you should avoid.
Branded Athletic Wear
Big-name brands like Lululemon charge premium prices for workout clothes. However, discount retailers like Old Navy and Target offer functional activewear of comparable quality at a fraction of the price. Unless you're a hardcore fitness enthusiast, cheap yoga pants and tops suffice.
Make Your Money Work for You
Many well-known athletic wear brands often charge a premium for their workout gear. While quality is essential for sports attire, many lesser-known brands offer high-performance clothing at a fraction of the price. 
Leather Jackets
Unless you can afford the investment, a real leather jacket may not justify the extra expense. Less pricey jackets suit most budgets without the sticker shock. Focus spending on classic styles and fits over pricier materials that strain your budget.
Trendy Accessories
Accessories like statement belts, hats, shades and scarves can be trendy and expensive, but they tend to go out of style quickly. Invest in classic, versatile accessories that can complement various outfits. Got a Louis Vuitton belt on? Fendi Scarf? Lennon specs? They are cool but don't fit in many people's budgets. To save money, go for cheaper alternatives that serve the same purpose.
Designer T-Shirts
Buying a basic T-shirt with a designer label often comes with a hefty price tag. These shirts may not offer better quality or style compared to more affordable options. Instead of dropping $300 on a Gucci or Prada t-shirt, visit Uniqlo, H&M or any number of cheaper stores and score a t-shirt for $10 to $20.
Designer Denim Jeans
Premium denim jeans are incredibly expensive, often exceeding what's reasonable for a pair of pants. Designer brands can charge hundreds of dollars for a pair of jeans. While the fit and style may be appealing, more affordable brands often offer comparable quality.
Look for midrange brands that offer both quality and style without the sky-high price tag. For instance, denim from brands like 7 for All Mankind or Hudson Jeans retail for $200 a pair or more. But you can find high-quality, perfectly fitted jeans for under $50 from Madewell, Levi's, Gap and Old Navy. Jeans, in essence, are meant to be durable, everyday wear and while buying premium jeans will not hurt your wardrobe, it'll hurt your bank account. 
Make Your Money Work for You
Trendy Sneakers
Another clothing item to avoid is trendy brand-name sneakers that often come with a hefty price tag but don't necessarily offer superior comfort or durability. Instead, opt for more reasonably priced sneakers that suit your style and provide long-lasting comfort without breaking the bank.
Formal Wear
Wedding gowns, tuxedos and other formal attire can be shockingly expensive. Consider renting these items or exploring more budget-friendly options, especially if you won't wear them frequently. No need to splurge thousands of dollars on a dress you might only wear once or twice a year. And unless you're a celebrity, people don't actually care about the brand you're wearing at a luncheon or company dinner.
More From GOBankingRates