5 Sam's Club Shopping Secrets That Can Save You Serious Money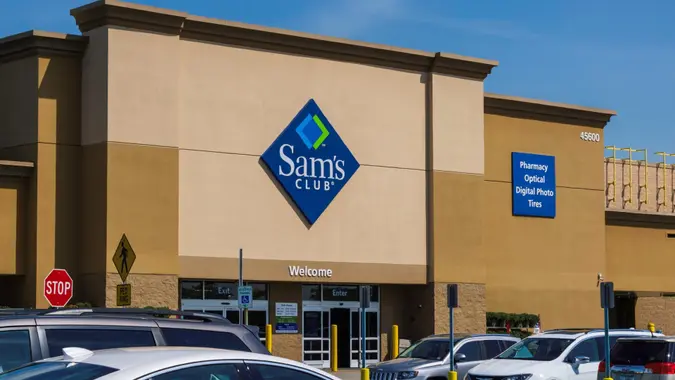 RiverNorthPhotography / Getty Images
Shopping at Sam's Club saves you money, but imagine if you could save even more.
Whether you spend $50 per year for a Club membership or $110 per year for a Plus membership, you want to maximize your savings. You might not realize it, but simply doing your weekly shopping at the store without a game plan can cost you.
Costco's Best Deals? Employee Reveals 10 Standout Buys for Your Money
Learn: 3 Signs You're Serious About Raising Your Credit Score
Additionally, have you read the fine print on your Sam's Club membership? If not, you might be missing out on perks you didn't even know you had.
Taking advantage of a few simple tips and tricks to get the most from your Sam's Club membership can result in serious savings. If you're already pleased with the value you're getting by shopping at the members-only warehouse club, imagine how excited you'll be by finding ways to save even more.
Make Your Money Work for You
Curious to see whether there are Sam's Club secrets you haven't yet uncovered? Keep reading to find out.
Shop With Rakuten To Get Cash Back
If you're shopping online at Sam's Club, start by clicking the store's link on cash-back site Rakuten. Typically, the site offers up to 8% cash back, but you can earn up to 16% cash back during double cash back promotions.
It might sound too easy to be true, but it's not. Simply visit the Rakuten site, navigate to Sam's Club, click 'shop now' and you'll enjoy the same online experience you always do, while earning cash back on your purchase.
Open a Sam's Club Mastercard
Save money at Sam's Club and beyond by opening a Sam's Club Mastercard. The more you shop, the more cash back you'll receive, including 3% at Sam's Club, 5% on gas everywhere Mastercard is accepted, 3% on dining and takeout and 1% on other purchases.
This is an easy way to acquire Sam's Cash, which will lower your bill at checkout. The credit card has no annual fee and is also accepted at Walmart.
Make Your Money Work for You
Take Our Poll: Do You Think Bankruptcy Is an Acceptable Way To Escape Student Loan Debt?
Seek Out 'Instant Savings'
Loaded directly to your Sam's Club account, Instant Savings offers limited-time discounts on select items. Access these deals just by presenting your membership card at checkout — no need to clip coupons or present scannable bar codes at checkout.
Deals can really add up fast, so pay attention to the discounts offered in this category. For example, in February, a 12-count box of Gerber Organic 2nd Foods Variety Pack was $3 off and a 48-count box of Frosted Strawberry Pop-Tarts was $2 off.
Take Advantage of Free Auto Services
You might not realize it, but your Sam's Club membership comes with several no-charge auto services. Some of these include wiper blade installation, tire balance and rotation, lifetime tire repair, air pressure and tread depth check, battery check and battery installation.
These services can add up fast at an auto repair store, so this is a benefit seriously worth using. In fact, you might be able to pair your auto service with a shopping trip, allowing you to accomplish two errands at once.
Make Your Money Work for You
Stock Up on Gift Cards
If you've never purchased gift cards at Sam's Club, you might not know they're sold at a discount. Sure, you'll probably need to purchase a set of at least two, but you won't believe the savings.
For example, you can get three $10 Coldstone Creamery gift cards for $20.79, a $100 Panera e-gift card for $85 and two $50 Fanatics gift cards for $79.98. Ideal as gifts or to use yourself, this is an easy way to score deep savings.
More From GOBankingRates
Make Your Money Work for You