What Are Swag Codes and How Can You Make Extra Money From Them?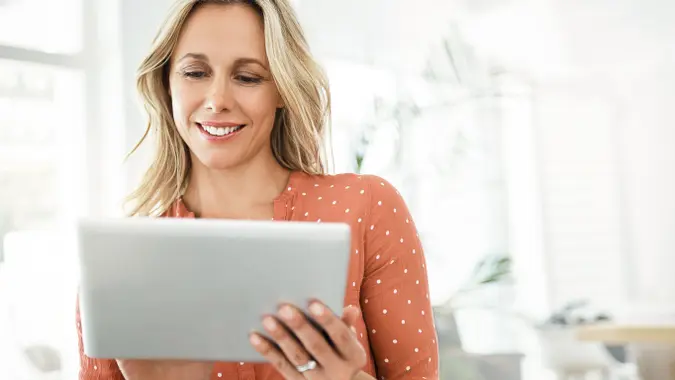 shapecharge / iStock.com
Are you a Swagbucks user or just hearing about them and want to learn how to find Swag Codes? Then look no further, we are here to give you tips and tricks on how to find these promo codes.
What Are Swag Codes?
Swag Codes are promotional codes that can earn you Swagbucks when redeemed. These codes often appear on the Swagbucks blog or social media pages like Facebook and Twitter.
Swag Codes are released daily and always appear in quotes with no spaces. They also appear as a set of letters, either spelled as phrases or total words. These codes are usually available for a limited period and disappear after users redeem them. You need to act swiftly to bag these codes.
How To Find Swag Codes
You can find Swag Codes anywhere within the Swagbucks network, including its blog, newsletter, mobile app and social media pages. They can also appear on Facebook, Twitter, Instagram, YouTube and Pinterest. Swag Codes come and go quickly. If you're fast enough, you can redeem these codes as soon as they appear.
Swag Codes aren't easy to spot since they're often hidden within a post. They are a set of random letters and numbers, always in quotes and without spaces. A Swag Code can look like "GrabThisSwagCode" or "SwaggyBirthday."
Make Your Money Work for You
To Easily Find Swag Codes:
How To Redeem Swag Codes
If you find a Swag Code, go to your "My Account" page at the Swagbucks website and look for the Swag code box. Copy the code into the box and click the "Gimme" button. If it's an ideal code and you entered it in time, you'll instantly get additional Swagbucks. Rewards always vary depending on the code you get.
Redeeming the codes is the simplest way to earn Swagbucks. But, you shouldn't expect a huge reward.
Alternative Tools To Help You Find More Swag Codes
If you don't have time to constantly watch Swagbucks social media pages for Swag Codes, some tools can help you find the codes as soon as they are live. These tools can direct you to active Swag Codes. However, be sure to redeem all your Swag Codes once you've located them–or had them located for you!
Make Your Money Work for You
SwagButton
SwagButton is a free browser extension found in Google Chrome and Firefox. If you're a Swagbucks user, SwagButton is a must-have. Once you install, simply click on the "Check for Swag Code" button to get alerts when there's an active code.
This extension has a feature for checking and getting alerts on available and redeemable Swag Codes. For instance, it can alert you to "Check Twitter!" or "Check the Blog!"
Furthermore, SwagButton will alert you if you land on a retail website containing Swag Codes. Plus, you don't even need to log in to your Swagbucks account because you can redeem your Swag Codes within the extension itself.
r/SwagBucks
The subreddit r/Swagbucks is a forum where you can quickly get Swag Codes since users often share the latest rewards and money-making opportunities. Redditors in this community will always share Swag Codes you can redeem. If you spend a couple of hours a day on Reddit, joining this community is a chance to get codes .
Swagbucks LIVE
You can also play Swagbucks LIVE trivia game and get a Swag Code once you finish the game. The primary goal of this game is to test your knowledge on different subjects, including science, history and even pop culture. Swagbucks LIVE will give you a Swag Code with a featured reward.
Make Your Money Work for You
Swag Code Spoiler
Swag Code Spoiler is a website that publishes Swag Codes when they go live. You can see the recent posts of codes and time to expiration right on the homepage. But it will be more convenient if you subscribe to notifications to be alerted to a new live code.
The SBCodez
Like Swag Code Spoiler, the SBCodez offers similar services, including email, SMS and social media alerts. The website also suggests when the ideal type of Swag Codes are likely to appear.
Swagbucks Mobile App
Download Swagbucks mobile app to receive push notifications when a code is live. These alerts will let you know where to find the code. They might direct you to Twitter, Facebook, Instagram, a blog or a shop page.
Swagbucks Social Media
Another place for finding Swag Codes is following Swagbucks social media pages. You'll get notified when codes are live on Swagbucks and which platform you'll find them on. Even better, some social media platforms like Facebook allow you to turn on notifications for preferred pages.
Final Take
Swagbucks is an online survey and rewards program that lets members earn cash back and gift cards after participating in various activities. The swag Codes program is one of the major sources of rewards for their users.
While Swag Codes rewards may not replace your income, it's a great way to make extra cash with little effort. If you have some spare time during the day, find Swag Codes and redeem them for money or gift cards to your favorite retailers and restaurants.
Swag Code FAQs
Here are the answers to some of the most frequently asked questions about Swag Codes.
Where can I find Swag Codes?

Swag Codes often appear within the Swagbucks network. This can include the Swagbucks website, blog, newsletter, social media pages and affiliated partner websites.

How long do Swag Codes last?

Swag Codes can last anywhere between minutes to days. In some cases, Swag Codes aren't only limited by time but also by the number of people who redeem. Swagbucks often discloses the expiration time or the number of redemptions available for each Swag Code.

When is the Swag Code invalid?

Swag Codes can be invalid if you don't enter the characters correctly. So make sure when you get the code, triple check if the letters are in caps or not and type them exactly as they appear wherever you found the code. If the Swag Code is still invalid and you're sure you typed it correctly, there's a chance the code has expired.
Make Your Money Work for You