Target's 9 Best Buys, According to Superfans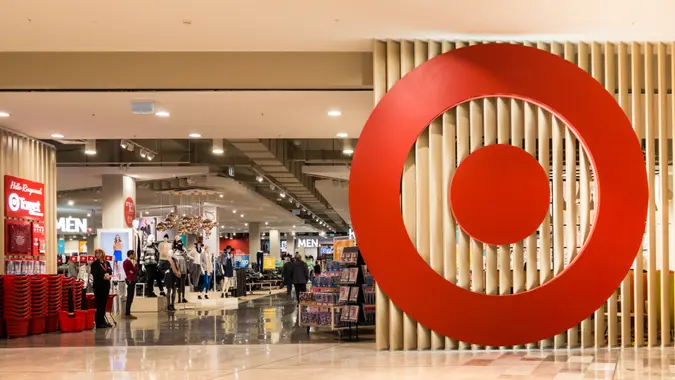 Nils Versemann / Shutterstock.com
Target has become a favorite store among not only discount shoppers, but just about everybody. The big-box retailer has been thriving. In Q4 2022, the company reported that its total revenue of $31.4 billion grew 1.3% — a bump that was driven by sales growth of 1.2% and an 8.4% increase in other revenue.
Here: 8 Companies Behind Costco's Kirkland Brand Products
More: How To Build Your Savings From Scratch
Though Target appears to be having no problem staying popular, it also has no shortage of competition, with giants like Amazon and Walmart looming over its shoulder. Thus, it's helpful for consumers to know for what items Target is the best place to shop. GOBankingRates consulted Target superfans to get the scoop on their favorite Target purchases of all time.
Crayola Crayons 
Those who color or have young kids can appreciate Target's offers on Crayola crayons.
"For instance, their 48-count Washable Sidewalk Chalk is only $5.29 in stores and is currently only $4.49 when purchased online," said Liza Kirsh, chief marketing officer of Dymapak. "Amazon for example sells a 36-count box for $19.86, so you'll receive huge savings by purchasing from Target. Even Walmart sells the 48ct for $15.99. With summer coming fast, stock up on fun, quality sidewalk chalk at Target for a great price. "
Make Your Money Work for You
Men' Tees 
Mens clothing at Target is high-quality and often cheaper than what other retailers sell similar products for. 
"The average men's shirt at Target is around $30, whereas anywhere else with comparable quality would be closer to $45," said James Green, owner of  Build A Head. Right now, you can actually find men's tees for as low as $6 at Target.
Designer Clothing 
You can find plenty of Target brand clothing at the store, naturally, but did you know you can also find (on occasion) designer duds at the bullseye retailer? This is because Target regularly collaborates with top-notch designers to create exclusive collections.
"Target has been stepping up its fashion game in recent years, offering trendy and affordable clothing options for men, women and children," said Eva Decker, the marketing director of Idigic. "I recommend checking out Target's collaborations with designers like Hunter and Victoria Beckham, which offer high-end style at a fraction of the cost."
Good & Gather Pumpkin Pie Spice
Who says pumpkin spice has to exclusively be the flavor of fall? Why not summer, too? At Target you can have it anytime.
Make Your Money Work for You
"Target has its solid house brand's version for $1.99 for a 1.7-oz container," said Julie Ramhold, consumer analyst with DealNews.com, who adds that buying Target's great version of this spice is easier than making your own. 
Good & Gather Creamy Peanut Butter
Pretty much every retailer that sells groceries sells peanut butter. But is it as good and affordable as Target's offering? 
"A 40-oz jar of this snack is $4.79 and whether I'm baking with it or just using it as an accompaniment to apple slices or graham crackers, 11 cents per ounce is an excellent value. Even the smaller containers work out to about 12 cents per ounce, so if I feel like I need less I don't mind buying the 16-oz size jar of this pantry staple either," said Ramhold.
Good & Gather Hot Cocoa Mix
Again, more of a cold weather-related item, but still good to know about Target's scrumptious Good & Gather Hot Cocoa Mix, which sells for $6.49 per box. 
"This stuff is so good and has been a regular purchase of mine since I discovered it," Ramhold said. "There are some flavors that are available year-round including Double Chocolate, Peppermint, Cinnamon, and Sea Salt Caramel and they're all delicious. Honestly they're in my pantry year-round."
Silicone Clip-On Pan Strainer 
Tiffany Payne, head of content at PharmacyOnline, swears by this $8 clip-on strainer for pots, noting that it makes cooking simpler. 
Make Your Money Work for You
"You can add it to any vessel to strain the water without having to clear out the sink to use a traditional strainer," Payne said. "As it is made of silicone, it is also simple to sanitize."
Costway 6-Burner Propane Gas BBQ Grill With Side Burner
'Tis nearly the season for outdoor grilling. If you're not already situated with grilling gear, you may want to check out this 6-burner propane gas BBQ grill for $324.99. 
"As a person who recently moved to a new house with a big garden, I was looking for a big grill that could provide my family and friends with a BBQ on summer afternoons. I saw the model on the site of a Target competitor, and the price was $499," said Milosz Krasinski, managing director at Chilli Fruit. "When I checked the Target website, I was shocked and needed to check if that's the same grill for sure. Target offers it for $324.99, which is 40% less than at the competitors."
Stars Above Pajamas
Walmart, Costco and other mega retailers sell pajamas, but are they just that perfect level of soft and attractiveness? Because that really matters.
"Hands down these are the most comfortable items of clothing I've found at Target, and despite the fact that they fall under pajamas, I wear these things whenever," Ramhold said. "Their joggers are around $20 a pair but they are so comfortable I've purchased multiple pairs and tend to wear them practically every day. The pants are also about $20 and the shorts are anywhere from $13-$14 per pair depending on the material. I highly recommend these if you're interested in comfortable pajamas or loungewear but also want to look cute."
Make Your Money Work for You
More From GOBankingRates
Make Your Money Work for You