8 Target Essentials You Shouldn't Buy Anywhere Else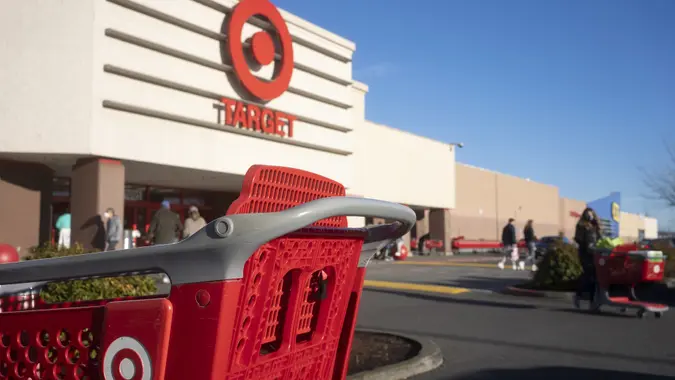 hapabapa / iStock.com
When it comes to choosing where to spend your money, your options might be endless but it's still important to pick a place that matches your needs and budget. At Target, you can find an array of household essentials and groceries at affordable prices. Many Target items are of decent quality or better, too, meaning you can rest assured that what you're buying will last a long time.
Here are some Target essentials that you should only buy at this retailer, according to shopping enthusiasts and financial experts.
Up & Up Cleaning Products
Up & Up is a Target brand that includes a wide range of household cleaning supplies. Its product line includes such staples as cleaning sprays, paper towels and laundry detergents. These products are often of a similar quality to what you'd get from well-known name brands but at a lower price point.
Ruby Sharma, senior market research analyst at Symvolt, said that Up & Up "is virtually unrivaled in the industry when it comes to commonplace goods for the home, such as paper products and cleaning supplies… The products have a quality that is on par with that of leading brands but come in at a far more affordable price."
Home Decor and Storage Solutions
Another reliable Target brand is Room Essentials. Within this brand, you can find a variety of household decor, furniture, pillows, hangers, kitchen utensils and storage solutions. These items tend to be inexpensive, practical and of good quality.
Michael Hurwitz, CEO of Careers in Government, recommended the Room Essentials brand for several reasons. They have an "extensive selection of home decor goods that are both reasonably priced and on style."
Make Your Money Work for You
Mehedee Hasan from Clipping Way added that many of Target's home decor products — such as Hearth & Hand and Project 62 — are quite trendy and unique. They can even "transform your living space and often come at reasonable prices."
Indoor and Outdoor Furniture
At Target, you can find reasonably priced furniture for your home and patio. This includes sofas, daybeds, chairs, desks, tables, bed frames and more. It also includes storage solutions for small- to medium-sized offices. All of this can complement your home (or office) quite well without breaking the bank.
Clothing and Shoes
When shopping at Target, you're bound to find apparel, shoes and accessories. Not only are many of these items very reasonably priced, but also stylish. This isn't too surprising considering that Target partners with name brands such as Universal Thread to provide a diverse selection to its customers.
The convenience and affordability make Target a great place to go if you're trying to fill out your wardrobe or need to replace worn-out items. Plus, the layout of most Target stores is convenient enough to where you can find the exact section you need without much hassle.
Edward Reay, owner of Build Fanatic, recommended Cat & Jack for families who need inexpensive, durable children's clothing. As Reay pointed out, this collection "provides reasonably priced children's apparel that is both fashionable and long-lasting." These clothes are also "a sensible and cost-effective option for children who are still maturing."
Snacks and Beverages
Many Targets have a grocery section where you can purchase groceries for the week, snacks, baked goods and beverages. While some of the brands lining the shelves are on the pricier side, you might be able to save some money by shopping store brands — like Market Pantry or Good & Gather.
Make Your Money Work for You
Troy Portillo, director of operations at Studypool, specifically recommended picking up some trail mix the next time you're out shopping. "Target has some of the best trail mix flavors out there and you can find it for better prices at Target than anywhere else," Portillo said.
For business owners, Eugene Klimaszewski, president of Mammoth Security, also suggested buying snacks at Target. "Target's selection of snacks and beverages can help maintain a well-stocked break area," he said.
Milk
While you're shopping at Target, you might also want to pick up some milk from the cold section.
"Many of Target's food items are pricier than other stores, but they beat out their competition with the price of milk," said Dustin Lemick, CEO of BriteCo Jewelry Insurance. "It's only by a couple cents, but it makes a difference."
Pantry Staples
Need to stock up on canned vegetables, soups, pastas or spices? Look no further than Target's very own Market Pantry brand.
"No matter if you're looking for pasta, canned goods or snacks, Market Pantry has you covered with affordable options that don't sacrifice quality," said Nick Whitfield, CEO of City Unscripted.
And if you need some spices, Target has got them at an affordable price point. "They have a great selection and their Market Pantry brand offers spices at a reasonable price," Portillo said.
Basic Electronics
If you're looking for some basic electronics and accessories, chances are that Target has what you need. The retailer carries things like portable batteries, replacement cords and phones that are affordable and reliable.
"For everyday electronics like calculators, headphones and chargers, Target is a convenient and budget-friendly choice," Klimaszewski said.
Target also has its own electronics brand, which is called Heyday. So, if you're really trying to stick to a budget, you might want to shop this brand.
"[Heyday] devices can be a cost-effective alternative for items like headphones, phone chargers and more," Hasan said.
The Takeaway
Target isn't just a place to go when you've forgotten something from your regular shopping list and need to make a quick pitstop. You can actually find some affordable, reliable items at the retailer. Plus, you can always shop online if you'd prefer a more digital experience.
Just make sure you double-check what it is you're buying so you know you're getting the best price possible. Also, verify the quality by seeing what other customers are saying about each product.
More From GOBankingRates