6 Target Items That Have the Most Customer Complaints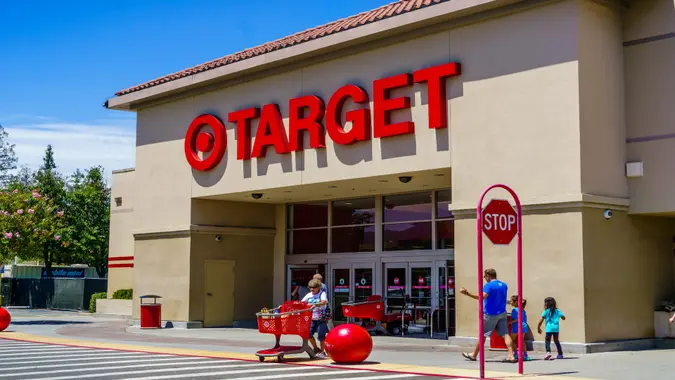 Sundry Photography / iStock.com
Hate to ruin that burst of excitement you get when shopping at Target, but not all items from the store are worth spending money on.
In fact, some Target items have been absolutely read to filth in customer ratings and reviews. GOBankingRates searched Target.com to find some of the items with the lowest customer satisfaction ratings and most scathing reviews.
Take a look at what you shouldn't be buying at Target. 
Merkury 6 PC Vlogging Kit With Bluetooth Remote
With many aspiring influencers looking to start their TikTok or YouTube channel STAT, it's no wonder a complete vlogging kit would be an intriguing buy.
Unfortunately, Target customers have not been happy with this purchase. For $42.49, you get ​​an LED Light, a 3.5mm microphone, a tripod, a phone mount, a bracket and a Bluetooth remote. It seems like a buy that's too good to be true, and that might be the case. Customers rate it a 1.1 out of 5 on average for quality and 1.3 for value.
One review reads: "It is lopsided, won't stay up straight, cheaply made. The microphone doesn't connect if you have an iPhone. The legs to make it taller or shorter don't stay up. Do not recommend it."
Many reviews echoed the flimsiness of the legs, and the fact that the tripod won't stand up on its own. Sounds like influencers should look elsewhere for a quick start for their vlogs. 
Make Your Money Work for You
Triple Water Slide – Sun Squad™
If you're looking to have fun in the sun, this 18-foot water slide that's under $30 might not be your best bet. Customers rank it a 1.6 for value and a 1.7 for quality on average. Not reviews you want to see for something that you throw your whole body into.
Customers say it doesn't get wet enough for the kids to slide, while others say it broke after a few uses. One particularly critical review reads: "Do not waste your money. It didn't have good water pressure and it requires a special connector to connect to the water hose, which does not come with it. I spent two hours trying to get it to connect to the house and then it broke. Basically I just threw away the money I paid for it."
Guess this slide made a splash in the worst way.
Ulta Beauty Collection UBC Biodegradable Facial Wipes
Removing your makeup can be an annoying process, but these makeup wipes don't seem to make it any easier. The package comes with 25 wipes for $7, which seems like a good deal, but reviewers say you should skip.
One said: "This product was horrible. They were super thin and left a residue feeling all over my face. This product is super soapy and was not at all what I was expecting."
Sounds like you should do yourself a favor and remove your makeup with another product. 
Cushioned Metal Outdoor Club Chair Set
This set of two chairs costs almost $300, and many reviewers said it was not worth the splurge. Some customers say that, when they received the chairs in the mail, there was water inside the plastic.
Make Your Money Work for You
Another reviewer echoed this, writing, "The chairs came terribly damaged. I declined a replacement because they will likely arrive damaged again due to packing. I am very disappointed." 
Bold Stripe Indoor/Outdoor French Floor Cushion
It's hard to imagine a cushion could get a lot of hate, but when it's over $100, it starts to make more sense. Reviewers say this cushion is not worth the $110 price tag. To add to their dismay, customers said this supposedly "outdoor" cushion doesn't repel water and actually attracts dirt.
One review reads: "Once you sit this outside there's no way to protect it from being wet or dirty."
Sounds like there are probably better cushions for less cash. 
Ulta Beauty Collection Rotating Facial Cleansing Brush
With 23% of the reviews being 1 star, this cleansing brush doesn't have a lot of customers' confidence. Many reviews talked about how hard it was to put the batteries into the device.
One reviewer had a particularly rough experience: "Had the product for two weeks and the first week the batteries went out, changed them. Then the product came apart and I put it together, then it worked for a few more days. After that it stopped turning the scrubber head completely. Worthless!"
Though the brush does have some 5-star reviews, there are enough 1-star complaints to deter most people from buying the product.
More From GOBankingRates
Make Your Money Work for You