5 Thrifty Influencers Who Made Secondhand Shopping Cool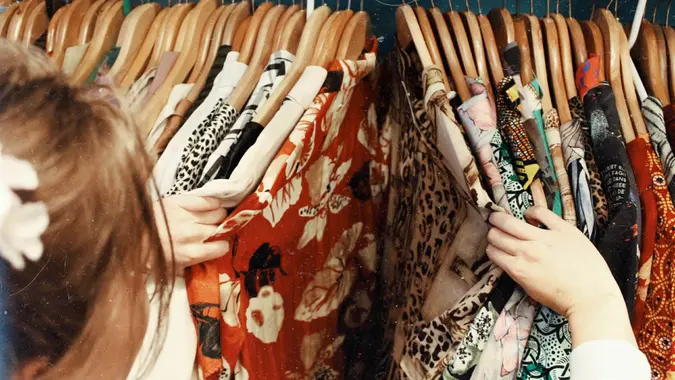 Becca McHaffie / unsplash.com
In recent years, the rise of thrifting and secondhand shopping has become a popular trend among fashion enthusiasts, particularly on social media platforms like Instagram and TikTok. With an increased focus on sustainability and conscious consumption, more and more people are turning to preloved fashion items as a way to reduce their environmental impact while still looking stylish.
Thrifty influencers have played a significant role in making secondhand shopping cool, inspiring their followers with creative styling ideas and showcasing the unique finds they come across. Here are some of the most influential thrifty influencers who are championing the cause of sustainable fashion and changing the way we think about secondhand shopping.
Paula From Thriftin' With P
Thriftin' with P is a fantastic resource for plus-size women interested in sustainable and affordable fashion. From plus-size sustainable and affordable fashion inspiration to styling tips and ideas, Thriftin' with P provides valuable content that promotes self-confidence and body positivity. Paula, aka "P," has a knack for throwing together the cutest outfits for unbelievably low prices — and with instructional videos, she teaches you how to do the same. Thriftin' with P's Instagram account is a go-to destination for everyone seeking fashion inspiration, affordability and a positive community that celebrates diversity and inclusion.
Make Your Money Work for You
Jacob Starr of The Starr Life
Jacob Starr of The Starr Life is an absolute thrifting aficionado whose passion for scouring secondhand stores knows no bounds. His love of thrifting and knack for discovering the most unique and cool finds is truly impressive — like the time he found a whole barn filled with vintage clothes. From vintage band tees to one-of-a-kind retro accessories, Jacob has an incredible eye for spotting hidden treasures amidst the racks. Whether it's a quirky piece with a rich history or a timeless fashion gem, Jacob's collection is a testament to his keen eye and love for all things thrifting. His infectious enthusiasm and impeccable taste make him a true inspiration for anyone looking to dive into the world of thrifting and uncover their own cool and unique finds.
Tyler Chanel With Thrifts and Tangles
Thriftsandtangles is an excellent Instagram account all about, you guessed it, sustainable fashion and thrifting. This account shows us how we can be conscious consumers and express ourselves through our style choices. Chanel shares amazing thrifted clothing and accessories that prove you don't need to buy brand new to look incredible. It's a must-follow if you're into sustainable fashion and love finding unique, budget-friendly treasures that make a statement. Plus, Chanel throws in some awesome tips for taking care of your natural hair too. It's a win-win!
Make Your Money Work for You
Jessica Neistadt
Jessica Neistadt is a thrifter extraordinaire who breathes new life into old clothes through her incredible re-mixing skills. With a keen eye for fashion and a knack for creativity, she has the ability to transform thrifted pieces into stunning, on-trend outfits. Jessica's talent lies in her ability to reimagine and repurpose items, combining them in unexpected ways to create unique ensembles that truly stand out. She's an absolute thrifting inspiration, showcasing how one can build a stylish wardrobe without breaking the bank. Her videos and posts are not only visually captivating but also offer valuable tips and tricks for thrifting success. 
Paul Cantu aka 'Thrift God'
Paul Cantu's expertise in thrifting is unparalleled. He possesses an incredible eye for hidden gems and has a deep understanding of the value and quality of different thrifted items. His focus is on street style and he even sells some of his coolest finds. From vintage Shrek shirts to old Nike swag, Paul's got it all.
Tips To Start Thrifting
Thrifting is often cheaper than buying new — but with things like easily accessible and inexpensive fast fashion, it's not always a guaranteed better deal. However, consumer analyst Julie Ramhold from DealNews.com offers some insightful tips for successful thrifting.
Make Your Money Work for You
Ramhold suggests exploring thrift stores in more affluent areas for a wider selection of higher-end products. While the prices may not be as low, you have a better chance of discovering hidden treasures like gently used cashmere sweaters or designer dresses. Ramhold also recommends checking out religious-affiliated shops, which often have more reasonable prices as they aim to raise funds for charitable projects or larger organizational goals.
Additionally, she advises shoppers to consider asking for a discount, especially in stores that prioritize selling their inventory. Polite haggling, preferably backed by pointing out cosmetic imperfections, might lead to saving a few extra dollars. However, being prepared to walk away is important if the discount isn't offered.
Lastly, Ramhold suggests looking for mystery boxes, where thrift stores package groups of items together for a flat cost. While it's a gamble, it can be an exciting way to discover new additions to your wardrobe in a surprise fashion.
More From GOBankingRates
Make Your Money Work for You