What Shoppers Buy Most at Costco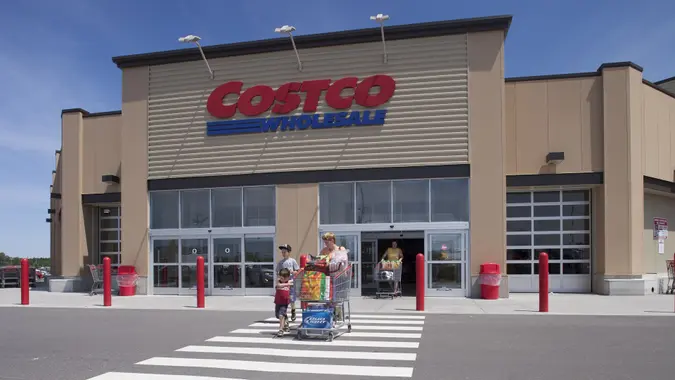 YvanDube / iStock.com
Costco is a go-to choice for shoppers looking to make some savings by purchasing their items in bulk. The warehouse-style store caters to people looking to buy several gallons of milk at a time, and everything from a full sofa set to a brand new TV.
See: 8 Remote Jobs That Pay at Least $20 Per Hour
Check Out: 13 Ways To Make $100 in Just a Day
A recent GOBankingRates survey revealed that nearly half of Americans are shopping at Costco — here's what they're buying.
What Is Most Bought at Costco?
According to our survey, 46% of Americans are buying food most frequently at Costco. While a Costco membership is going to cost you $60, the grocery savings you can take advantage of during just one trip can be well worth the fee.
"If shoppers are smart, they can save upwards of hundreds of dollars shopping at Costco versus shopping at a grocery store over a period of time," said Julie Ramhold, consumer analyst for DealNews, a shopping comparison site. In fact, "there's a good chance shopping at Costco will save you upwards of $60 in one visit."
Make Your Money Work for You
Many people find that with just one trip to Costco, their membership is paid off and they are able to hold onto that extra $60 they may have spent on food at another grocery store. With the store having over 111.6 million members as of 2021, according to Statista, Costco is clearly offering some impressive savings for shoppers to take advantage of.
Take Our Poll: Do You Tip for Service?
What Is Least Bought at Costco?
While nearly half of shoppers report buying food at the warehouse club, only 6% of shoppers purchase personal care items, 4% purchase apparel, 4% purchase home goods and furniture, 3% purchase electronics and 1% purchase appliances.
What Food Items Should You Be Buying at Costco?
Food is the clear driving force bringing shoppers to Costco. Here are a few food items that offer fantastic savings at the warehouse store that you don't want to miss out on during your next visit.
Dairy Products
One food category you don't want to skip out on at Costco is the dairy section. While this section may be freezing cold, it is worth braving the impressive walk-in fridges in order to enjoy the savings inside.
Make Your Money Work for You
"Very often Costco will have far better unit prices on things like eggs, cheese, and butter, especially if you're looking at premium brands like Kerrygold, compared to standard grocery stores," Ramhold said. "Plus the Kirkland Signature brand offers excellent quality items with a greater value as well; for instance, at a regular grocery store, you may pay $8 to $11 for 8 ounces of brie, or nearly $18 for 13.2 ounces. But at Costco, you can get 21.16 ounces (or 1.32 pounds) of brie for around $10."
Beverages
Costco may not have the same selection of drinks as Walmart or Target, but they do offer a pretty wide selection nonetheless. While the Costco drink packs are heavy, if you can manage to get them into your cart, they feature some amazing savings.
"Whether you want soda, water, juice, tea, or even non-dairy kinds of milk, the odds are good that Costco has unbeatable values on these items," Ramhold said. "When it comes to drinks like almond milk, you can expect to pay around $3 for a 64-ounce carton at grocery stores — that's two quarts; at Costco, you can get 12 quarts for $15. That's roughly $1.25 per carton."
Make Your Money Work for You
Maple Syrup
Not only is Costco's maple syrup delicious, but it is also one of the best deals you can get on a food item at the store.
"Costco has one liter (33.8 fluid ounces) of organic maple syrup for around $13; elsewhere you're looking at $7 and change for 8.5 ounces of organic maple syrup," Ramhold said. "And if you opt for a larger bottle, you'll end up paying $10 and change for 12.5 ounces of the same product."
What Food Items Should You Be Avoiding at Costco?
While Costco shoppers are often prioritizing a good deal, it's important to think beyond the price tag and consider other factors as well. Especially when buying bulk items that are perishable, it's important to also consider storage and if you will be able to consume the food item before it goes bad. As great as it is to find a fantastic deal on food items, it's also important to take into account some expert advice on what food items to avoid at Costco.
Bakery Desserts
Costco makes some divine bakery desserts that taste delicious and are very reasonably priced — however, they are also intended to feed a crowd. If you're not planning to share the bakery items you're buying from Costco or bringing them to a party, it might be a good idea to hold off on the purchase.
"While they may sound like they'll hit the spot at the moment unless you're prepared to eat pounds of cheesecake by yourself, don't give in," Ramhold said. "If there's a party coming up, go for it, or if you have someone to share it with (even friends), it's a great idea! But if you're going to be tackling it on your own, you're likely going to make yourself sick, burn out on the item or both, and that's just not worth it."
Perishable Items
There are also some caveats to consider before purchasing other perishable items at Costco.
"The trouble with perishables is that if you can't use them fast enough, they'll go off," Ramhold said. "And when that happens, you'll end up having to toss them out, which means you're not getting the value you should be."
In order to get the best bang for your buck when purchasing perishables, make sure you have a plan for your purchase. Plan shopping for apples and fresh salads from Costco for when you are going to have family in town or can bring those items to a party.
3 Tips for Major Food Savings at Costco
1. Don't Shop Hungry
You've probably heard this one before, but it rings true. Shopping while hungry leads to the most impulsive and expensive shopping trips that you probably end up looking at with regret hours later.
"Not only will you potentially end up overspending because so many things look or sound good, but you may find that you don't have the space to handle it all once you get home," Ramhold said. "Be sure to have a decent snack before you hunt for groceries at the store, whether online or in-person."
2. Skip Items You Aren't Completely Sold On
Costco features so many great deals and items in one place, so it can be tempting to purchase everything in sight. However, the bulk amounts of products the store sells can make storage a challenge and risk food going to waste.
"Maybe you love the idea of having little packs of guacamole ready to go and you're completely sold on the idea of having it as a healthy snack or adding it to meals where it makes sense; then when you get it home and try it, you find it's got too much lime for your taste," Ramhold said. "You've basically bought a huge portion of something that you aren't going to enjoy eating."
3. Stock Up During Sales
While Costco features great deals year-round, you can make the most savings by shopping for its monthly deals. If you don't want to trek all the way to the store to see what's on sale every month, check out its website before you visit to see what's on sale and budget for your trip accordingly.
"Costco is pretty good about having monthly sales and they always include a range of products from electronics to home goods to household items and foods, too," Ramhold said. "For non-perishables, use these opportunities to stock up — as long as you have the room to store them."
More From GOBankingRates
Make Your Money Work for You