7 Unique Ways To Make Money With Your Receipts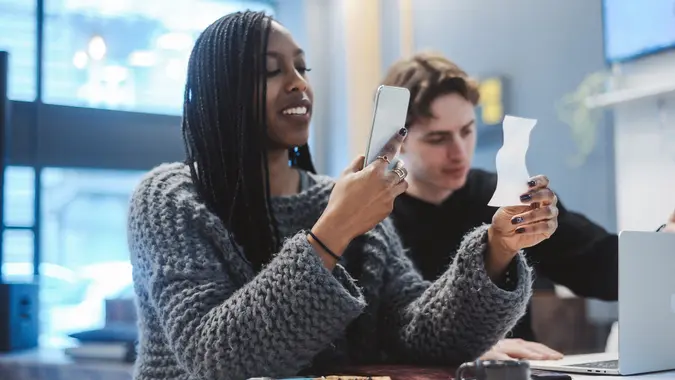 NoSystem images / Getty Images
If you're like most people, you probably don't give much thought to your receipts after you've made a purchase. But did you know that those little slips of paper (or their paperless equivalent) can actually be worth money? There are several ways you can make money with your receipts, from cash-back apps to market research programs.
That's right! By combining these tips and tricks, you can maximize your savings and earn extra cash just by doing your regular shopping. Saving money on groceries, finding deals while online shopping, and being mindful of your budget are all important aspects of personal finance, and using your receipts to earn cash back or participate in market research programs is a smart way to make the most of your purchases.
So don't toss those receipts aside anymore — start using them to boost your savings and earn some extra cash!
Cash-Back Apps
There are several cash-back apps available that allow you to earn cash back on your purchases by simply scanning your receipts. "These apps offer cash back on various products, including groceries, clothing, and household items. [Plus], you can use your receipts to compare prices between stores and find the best deals," shares financial advisor Gabriel Lalonde.
Some popular cash-back apps include Ibotta, Checkout 51, Fetch Rewards, Shopkick, Swagbucks, Coupons.com, Receipt Hog, Coin Out, Paribus, Receipt Pal, and Amazon Shopper Panel, which is by invite only. According to Tom Nathaniel of Lush Dollar, Amazon Shopper Panel is "by far the best option." He adds, "If you can get on board, they pay $10 in Amazon credits to your account for any 10 receipts."
Make Your Money Work for You
However, you should check them all out to see which is the best for your individual needs. 
Fill Out Surveys
The surveys often linked on receipts might be hard to find, but they can pay off in dividends. That's right, on quite a few of them, you can earn money for sharing your opinions.
"These surveys are generally focused on the service you received, and really don't take much longer than five minutes to fill out," shares financial planner Sean Gilbert of Select Wealth Managers. "You can win quite a bit of money that can be used towards things like groceries, which due to inflation, are quite expensive currently."
Rain Checks
If there's a great deal on something, it can often sell out pretty quickly. That's a bummer, but it doesn't mean you can't cash in on the same sale — all you have to do is ask for a rain check.
"A lot of people don't take advantage of rain checks as often as they should," Gilbert tells GOBankingRates. "You usually have the rain check added to your receipt, or get a separate receipt to bring with you to get your item the next time you go shopping."
Get a Refund When There's a Sale
If you buy something that goes on sale right after you buy it, worry not! Lots of stores let you get the difference in cash back if you simply present them with your receipt.
Make Your Money Work for You
"You can get back quite a bit of money by doing this," says Gilbert. "So it helps to keep an eye on the flyers to see whether or not your item ends up on sale after you bought it."
Price Matching
If you happen to see a better deal on something you just bought at another store, no biggie. As long as you still have your receipt, price matching is your new best friend. "Some retailers offer price matching, which means they will match the price of an item if you find it cheaper elsewhere," shares Brian Meiggs of personal finance website Smarts. 
Join Loyalty Programs 
If you frequent a favorite establishment, you might consider making some serious dough off of those multiple visits. "Joining loyalty programs at your favorite stores or restaurants will often give you access to exclusive deals and discounts on future purchases if you present your loyalty card along with your receipt," Andrei Vasilescu, CEO and Founder of DontPayFull.com, tells GOBankingRates.
Saving money and supporting your fave stores? Win-win.
Receipts for Tax Deductions
A less obvious way to make money with your receipts is by keeping them handy at tax time. "If you're a freelancer or small business owner, keep your receipts to deduct eligible expenses on your taxes and save money on your tax bill," shares financial advisor and entertainment journalist Usman Ikram.
Pro tip: Make sure to consult a tax professional or website to make sure the items are deductible.
More From GOBankingRates
Make Your Money Work for You