Walmart Has Better Prices on Groceries Than Dollar General, New Study Shows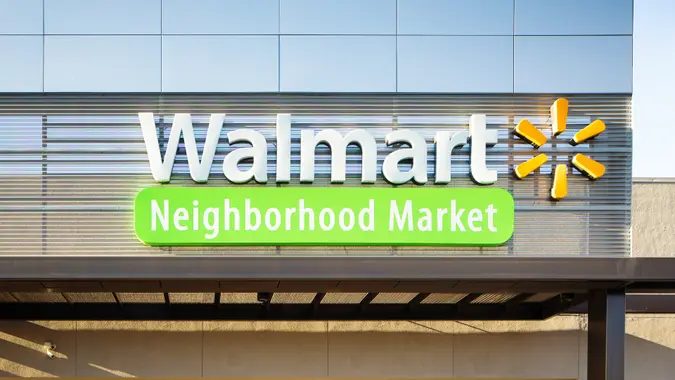 NicolasMcComber / iStock.com
Long gone are the days when everything at Dollar General costs a dollar, but the discount retailer still lags behind some of its competitors when it comes to low prices.
According to a new study by Bank of America, Walmart and Aldi have the best prices on food and other basic necessities. The study looked at grocery prices in February at retailers in Dallas, including Walmart, Kroger, Target, Dollar General, Aldi and more. The analysts compared prices to data collected at the same stores in 2020.
A cart of 33 items at Walmart rang up at $187.50 and a cart with the same items totaled $194.15 at Target. Prices were more expensive at discount dollar chains, adding up to $201.14 at Dollar General and $203.67 at Family Dollar. Aldi was the best in almost every category, noted Supermarket News, except household and personal care goods.
Over the last three years, prices at Dollar General went up 36%, and Bank of America analysts Robert Ohmes and Kendall Toscano wrote that this was the largest increase of all retailers. Business Insider pointed out those higher prices could be due to Dollar General's reliance on shelf-stable items, like canned veggies and pasta. This group of items "has been more inflationary vs. categories like produce," the analysts wrote.
Several items purchased at Dallas Dollar General stores rang up higher at the register than the price on the shelf, according to the report. Cleveland.com reported in February that there was a similar incident in Ohio and the retailer faced an investigation after inspections in Summit County, Ohio found 19% of items had prices that didn't match shelf tags.
Make Your Money Work for You
"We think a challenging labor environment could potentially be limiting dollar stores' ability to accurately reflect price increases at the shelf level," Ohmes and Toscano wrote, as reported by Insider.
More From GOBankingRates