9 Best Aldi Products To Buy Instead of Name-Brand Alternatives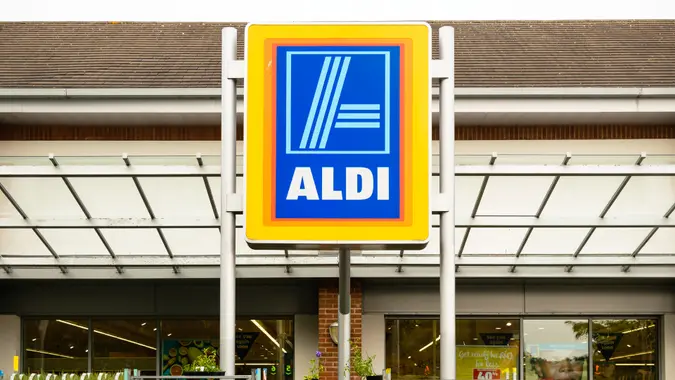 Cristina Nixau / Shutterstock.com
For many people, grocery shopping is a never-ending quest to find the best deals without sacrificing quality. While name-brand products may be tempting, their high prices can quickly add up. Fortunately, discount supermarkets like Aldi offer a wide selection of affordable, high-quality items that can rival their name-brand counterparts.
In fact, some Aldi products have become so popular that they have developed a cult following among frugal shoppers. In this article, we will highlight some of the best Aldi products to buy instead of name-brand alternatives. From pantry staples to snacks and household items, we will showcase the best deals that Aldi has to offer, so you can save money without giving up taste or value.
Whether you're a seasoned Aldi shopper or new to the store, this guide will help you make informed decisions and find the best deals on your next grocery trip.
Belmont Ice Cream
Everyone loves ice cream — even more so when it comes at a fantastic price. "Starting at $2.49, Aldi's Belmont ice cream is just as creamy and delicious as name-brand ice creams, but at a fraction of the cost," shares Sarah Hart, a nutritionist and dietitian at Welzo.
Make Your Money Work for You
Compared to other high-quality ice cream like Ben and Jerry's whose pints will set you back $4.99, Aldi's Belmont ice cream isn't only a creamy delight, it's a real deal.
Specially Selected Organic Olive Oil
Olive oil isn't known for being inexpensive, but Aldi's is a real value. Their organic olive oil is just $3.99 a bottle — that's a major deal, especially considering a similar bottle costs almost $15 at Whole Foods. Plus, it's good!
"It has a light and fruity flavor and is perfect for cooking, dressing salads, or drizzling over roasted vegetables," shares Hart. 
Take Our Poll: Do You Think Bankruptcy Is an Acceptable Way To Escape Student Loan Debt?
Mama Cozzi's Pizza
Pizza is perfect for literally any meal — and Aldi is a great place to indulge in some of the best. "Aldi's frozen pizza is a great alternative to name-brand pizzas and tastes just as good, if not better," Hart tells GOBankingRates.
Make Your Money Work for You
This $2.99 pizza offers a range of toppings to choose from, including pepperoni and veggie, ensuring a satisfying and convenient meal that's every bit as good as DiGiorno or Red Baron.
Trail Mix
Trail mix is filling and nutritious and a great snack for car trips and school lunches. 
"Our family loves ALDI brand trail mix," shares Jamie Jeffers of Medium Sized Family. "They have so many varieties–we especially love the Indulgent and Tuscan flavors. And at $5.49 for a  26-ounce bag, it's my favorite way to buy a protein packed snack for the whole family."
Bread
Bread is an everyday staple, so when you can find high-quality and delicious loaves for a great price, it's a great idea to stock up.
"As a Mom, I really like their L'Oven fresh 100-percent whole wheat bread. It's a bigger loaf than a lot of stores carry anymore, and at just $2.05, it's a bargain," says Jeffers. 
SimplyNature Organic White Cheddar Puffs
Cheese puffs are arguably the king of snacks and ALDI is the place to buy them (for just $1.99 a bag). "These organic white cheddar puffs are a healthier alternative to name-brand cheesy snacks, which are often loaded with artificial ingredients," says Hart.  
Make Your Money Work for You
Clancy's Tortilla Chips
A party isn't a party without a world-class tortilla chip, and Aldi has you covered. Aldi's Clancy's tortilla chips are a great value starting at $1.19 a bag and are as delicious as any name-brand option.
"With a variety of flavors to choose from, including restaurant-style and lime, these chips are perfect for snacking or dipping into your favorite salsa or guacamole," shares Hart. 
Oat and Almond Milk
Milk alternatives have become increasingly popular recently, and for good reason, as they offer a delicious and healthy alternative to traditional dairy milk.
"Aldi's oat milk is cheaper than most name brands, and it's also the best for frothing into perfect lattes," shares Ashley Schuering, a self-proclaimed ALDI devotee of Confessions of a Grocery Addict. " I don't know what they do to it to make it so rich and creamy, but it's the bee's knees. My hubby is equally obsessed with their almond milk."
Spices 
Spices can enhance the flavor, aroma and overall taste of a meal. They can add depth and complexity to dishes, and also provide health benefits. Additionally, different spices can be used to create unique flavor combinations, allowing for endless culinary possibilities.
Make Your Money Work for You
At less than $2 a bottle, you can't beat Aldi's prices on spices unless you're buying from the bulk aisle at a natural foods store. "I particularly love their multiple iterations of Everything But The Bagel seasoning," shares Schuering.
More From GOBankingRates
Make Your Money Work for You