9 Walmart Buys You Have To Make, According to Superfans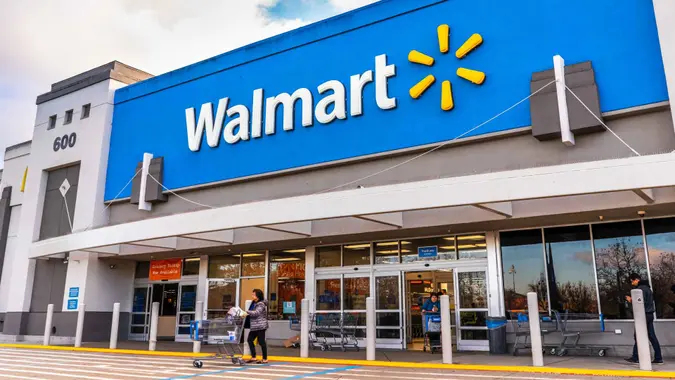 Sundry Photography / Getty Images
Walmart is the biggest company in the world, so it clearly doesn't have a problem appealing to consumers. However, it does endure the multi-pronged challenge of remaining competitive with the giant that is Amazon looming large in the e-commerce space.
Understandably, shoppers may flock to Amazon and other big-box retailers in search of the best prices. This raises the question: What are the best buys at Walmart in terms of not only cost, but also quality? GOBankingRates turned to Walmart superfans to get the full scoop on the best buys at their favorite store.
Mens Jeans by George 
Jeans can be really expensive (hello Rag & Bone) — but not at Walmart. "I love their reasonably priced jeans, which are only $19.99," said Michael Rotman, content manager at The Emt Spot. "These jeans cost significantly less than high-end brands but are comparable."
Tyson Chicken Nuggets
A 2-lb bag of Tyson chicken nuggets costs $6.98 at Walmart, which is considerably less than what Target charges for the same product. "I love Tyson chicken nuggets because they're delicious and easy to prepare," said Daniel Nyquist, the chief marketing officer at Crosslist, who ranks this item among his favorite Walmart buys. "Just throw them in the oven or microwave and you're good to go!"
Make Your Money Work for You
The Nutri Ninja Pro Blender
At Walmart, the Ninja Nutri-Blender Pro with Auto-iQ, 1100-Peak-Watt, Personal Blender is on sale for $79.95 — a deal that Nyquist swears by.  
"This blender is amazing! It does everything from smoothies to soups and juices, and it's super easy to clean up after making food in it," Nyquist said. "The price is $80 at Walmart, but other places sell it for $100 or more." 
Fishing Licenses 
This may be news to you, but Walmart sells fishing licenses. Buying one there can be much easier than going through a state department. 
"It's the same price as it would cost you at the department of wildlife or natural resources in your state, but it is a lot more convenient to be able to go into the Sports & Outdoors counter at your local Walmart store and get a license," said Rick Wallace, founder at Tackle Village. "Remember to take some ID." 
Black Friday TVs
Walmart consistently rolls out powerhouse sales for Black Friday, and these are particularly noteworthy when shopping for a TV. 
Make Your Money Work for You
"In 2020, Walmart offered a 50-inch Class 4K UHD Smart TV for the price of $148," said Shanal Aggarwal, chief commercial officer at TechAhead. "This represented a savings of $130 in comparison to the standard price of the television."
Ibuprofen (and Other OTC Medicines) by Equate 
If you have a headache or other ache and need some Ibuprofen, consider getting the Equate brand at Walmart. You can get a 100-count of 200mg pills for just $2.12.
"[Equate health items] perform equally well as name-brand goods while being more affordable," said Derrick Hathaway, sales director at VEM Medical, who notes that a bottle of Advil with the same dosage can run you much more. For instance, Target sells it for $12.29.
Theater Box Candies
Walmart has a sizable collection of classic theater box candies. Most are just about $1.24 a pop, which is less than what they cost at dollar stores. 
"These are honestly great if you're worried about discipline or portion control, but they're also so awesome for keeping on hand for movie nights at home to make the experience more realistic," said Julie Ramhold, consumer analyst with DealNews.com. 
Malt-o-Meal Cereals
Another favorite Walmart buy of Ramhold's is the Malt-o-Meal cereals. 
Make Your Money Work for You
"Especially the Dyno-Bites and Honey Graham Toasters, as they're 32 oz bags for just [$5.76]," Ramhold saud. "These are a super affordable way to indulge in the nostalgic favorites of childhood and Walmart has a ton of different varieties of this cereal, whereas other stores may not carry as many flavors. Not only do they have more flavors but they also have the best prices — shopping elsewhere will mean paying $5.89 or more for the exact same product."
Generic Cookies
Plenty of folks are loyal to name-brand cookies only, but if you're up for giving generic a spin, check out Walmart's selection. 
"Personal favorites include the iced oatmeal cookies ($1.88 for 18 oz) and fudge-striped cookies ($1.73 for 11.5 oz)," Ramhold said. "If you feel really strongly about the name-brands and can taste the difference, you can at least reserve the generics for kids as they likely won't care one way or another. Plus Walmart also has a couple of Girl Scout knockoffs including fudge mint cookies ($1.73 for 10 oz) and caramel coconut and fudge cookies ($2.08 for 8.5 oz), so you can get a Thin Mint and Samoa fix any time of year."
Make Your Money Work for You
More From GOBankingRates