Walmart's Best Deals: Superfans Reveal 5 Standout Buys for Your Money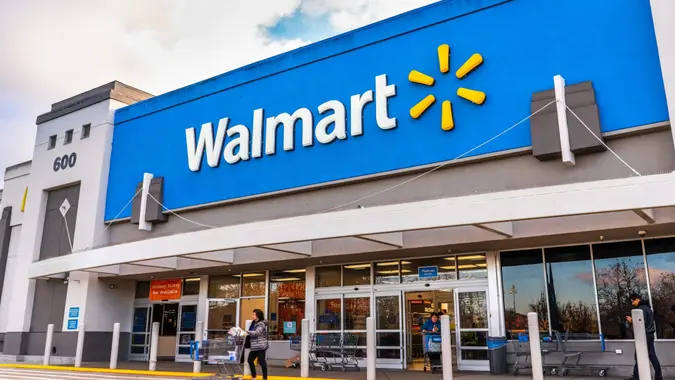 Sundry Photography / Getty Images
Shopping at Walmart isn't like shopping at other mega-retailers — not only does Walmart have some amazing monthly deals on things like appliances, clothing and food, but it has customers who go beyond loyalty. You may even call them Walmart superfans.
Because Walmart is so big and offers so many products at a discount, it can sometimes be difficult to pick and choose what you should put in your shopping cart. If you're asking yourself where to find the best deals, GOBankingRates reached out to a couple of self-described superfans to help clear this up.
Take a look at these great buys that might just turn you into a Walmart superfan yourself.
Flat-Screen TVs
Don't miss a second of any game or your favorite television show with a subpar screen. Instead, head to Walmart for an upgrade in color, sharpness and clarity with their deals on flat-screens.
"Walmart is discounting the price of all smart TVs and you can now get one [for] $108," says Walmart enthusiast Julius Cermak.
You can treat yourself to some of Samsung's best televisions at Walmart, including the SAMSUNG 55″ Class Q70A QLED 4K LED Smart TV — on sale from its original price of $999.99 to $797.99. Want even more screen? Get the SAMSUNG 65″ Class QN85B Neo QLED 4K Smart TV — which is down more than $1,000 in price to come in at $1,397.99.
Make Your Money Work for You
Personal Tech
These days, the most essential tools to get work done — be it from a home office, at school or on the road — are the technological devices you use every day. Why not save some money and buy one from Walmart this month?
"Why spend $50 more in the Apple store when you can get an Apple Watch 3 for just $149 at Walmart?" asks Cermak. "Siri support, Apple Music and a heart rate detector all in a waterproof device on your wrist! This product definitely changed my life."
Right now, Walmart is offering up to $250 off when you upgrade your laptop. Pick up the compact, easy-to-carry ASUS 14″ 1080p PC Laptop for $289, down from $324.88 this month. 
Patio and Garden
"Look out for sales on outdoor furniture sets, which can save you hundreds of dollars on your purchase," says Milosz Krasinski, a self-described "huge fan of Walmart."
Right now Walmart is slashing prices in their outdoor entertaining section, with a Costway Outdoor Patio Rattan Daybed Thick Pillows Cushioned Sofa going for $235.99 — over $100 in savings — and the LACOO 5 Pieces Patio Sectional Set PE Rattan Outdoor All-Weather Wicker Conversation Set with Table for just $349.99.
"You can also find discounted grills, with some models up to 50% off, and fire pits that are up to 40% off," Krasinski points out. "If you're looking to save even more money, consider buying a preowned grill, as you can often get a great deal on slightly used models. Walmart also offers free shipping on a variety of grills, so you can save on delivery fees."
Make Your Money Work for You
Air Fryers
"Another product that changed the game for me was the Ninja 4 Qt Air Fryer," says Cermack. "Air fryers are taking over and at [$79], this four-functioned device that can fry, roast, reheat and dehydrate your food is an absolute steal and will make food prep easier than ever."
WETIE 4QT 1400W Air Fryer is currently on sale at Walmart for just $54.98 when you buy it online, where sometimes the best deals can be found.
"There really aren't any tips or tricks for shopping at Walmart," Walmart fan and former employee Julie Vasold mentioned to Readers Digest. "I would usually shop with my phone. If Walmart.com could offer a product cheaper than the store, we would match the online price."
Candles
When it comes to candles, look no further than Walmart, according to @peachyymaddi — a Walmart superfan who consistently makes videos about the retailer's best deals for her #boujeeonabudget and #buythisnotthat series.
She points out that Better Homes & Gardens Candles are going for just over $10 each. Her favorite, Mainstays Candles, only cost between $3-$9 per candle.
"You can hate all you want," she says in her video, "but I am forever a Walmart candle girlie."
Several other Walmart superfans noted that the best place to begin bargain hunting is with the 50-cent rack in store or the Savings Spotlight section of the Walmart website, where you'll find over 100,000 products on sale at Walmart every day.
More From GOBankingRates
Editor's note: All prices are listed as of March 21, 2023.