7 Walmart Deals That Will Save You Big Money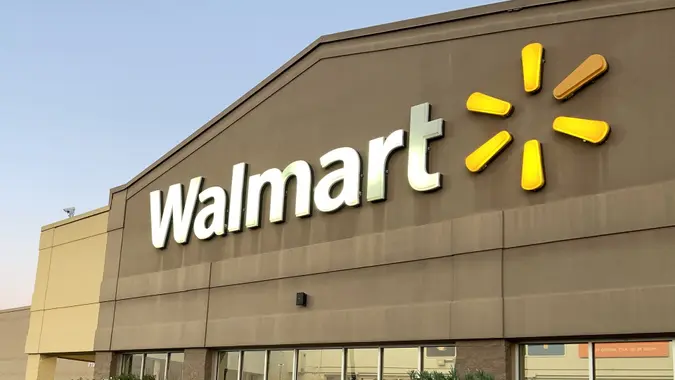 bgwalker / iStock.com
January is a time to reset, a chance to recover from the holidays, to resolve to accomplish your to-do list in the new year and to redeem some of those gift cards you received. It's also a time to take advantage of deep price cuts at retailers who also use the new year to clear out their shelves to bring in new merchandise for the coming season.
Check Out: 10 Best New Items Coming to Dollar Tree in 2023
Learn: 3 Ways Smart People Save Money When Filing Their Taxes
Discover: Target, Amazon and 4 More Retailers That Will Reward You for Turning in Your Old Stuff
While Walmart is known for value pricing throughout the year, January has brought price reductions on items throughout the store. It's worth taking the time to walk the aisles or scour the website to check out the deals, which can result in significant savings.
Here are eight items with big markdowns at Walmart that could be on your wish list.
Make Your Money Work for You
LG 55-inch TV
If you've been waiting for a sale on a top-notch television, now could be the time to take the plunge. The LG 55-inch 4K UHD OLED Web OS Smart TV with Dolby Vision features more than a billion colors and a fast refresh rate, 4K resolution and gaming capabilities. The Dolby Vision IQ automatically changes display settings as the lighting in your room changes, and the a7 Gen5 AI Processor 4K adjusts picture and sound qualities for best results, no matter what you are watching or playing. The LG Game Optimizer and two HDMI ports are ideal for gamers.
Walmart currently is selling this LG 55-inch TV for $1,096.99 — a savings of about 32% off the list price of $1,599.99.
ONSON Robot Vacuum Cleaner
The ONSON Robot Vacuum Cleaner, model BR151, could be the ultimate helper around your home. It doesn't follow just a random path like some robot vacuums do. Instead, it will clean every corner of your carpet or hardwoods — and when it's done, it will even mop the kitchen floor for you since it's equipped with a water tank and washable mopping cloth.
Make Your Money Work for You
It runs 120 minutes and can clean nearly 1,300 square feet on your command — either by voice or by app — and is powerful enough to pick up all of the pet hair in the house. Its infrared sensor technology will keep the vacuum from running into objects, too.
Users seem satisfied with the vacuum; 378 reviewers have given it a 4.7-star (out of five stars) rating. The original price is $619.99, but it's available online now for $129.99.
Skullcandy Over-Ear Headphones
Listen to the sounds from any Bluetooth-enabled device with the Skullcandy Hesh 2 Wireless Bluetooth Headphones. They're compatible with iPhones and Android smartphones, computers, MP3 players and more. You can listen to podcasts, music or books and such for up to 15 hours on one charge. Also answer your phone calls or change the music with just a touch of a button. A travel bag comes with the headphones for storage.
Walmart is offering the Skullcandy Hesh 2 Wireless Bluetooth Headphones, which come in black, for $44 when bought online, more than half off the regular price of $99.99.
Febfoxs Wi-Fi Smart Security Camera
Take comfort in watching your kids sleep, checking in on an older family member or making sure your puppy isn't creating chaos with the Febfoxs D305 1080P WiFi Smart Security Camera. You'll get a clear picture of just what is going on inside your home via live video. It offers complete 360-degree coverage, and the infrared night vision still can capture crisp video despite dim lighting. Thanks to the real-time motion detection alert, you'll get a notification when there is movement in your home.
Make Your Money Work for You
The piece of mind offered by the Febfoxs security camera won't bust your budget. Walmart is selling it online for $24.99 — $45 off its original price of $69.99 – and reviewers have given the system 4.5 stars.
Mr. Heater Portable Buddy
When you're spending time outdoors and the air is chilly, the Mr. Heater Portable Buddy 9000 BTU Propane Heater will warm you up once you connect it to a 1-pound propane bottle or a 20-pound propane tank. A 1-pound bottle will provide about three hours of heat if you're entertaining on your deck, for example. It heats up to 225 square feet and has safety features that include an emergency low oxygen safety system.
The Mr. Heater Portable Buddy is available on Walmart's website for $74, a reduction from $164.96.
Kenmore Smart Charcoal Grill
Even the grill has gone high tech. The Kenmore 32-inch Smart Charcoal Grill features a Bluetooth meat thermometer, LCD display and temperature probes. It offers a total cooking surface of 787 square inches — enough space to cook about 24 hamburgers at once. The smart app allows you to monitor what's on the grill and track the cooking progress from up to 33 feet away, giving you a chance to engage in a backyard game while the meat's cooking.
In some areas of the country, the weather allows for cooking outdoors in the winter, so this Kenmore charcoal grill could be an option. It's available on the Walmart website for $197, down from $349.99.
ANKOVO Forehead and Ear Thermometer
In the early days of the pandemic, remember how thermometers were impossible to find? If don't have one, now is a great time to buy one. Walmart has the ANKOVO Forehead and Ear Thermometer for use on adults, kids and babies. The infrared unit has an LCD display that is easy to read and backlit, so there's no need to flip on a light in the middle of the night. It holds 35 prior temperature readings.
The thermometer is available on Walmart's website at $11.99, a reduction from $19.99.
Editor's note: All prices are listed as of Jan. 20, 2023.
More From GOBankingRates
Make Your Money Work for You