What Walmart Shoppers Are Buying Most Right Now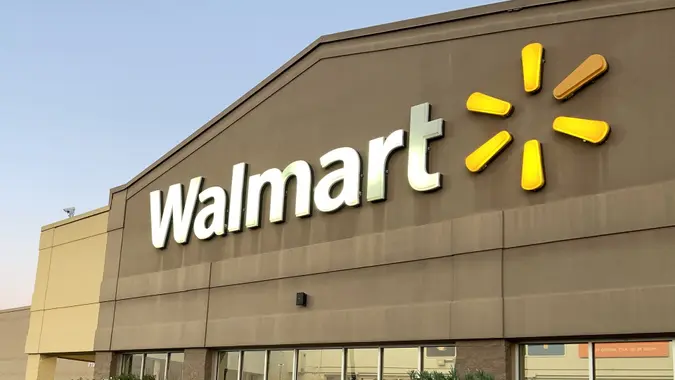 bgwalker / iStock.com
With inflation on the rise and the stock market trending downward, people are searching for more ways to keep money in their pockets. Some are trying to earn another paycheck with a side hustle, while others aim to spend less by budgeting and couponing. One of the easiest ways to save money (when you have to spend it) is to shop at a store like Walmart.
Walmart, like many of the big box stores, boasts low prices on everything from headache medicine to kitchen appliances. And shoppers can always find deals or "rollbacks" on items throughout the store in different sections. With low prices on a variety of items, you'd expect people to shop around the entire store, but it appears that most Americans stick to the grocery aisles when shopping at Walmart.
Saving on Groceries
Walmart is the world's largest retailer and has the largest share of the American grocery market. So, it's no surprise that in a recent GOBankingRates survey, 57% of Americans said that they most frequently purchase food from Walmart. Why? Because Walmart's prices are reliably low and their shelves are generally well stocked – unless supply chain issues have backed up production.
There are a number of ways to save at Walmart, the most obvious being purchasing their generic brand instead of the more expensive name-brand products. For example,Tylenol Extra-Strength Rapid Release Gels 100-ct are sold for $11.47. The Walmart equivalent, the Equate Extra-Strength Rapid Release Gel Caps 100-ct cost only $4.95. That's a difference of $7 for essentially the same product.
Make Your Money Work for You
Smart Walmart shoppers will also take advantage of the Walmart app where they can not only find discounted items, but can also schedule same-day pick-up for purchases.
Other Categories
With so much sold at Walmart and good bargains galore, you would expect Americans to be buying a vast variety of goods from the Bentonville-based company. Only 3% of Americans, however, say they frequently buy electronics from Walmart, and even less (1%) say toys and sporting goods are their most purchased items.
It's clear from these figures that most Americans see Walmart as mainly a grocery store that also happens to sell TVs, bikes, and home goods. None of the other categories come anywhere close to the percentage that groceries take. Only 15% of Americans frequently purchase apparel from Walmart, with another 10% frequently buying personal care products.
Why Aren't Americans Buying More at Walmart?
Quality
For consumers, it's not always just about the low prices. It's about the quality of the items as well. When it comes to those more expensive items like a dining table or a smartwatch, shoppers want to make sure they're getting enough "bang" for their buck. Walmart, with its great bargains and wide variety, is no stranger to cheap or flimsy materials. Some of their home goods and furniture items are known for only being a temporary addition to the home, falling apart or breaking easily.
Economy
However, it isn't just Walmart whose retail sales are falling. As of June 15th, retail sales across the United States are down for the first time in 5 months as reported by the Commerce Department. This suggests that high inflation and rising interest rates are beginning to impact demand. American shoppers are cutting costs where they can, and this includes purchases like toys and electronics. It seems that shoppers are buying less because everything is just so expensive. Just driving to the grocery store costs more than it did a year ago, as gas continues to average around $5 per gallon across the country.
Make Your Money Work for You
In this effort to save more and spend less, it's clear that Americans are taking their grocery lists to Walmart to take advantage of as many deals as they can — but their purchases may not extend to the retail giant's other aisles. At least for now.
More From GOBankingRates