8 Ways Walmart Plus Could Save You Money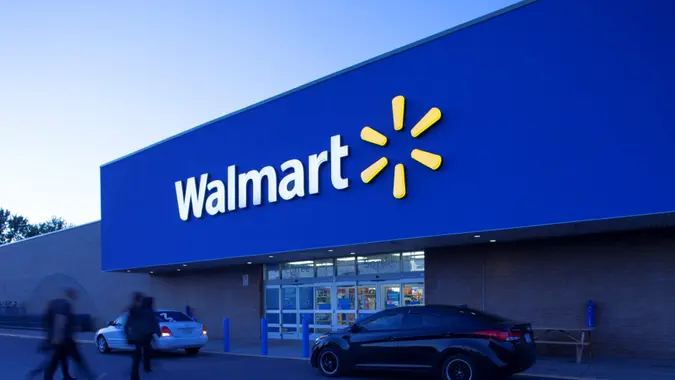 YvanDube / Getty Images
Shopping for essentials like groceries and household items has gotten a lot more expensive recently, thanks to supply chain issues and steep inflation. Fortunately, lots of big box stores offer memberships that come with rewards for loyal customers, and Walmart is no exception.
In 2021, right in the thick of the pandemic, Walmart rolled out a Walmart Plus membership that seemed poised to try and compete with Amazon Prime at least a little. Currently, the membership runs $98 a year if you sign up to pay annually. However, if you pay monthly instead, at $12.95, that adds up to a more significant $156 a year. 
For regular Walmart customers, Walmart Plus offers some pretty decent benefits, according to Consumer Reports. Keep reading to find out whether a Walmart Plus membership is right for you.
Discount on Streaming Services
If you're not terribly attached to what streaming services you use, as part of your Walmart Plus membership, you get free video streaming with Paramount Plus, which includes more than 40,000 episodes of TV shows, movies, sports and more.
Take note: The membership is exclusive to the Paramount Plus Essential Plan, which is ad-supported. This could potentially save you on the costs of other streaming services. Note that if you are already a Paramount Plus subscriber, to qualify for this benefit, you would need to cancel your existing account and sign up through Walmart Plus.
Make Your Money Work for You
Six Months of Free Spotify
If you love listening to Spotify but prefer the premium membership without the ads, a Walmart Plus membership comes with six free months (each month is regularly $9.99) to check out your favorite tunes and podcasts. That's a savings of almost $60.
Find: 11 Grocery Items To Buy at Dollar Tree
Free Grocery Delivery
If you've been taking advantage of Instacart or other grocery delivery services, you know how those additional fees add up, making each purchase more expensive than it would be without the delivery. With Walmart Plus, you can get fresh groceries delivered to your home for no additional money and with no restriction on how often you order. You just have to make a $35 minimum order, and some restrictions do apply.
Free Shipping
If you like to order your products online, not just groceries, your Walmart Plus membership gives you access to a large assortment of Walmart products without having to pay shipping fees. However, not all products are eligible, and there may still be location and freight surcharges.
Discounts on Fuel
Walmart Plus members save up to 10 cents per gallon on gas at both Walmart gas stations and more than 14,000 locations nationwide including Exxon, Mobil and Murphy stations. Note, however, that the fuel discount does vary between locations and stations.
Make Your Money Work for You
An Easy-To-Use Customer Rewards App
If you use the app, a Walmart Plus membership qualifies you to earn points on purchases that translate to dollars you can spend on other Walmart products. Better yet, these points don't expire, though you do need a Walmart Plus account in order to spend them, they hold no other intrinsic value and they can't be exchanged for cash. These points cannot be used to buy gift cards, prescriptions, pharmacy products, optical products and services, alcohol, tobacco, firearms and ammunitions or lottery tickets, as well as a few other restrictions.
Early Access to Deals
Walmart Plus members are the first to know about any great new deals, from Black Friday to new product releases, according to Consumer Reports. Think of your Walmart Plus membership as a members-only bulletin giving you a jump on everyone else.
Mobile Scan and Go
Rather than hauling all your items up to a checkout line, with a Walmart Plus membership, you can scan your products as you go, in your basket and then do a simple and easy contact-free checkout that streamlines the process and saves you time.
Make Your Money Work for You
Save Money Easily
If you like saving money, and you are already a regular Walmart shopper for most of your needs, including gas, Consumer Reports suggests that a membership is worth it. By ordering weekly grocery delivery, for example, they suggest you would save around $32 in delivery and other fees. If you purchase 20 or more gallons of gas per week, you could save $8 a month, which almost pays for the Walmart Plus membership alone.
If you live near a Walmart store and routinely order delivery or purchase gas once a week, an annual membership can easily be worth the cost.
More From GOBankingRates
Make Your Money Work for You