Walmart Plus Benefits: How It Helped Me Save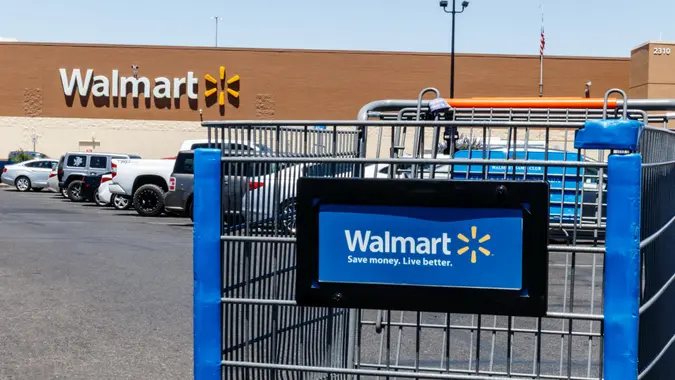 jetcityimage / Getty Images
When it comes to being a one-stop-shop for, well, anything, the global conglomerate Walmart has certainly cornered the market. Not only has this company coined the phrase "save money, live better" but it also has a membership program that can help earn you some rewards. If you are a frequent shopper at Walmart, Walmart Plus might be something worth considering.
What Is Walmart Plus?
Walmart Plus is a subscription service and rewards program aiming to provide exclusive benefits, alerts, sales and deals to its members. You can use these perks for purchases both online and in-store. Given the number of Walmart Plus benefits and deals, it could be a solid investment for anyone looking to save money on groceries, gas and household products. 
Through Walmart's many partnerships with other retailers, members of the Walmart Plus program can access other perks such as travel discounts and free video and TV streaming services.
Walmart Plus Benefits
Like many memberships, whether to Sam's Club, Costco or Amazon Prime, you sign up for the perks and money-saving opportunities. If you are thinking of joining, here are some Walmart Plus benefits you can look forward to.
What Are the Benefits of Walmart Plus?

Grocery delivery: Unlimited free deliveries on orders over $35, even same-day delivery, with Walmart's grocery delivery service
Cheaper gas: Fuel perks and savings

at Walmart, Murphy USA and Sam's Club, along with some gas stations, such as Mobil or Exxon

Early access to Walmart deals: Early access to special promotions and events, such as Black Friday sales or new product releases
Paramount Plus: Paramount Plus access is included with your Walmart Plus subscription service
Mobile scan and go: Efficient and contact-free checkout
Walmart Plus Travel: Get 2% Walmart Cash on air travel and 5% on hotel, rental cars, and tour bookings through the Walmart Plus Travel site powered by Expedia
Make returns from home: Easily return Walmart products without needing to go to the store
Pluto TV: Receive a free Pluto TV subscription with ad-free content that changes monthly
Make Your Money Work for You
How Much Can You Save With Walmart Plus?
Walmart estimates that Walmart Plus members save over $1,300 annually compared to non-subscribers. The savings come from the following:
Over $800 by using Walmart Plus free deliveries
More than $500 with free shipping of Walmart online products
Over $75 in annual fuel savings
$70 savings from free Paramount Plus subscription
Good To Know

If you frequently order groceries and other products from Walmart, signing up for the Walmart Plus program works to your advantage. You can say goodbye to the standard $7.95 delivery and $6.99 shipping fees as long as your order meets the minimum requirements.

Plus, you can also save yourself time and gas. You won't need to drop by Walmart when it's inconvenient, such as on your way home after a hard day at work. Instead, just schedule the delivery and someone will bring your goods directly to your door. 
Walmart Plus Membership Cost
A Walmart Plus membership costs $98 per year, which works out to only $8.17 per month. If you are curious about this membership but aren't sure you can justify the cost, worry not: It has a 30-day free trial for new members. If, at the end of the 30 days, you don't feel like it works for you, you can cancel, so it may be worth giving it a shot.
Walmart also offers a monthly subscription option for $12.95 for people who would rather spread out the cost of Walmart Plus throughout the year. However, signing up for the annual plan is much more cost-effective for people who think they'll use the subscription all year. 
Make Your Money Work for You
Is Walmart Plus Worth It?
If you get your gas or do your grocery shopping at Walmart, Walmart Plus could be something to think about. Do your research and compare it to other memberships you pay for to see how it stacks up. If the discounts and sales you receive through the subscription service outweigh the membership costs, it may equal good dollars and cents.
FAQ
Here are some quick answers to frequently asked questions about Walmart Plus.
What do you get with a Walmart Plus membership?

If you sign up for the Walmart Plus membership subscription service, you can enjoy these benefits and more:

Walmart Rewards: Whether shopping in-store or online, your never-expiring rewards can be used towards purchases.
Early access to Walmart deals: Members of Walmart Plus are granted early access to special promotions and events, like Black Friday sales and new product releases.
Paramount Plus: Enjoy streaming with Paramount Plus, included with your Walmart Plus subscription.
Mobile scan and go: This system saves you time with efficient and contact-free checkout.

Does Walmart Plus include Sam's Club?

No, unfortunately, Walmart Plus does not include a membership to Sam's Club. However, it can get you discounts on gas at many Sam's Club locations.

How much does Walmart Plus cost?

Walmart Plus has two subscription options: annual and monthly.

The yearly plan is $98.
A monthly subscription costs $12.95 each billing cycle.

Signing up for the annual plan will save you $57.40 yearly.

Is Walmart Plus actually free?

You can sign up for a free 30-day trial of Walmart Plus. During that time, you can access most of the Walmart Plus benefits. However, you must cancel your subscription at the end of the trial period. Otherwise, Walmart will charge your card for the annual or monthly subscription fee.

What is the difference between Walmart and Walmart Plus?

Walmart is a retail chain with storefronts across the U.S., Canada, Mexico and several other countries. It offers a wide range of household products, including groceries, home goods, clothing and electronics. People who shop at Walmart can sign up for Walmart Plus, a subscription service that provides free grocery and product deliveries, among other perks.

Do you get free grocery delivery with Walmart Plus?

Yes, Walmart Plus offers free same-day grocery delivery to subscribers on orders of at least $35.
Virginia Anderson contributed to the reporting for this article.
Information is accurate as of Oct. 13, 2023, and is subject to change.
Editorial Note: This content is not provided by any entity covered in this article. Any opinions, analyses, reviews, ratings or recommendations expressed in this article are those of the author alone and have not been reviewed, approved or otherwise endorsed by any entity named in this article.