Is a Sam's Club Membership Worth It?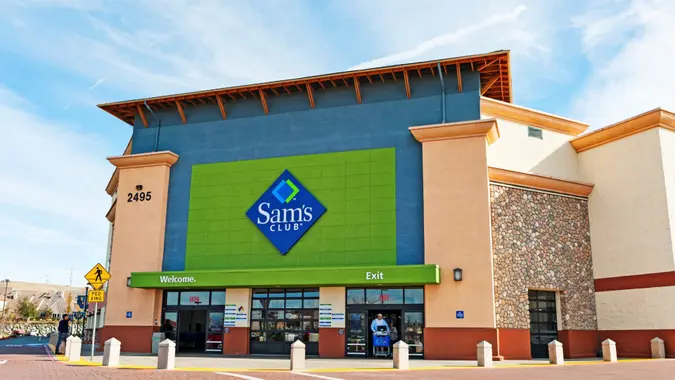 jmoor17 / Getty Images
Keeping American pantries stocked for nearly 40 years, Sam's Club is the brainchild of Sam Walton — the Henry Ford of retail shopping, Walton also gave the world Walmart. It's not the only warehouse club in America, but its loyalists insist that it's the best. They just might be right, but like the others, you need to buy a membership to shop there.
So, does Sam's Club actually save you money? It certainly can — but membership isn't right for every shopper. Here's what you need to consider before you sign up.
Is Sam's Club Worth It? What To Know Before You Join
First things first — do you live near a Sam's Club? There are nearly 600 locations in the U.S. and Puerto Rico, so make sure you're within convenient driving distance of one before you make your decision on whether or not to join.
If you don't live close to a Sam's Club, or if you just want to shop around, its two primary competitors are Costco and BJ's, which follow a similar store format and have similar member benefits. As a warehouse club with a limited-item model, you have to buy a membership in order to shop there — although you can visit a store with a friend who is a member, which you might want to do first before you commit anyway.
There Are 2 Membership Options
Sam's Club is cheaper to join than both of its main competitors at both of its membership tiers. It costs $50 per year for Club and $110 for Plus ($60/$120 at Costco and $55/$110 at BJ's). Membership benefits at the two price levels include:
Club: Same-day delivery, Instant Savings, discounted gas, free select services at the tire and battery center, add-on memberships for $40, and a complimentary membership for one other person in the household.
Plus: The Plus membership has everything from Club plus free shipping, 2% cash rewards on qualifying pickup and in-store purchases, free curbside pickup, early shopping, free select generic prescriptions and $10 or less for more than 600 others and 20% off glasses.
Make Your Money Work for You
Sam's Club Mastercard Offers Excellent Cash-Back Rewards
The Sam's Club Mastercard is part of the package at both price levels. Unlike so many store cards, its rewards program is one to envy. You get 5% cash back on gas — anywhere Mastercard is accepted, not just at Sam's — up to the first $6,000 you spend per year.
Club members get 1% cash back on qualifying Sam's Club purchases. Plus members get 3% cash back on eligible purchases in-store and online, which combines with the 2% rewards from their membership for a total of 5%. Dining and takeout earn 3% back and everything else gets 1% — all with no annual fee — which makes Sam's Club Mastercard one of the best cash-back cards on the market.
The Member's Mark Brand Can Multiply Your Savings Without Compromising on Quality
Sam's has an in-house brand called Member's Mark, which offers some of the lowest available prices on high-quality items. So, is Sam's Club really cheaper than Walmart? It can be, particularly if you shop Member's Mark. The brand covers a wide selection of low-priced goods in categories like:
Grocery
Sustainable seafood
Home goods
Kids
Personal and health care
Office and tech
Outdoor and patio
Baby products
Pet supplies
Business supplies
Apparel and accessories
Holiday
So, Is It Worth the Cost of Membership?
The answer to the big question will be determined mostly by your lifestyle. The wholesale, bulk-item format of the club gives members the ability to save real money by buying in large quantities. That dynamic has been helping families — particularly big families — save big money since the first club opened in Midwest City, Oklahoma, in 1983.
Make Your Money Work for You
But that doesn't mean that Sam's Club makes sense only for large households. Membership might not be right for an individual living alone, but it also might be — just as it might be for couples, roommates, small families and everyone in between. The good news is that you can join without worry — each Sam's Club membership comes with a 100% satisfaction guarantee that lets you get a refund of your membership fee for the current year at any time, no questions asked.
Also, there are a whole lot of reasons to consider joining beyond just bulk buying on the cheap.
Save Up To 60% or More on Travel and Entertainment
Members can slash their travel budgets when they book through Sam's Club. You get special offers on theme parks and attractions like Disney World, Legoland and Universal, as well as up to 60% off stays at top hotels, up to 25% off car rentals, and discounts on Broadway shows, concert and theater tickets, movies and special events.
You Can Also Save on Home Services
Sam's Club members special discounts for renovation work. This includes things like HVAC, roofing, flooring, gutters, windows and window treatments. Other perks include things like professional smart home security installation, water delivery services, and discounts on Terminix pest and termite control. Members also get special offers on protection plans, home energy solutions, and a $50 gift card for enrollment in DirecTV Stream.
Buying a Car? Start Your Search at Sam's Club
With the Sam's Club Auto Buying Program, the company leverages its awesome buying power to save members an average of $3,463 off MSRP when they buy a new car through the program. You can also score steep discounts on used cars. On top of that, members get up to $2,000 in post-sale benefits like auto repair and deductible benefits.
Members also get special pricing on the purchase of outdoor vehicles like snowmobiles, golf carts, boats, RVs, watercraft and scooters.
You Can Save on Other Services, Too
Besides home, auto and travel, Sam's Club members enjoy exclusive perks in the following departments:
Pharmacy
Optical center
Photo
Business services
Subscriptions
Other Benefits
Membership comes with all the previously discussed benefits, as well as things like:
Shopping with a nonmember friend
Free shipping with Plus
One complimentary card for a member of your household
Daily Taste & Tips samplings
Sam's Club Credit
Members-only fuel savings
Free health screenings
Discounts on tires and batteries
Keep in Mind

Just as it is with credit card annual fees, you can determine whether the membership fee to a wholesale club is worth the expense by following a simple formula. If membership saves you more money than it costs to join, then the membership has paid for itself and is worth the expense.
Information is accurate as of Feb. 13, 2023.
Editorial Note: This content is not provided by any entity covered in this article. Any opinions, analyses, reviews, ratings or recommendations expressed in this article are those of the author alone and have not been reviewed, approved or otherwise endorsed by any entity named in this article.