Costco Next: The Warehouse Club's Feature You're Not Taking Advantage Of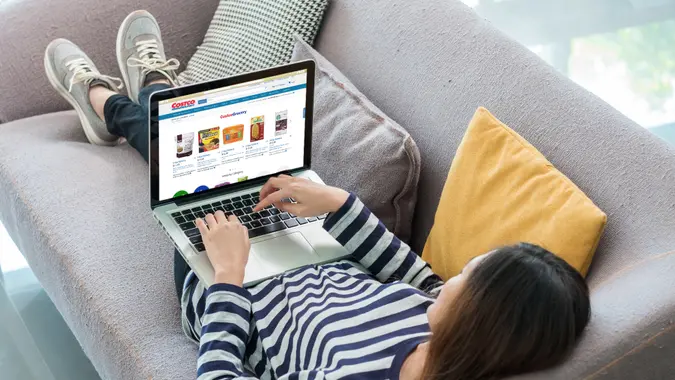 Weedezign / Getty Images/iStockphoto
Being a Costco member comes with many perks that go beyond access to all of the merchandise stocked in Costco's stores. You may already know about a lot of them, such as travel discounts and cheap gas, but there is one feature that you may not be aware of: Costco Next.
Here's a quick explainer of what exactly Costco Next is and why you should be taking advantage of it.
What Is Costco Next?
Costco Next is a special program Costco offers to members that allows them to buy directly from select brands at a special Costco price. To access Costco Next, you need to visit Costco.com/Costco-Next.html — and be sure to have your membership card handy when you do.
"You can browse offers there or click 'Shop Now' to see this page, which outlines all the brands that are part of the Costco Next program," said Julie Ramhold, consumer analyst with DealNews.com. "Whether you click on an offer on the first page or a brand on the second, you'll be taken to another page where you have to input your first and last name as well as your Costco membership number in order to move forward and shop the special pricing that's available."
There are a few things to keep in mind when shopping these Next pages.
"Discounts will vary based on both brand and product, and you may have to add items to your cart to see the actual discount," Ramhold said. "Also minimum purchase requirements might need to be met, and reviews might not be shown on the Next hub."
Make Your Money Work for You
What Are the Best Deals Available on Costco Next?
The deals available to Costco members via the Costco Next program will vary, but current deals include discounts on GreenPan cookware, Travelpro luggage and Case-Mate phone accessories. Ramhold particularly recommends taking advantage of the following deals.
Case-Mate Chargers and Cases
"The brand overall is highly rated for cell phone cases and other accessories, including charging stations," Ramhold said. "Some of the notable offers currently available for Costco members include the FUEL Foldable Power Station with Wall Charger for $89.99 — it's $150 without the Costco benefits; the FUEL Power Station wireless charger, also for $89.99 — also $150 without Costco benefits; and Rifle Paper Co. cases for iPhone 13-14 that work with MagSafe, which are [priced] from $28.99 via Costco and from $45 on the regular site."
Baggallini Bags
"These bags tend to be highly rated, but they definitely can be an investment," Ramhold said. "One particular standout available right now is the Only Bag Tote Bag with Crossbody Strap, which is $69.99 through Costco Next; full price, this item is $100. Another excellent option is the Modern Everywhere Slim Crossbody Bag, which also comes with an RFID wristlet — it's $69.99 through Next, but $95 full price. Another option is the Memphis Convertible Backpack, which is $44.99 through Costco Next and normally $79.95 shopping without Costco perks."
Anker Tech Accessories
"This is already a pretty affordable brand that makes chargers, cables, headphones and more. The Costco Next discount is an easy one to keep in mind — members get 20% off purchases of $50 or more," Ramhold said. "This is a solid brand that's worth shopping with or without the Costco Next savings, but those [savings] definitely make it even better."
Make Your Money Work for You
Viking Cookware
"The Viking brand is synonymous with good quality in the kitchen, and being able to buy their cookware products at a discount is definitely a Costco perk worth using," Ramhold said. "Currently, through Costco Next, you can get a 15-piece Hard Anodized Nonstick Cookware set for $589.99, which is about $39.33 per piece. However, on the Viking website outside of Costco Next, the only Hard Anodized set I could find was a 10-piece that normally goes for $599.99, or about $59.99 per piece. It's currently on sale for $499.99, but that's still more expensive per piece than what you'll pay for the bigger set through Costco Next."
More From GOBankingRates