Here's Why 90% of Consumers Go Out of Their Way To Shop Local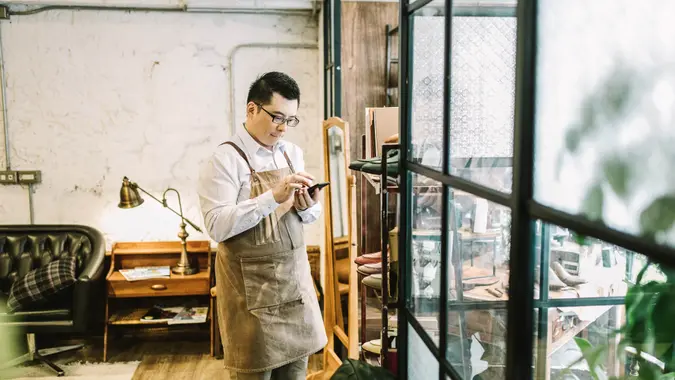 visualspace / Getty Images
Although big-box stores may be a convenient option, many consumers will go out of their way to shop local. A survey conducted by Podium found that 9 out of 10 consumers say they go out of their way to do business locally.

See: 5 Things You Must Do When Your Savings Reach $50,000
Here's a look at Americans' top reasons for shopping local, and what that means for small-business owners.
Why Consumers Shop Local
According to the Podium survey, the top reason Americans shop local is the overall experience they have when shopping at a small business. The top two factors contributing to an overall positive experience are price and ease of doing business.
The survey found that 54% of consumers say "ease of doing business" is a leading reason they choose to work with a local business for the first time, 60% say it's why they'll keep coming back and 57% say it's a top reason they refer friends and family.
What This Means for Small-Business Owners
Consumers are actively seeking out businesses that make it easy for them to shop how they choose. The Podium survey found that consumers want expanded pickup and delivery options (59%), digital and mobile communications (44%) and contact-free transactions (40%).
Many small businesses have already embraced these trends. The survey found that more than half of small businesses (67%) went contactless during the pandemic, and most (85%) in this group said it helped business. Most small businesses (84%) now offer contactless services, like texting customers about appointments, notifying them about sales and soliciting reviews.
Make Your Money Work for You
When it comes to digital and mobile communications, small-business owners identified the factors that keep customers happy: ease of communication (90%), easy overall experience (89%) and quick response times (89%).
Other Reason Consumers Shop Local
While convenience and good customer service are top factors for shopping locally, there are several other reasons consumers would pick a small business over a chain. The Podium survey found that community connection has become more important to consumers, with 3 out of 4 saying they're more likely to spend money at a local business if the business shows support of community issues and/or charitable causes.
A separate GOBankingRates survey also identified additional reasons consumers would opt for a small business, including supporting their local community (64%), a more personal relationship (53%), more unique offerings (41%), wanting to shop at a business that aligns with their values (31%) and supporting more sustainable business practices (30%).
More From GOBankingRates