Don't Shop at Sam's Club on This Day of the Week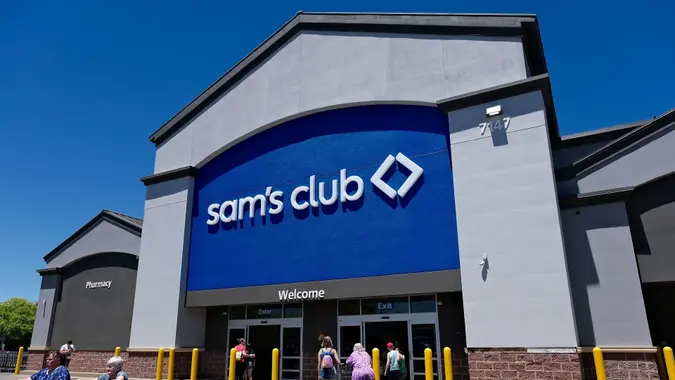 slobo / iStock.com
Sam's Club was founded in 1983 in Oklahoma by Sam Walton, the founder of Walmart. Since then, the members-only warehouse club has expanded across the United States, Puerto Rico and beyond to Mexico and China.
While Sam's Club's selection may be slightly smaller than that of its competitor, Costco, the warehouse club still has an impressive assortment of everyday goods. Many of these items are from name brands such as Samsung, Gerber, Red Bull, Starbucks, Tyson and Olay. A membership to Sam's Club also costs less than one to Costco — $50 versus $60 a year.
If you have a Sam's Club membership, you may be wondering when the best times of the week to go shopping are. While this might vary by location and how busy your local store gets, here's what you need to know.
Worst Day To Shop at Sam's Club: Saturday
It may come as no surprise that weekends are typically the worst times to shop at Sam's Club. Saturdays and Sundays are when most people are off work and running errands, leading to longer queues and potentially more limited stock.
"Weekends, mainly Saturdays, are the most challenging days to shop at Sam's Club," said Ruiz Asri, CKO and editor of Honest Food Talks. "Saturdays often see the highest foot traffic, leading to overcrowded aisles, longer checkout lines and an overwhelming shopping environment. Popular items might be out of stock and shopping through the store can become tiresome for first-timers."
Make Your Money Work for You
James Herman, founder and finance advisor at Mobile Tech Addicts, added, "The weekends, particularly Saturdays, are often the busiest days at Sam's Club. If you prefer to shop in a less crowded environment, it's best to avoid these days. Additionally, Monday mornings can also be quite busy as shoppers stock up for the week ahead."
Best Days To Shop at Sam's Club: Tuesday and Wednesday
Generally speaking, the middle of the week is the best time to shop at Sam's Club and other major retailers. Not only does Sam's Club tend to be less busy during the week than it is on weekends, but there may be more employees around to help if you need it. Plus, the aisles will be less obstructed and the shelves will be lined with stock.
More than that, weekdays — especially Tuesdays and Wednesdays — are also when customers are more likely to find the best deals on fresh, high-quality food.
"When shopping at Sam's Club, look to go on Tuesdays or Wednesdays," said Samantha Landau, consumer expert at TopCashback.com. "During the week, Sam's Club receives fresh shipments of meat and produce and marks down items close to their sell-by dates. Shopping on these days can help you get cheaper last-minute markdowns while also being able to stock up on fresh items as well."
Strategies To Save Money at Sam's Club
Looking to save money and make the most of your shopping trip at Sam's Club? Here are a few tips and tricks to get you started.
Use coupons. Couponing can save you quite a bit of money when done right. But if you pair coupons with existing savings or deals, you could save even more. "My best advice when shopping is to utilize their instant savings or purchase sale items and use manufacturer coupons on top of that to get double the savings," said Lisamarie Monaco, a national independent life insurance agent and co-owner of InsuranceForBurial.com.
Get a basic membership. Like Costco, Sam's Club has a couple of tiers to its membership program. Unless you need the extra perks, go with the cheapest option. The warehouse club also sometimes has discounted memberships, so keep an eye out for those if you haven't purchased your membership yet.
Use the app. Sam's Club's Scan & Go app can help you save money and time. "Using the Scan & Go app enables quicker shopping and access to exclusive deals," said Yulia Saf of Miss Tourist. "Just as in traveling, a little preparedness goes a long way when shopping at Sam's Club."
Buy in bulk. One major benefit of shopping at any warehouse club is the ability to buy in bulk and save money that way. "Buy all your paper goods, kitchen items, laundry items, etc., in bulk," said Monaco. "This includes paper towels, paper plates, aluminum foil, laundry detergent cups, toilet paper, etc. You will get huge savings." Avoid bulk purchases of perishable items unless you know you can use them before they expire.
Check out the coupon book. "Sam's Club's monthly coupon book offers a variety of discounts on a wide variety of items. Be sure to check the coupon book before you go shopping to save money," said Herman. You can usually find this monthly coupon book during the first week of any given month.
Use the loyalty card. Sam's Club has a loyalty program that comes with certain perks, such as special discounts and early access to sales.
Buy the store brand. The store brand, Member's Mark, tends to be cheaper than other brands — without sacrificing quality.
Learn the return policy. Sam's Club lets you exchange or return certain items within a period of time. "If you're unsatisfied with a purchase, Sam's Club is generally accommodating in processing returns, ensuring you don't waste money on unsatisfactory products. Being active about returns can help recover costs on items that didn't meet expectations," said Honest Food Talk's Asri.
Sign up for 'Instant Savings.' "Sam's Club runs periodic 'Instant Savings' events, offering member-exclusive discounts on different products," said Asri. "These aren't just minor price discounts; shoppers can save significantly on everyday items and big purchases. Always watch out for these promotions and plan your shopping around them to maximize savings."
Make Your Money Work for You
More From GOBankingRates